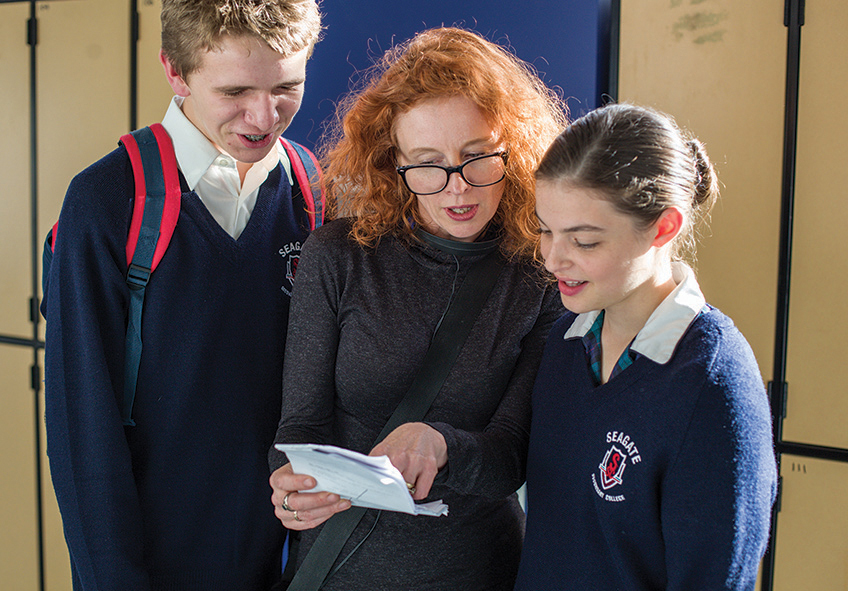 On the first day of shooting the new kids drama, Worst Year of My Life, Again!, actor Alison Whyte told the three young stars to 'do like the Play School song and shake your sillies out' to calm their nerves before stepping before the cameras for the first time.

The 13-part comedy series follows Alex King, who wakes up one morning to discover he has to relive the most excruciating 12 months of high school all over again.

For this drama series, Alison has taken on a role like no other she's played before – that of dramaturg - teaching the young stars of the show the ins and outs of working on a professional television series.

Best known for her award-winning roles in the likes of Frontline and Satisfaction, Alison has featured in multiple TV series and stage performances. She was auditioning for a role in Worst Year, when the producers approached her about working with the actors behind the scenes.

For young stars Ned Napier (Alex), Tiarnie Coupland (Maddy) and Laurence Boxhall (Simon), the show was their first professional acting role, so the three were quite nervous about what was expected of them. The casting process had been extensive, with more than 270 actors from across Australia invited to audition for the series.

"My role has been to prepare them, not only script wise but also what to expect on set," says Alison. "Helping them with intentions and line delivery and storytelling – and making sure they understood their character's role in the story and weren't afraid to go for it. The good thing is they've been so well cast – you just have to remind them to be who they are and have the guts to present that on screen and to be honest – that's all they need to do."

"They've grown so much in the last couple of weeks but they were teenagers – unsure and in a completely new environment - so I found that my mothering skills came in handy," she says.Watching them on set has been incredibly rewarding, says Alison. "When they started to realise that it's all in them – the satisfaction they felt when they get a laugh or made a scene work – seeing them experience that thrill of acting has been wonderful."

Alison says it's been a wonderful opportunity to pass on the knowledge she's gained from her years in the industry. "It's been very satisfying because it doesn't just call on your skills as an actor; it calls on your skills from life."

Worst Year of My Life, Again! is an Australian Children's Television Foundation-Reflective Pictures co-production for ABC3 and CBBC. It is currently filming in Melbourne...
– Story by Liz Green