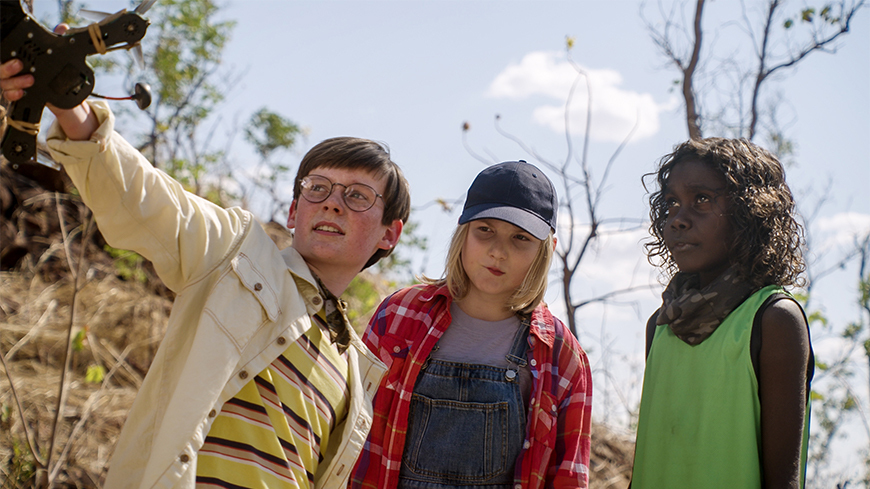 Available now: Barrumbi Kids
Based on Leonie Norrington's popular book by the same name, Barrumbi Kids centres on Tomias and Dahlia – best friends growing up in a remote community in the Northern Territory. The NITV series is filmed of the lands of the Jawoyn, Dagoman, Wardaman and Mangarrayi peoples, and set in and around the fictional town of Mandjakkorl. Through fishing, schooling, and exploring Country, the children learn about themselves, each other, and living in both Aboriginal and non-Aboriginal cultures.
Life in Mandjakkorl is never dull: with crazy cracker nights, lost treasure, huge grass fires, initiation ceremonies, feral chooks, ancestral spirits, outsiders trying to change things and of course, big salty crocs. In short, a whole outback of adventure and sometimes trouble, not that they go looking for trouble…it just manages to find them!
Now in their final year of primary school, Tomias and Dahlia know that change is coming and – whether they like it or not – they'll both find themselves torn between loyalty to each other and the growing demands of the outside world.
In a unique and vibrant Australian setting, Barrumbi Kids explores the universal themes of friendship and change, meeting expectations of home and culture, and the age-old problem of battling a giant salty that's moved into your favourite swimming hole. Recommended for students in Years 3 to 6, this 10-part series addresses curriculum content for Aboriginal and Torres Strait Islander Histories and Cultures, English, HASS, Intercultural Capability and Media Arts.
The series is currently streaming on SBS On Demand. Teachers preferring to own a copy of Barrumbi Kids can download the complete series from the ACTF Shop for $20. The ACTF's education license terms allow teachers to share digital download files with all teacher and student devices on their school's network.
The ACTF Learning team is currently developing resources to support teachers using Barrumbi Kids in the classroom. Stay tuned to our education newsletter for this release.