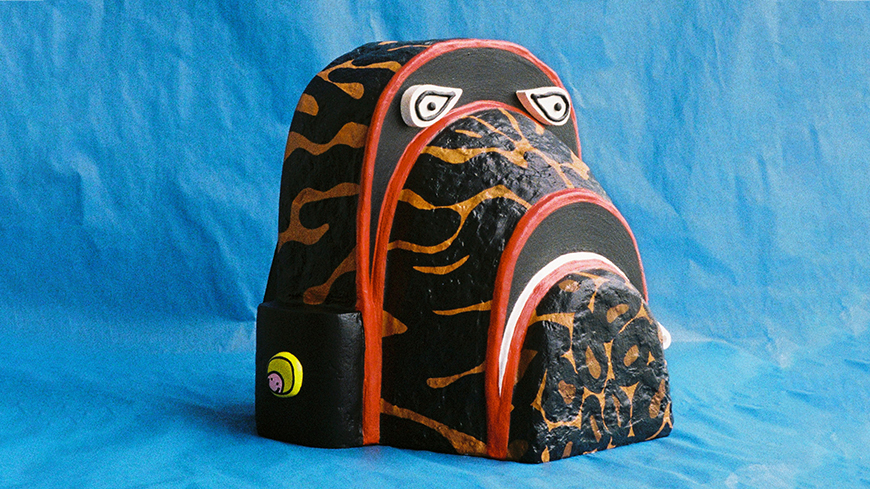 Snapsak the Backsak by Carla McRae
When Melbourne-based artist David Booth shared an artwork featuring the ACTF logo, we knew we needed to learn more about how children's television might be influencing contemporary visual arts. To what extent are the Australian artists who grew up during the 1980s and 90s influenced by the shows they watched in childhood? How might Australian children's television have ignited the imaginations of creative practitioners?
We invited six artists to create a new work based around their relationship with Australian kids' TV and the culture of their formative years. Celebrated as 'fan art', the artists explored their memories of ACTF stories across a broad range of mediums. The works were a vehicle to revisit the screen stories of their youth and examine the lasting impact children's television had on their childhoods and, as adults, their artistic practice.
Here, Carla McRae discusses how children's television impacted her childhood and inspired her work, 'Snapsak the Backsak'.
Carla McRae
Snapsak the Backsak, 2022
MDF, PVA glue, synthetic polymer filler, clay, acrylic paint
How did our television content shape your childhood experience?
In our house the ABC was on a bit and so the ACTF shows were always around - they paint a hazy, grainy backdrop to my childhood. I was born in 1991, so I only caught the tail end of shows like Lift Off, but the sounds, colours, aesthetic and characters have all lingered in my mind and in my mouth as a visceral texture and flavour of growing up in that time. As I have an older sister and two younger siblings, I remember catching bits of shows for older kids earlier than I normally might have and watching programs for little kids into my adolescence, too. Round the Twist, Li'l Elvis Jones and the Truckstoppers and The Genie From Down Under were stand outs. The characters and storylines were wild, imaginative, funny and a little bit grotesque which in retrospect was a pretty reasonable and relatable reflection of being a kid at that time.
Tell us about one of your fondest and strongest memories of watching Australian television.
I have a strong memory of hanging out in my older sister's bedroom when I was about 5 years old, sitting on one of those blue and yellow celestial sun and moon doonas everyone had in the 90s, watching 'The Cabbage Patch Fib' episode of Round the Twist. She had this cute tiny ruby red TV that only played in black-and-white, so the scenes of Bronson poking around in the cabbage patch at night were extra dark and scary — that episode really stayed with me. The Genie From Down Under also hits different when only viewed in grainy black and white and theme song warbled out of a tiny speaker. Very mysterious and almost ominous.

How has ACTF content influenced your art practice?
When I'm making artwork I'm in near constant dialogue with my inner-child and I think about niche pop culture stuff that moved me all the time. The sensibility that floats through those formative ACTF shows - strong primary colours, patterns, hand-rendered, a bit naive - has bled through to my work because it's bundled up with my own sense of self through nostalgia, childhood, memories and feelings. I'm drawn to work by others that has that particular feeling, too. I'm always trying to create things that embody a satisfying combination of colour, form and texture that might unlock a feeling that is a bit hazy but familiar.
Describe your artwork and the story behind it.
I've created a wooden replica of Snapsak, one of the Backsaks from Lift Off. She lives on deep in the recesses of my memory as an object that both scared and intrigued me. Although I don't remember specific episodes or anecdotes, except for some blurry snippets in VHS promo videos from that time, I've thought about those Backsaks every time I've drawn a backpack for as long as I can remember. When I was a kid, if I loved a character, I drew them over and over, cut them out and stuck them on walls, slipped them in my school bag, took them with me in the car to live alongside me for a time. This way of making fan art was as close as I could get to making them real. Recreating Snapsak in this three-dimensional tangible form is a tribute to that act of child-like dreaming and making.
I also photographed the piece on a painted blue backdrop on 35mm film. Rather than being shown in crisp, cold catalogue-style documentation I wanted to keep her tethered to the context that I remember her in - warm, imperfect, saturated in colour and slightly out of reach through the soft hazy textures of memory.

I hope that my rendition of Snapsak makes people smile, laugh or even feel a bit scared. And I really hope she cracks open the memory vault for someone who might have forgotten about her and all the beauty and chaos of children's TV from that era!