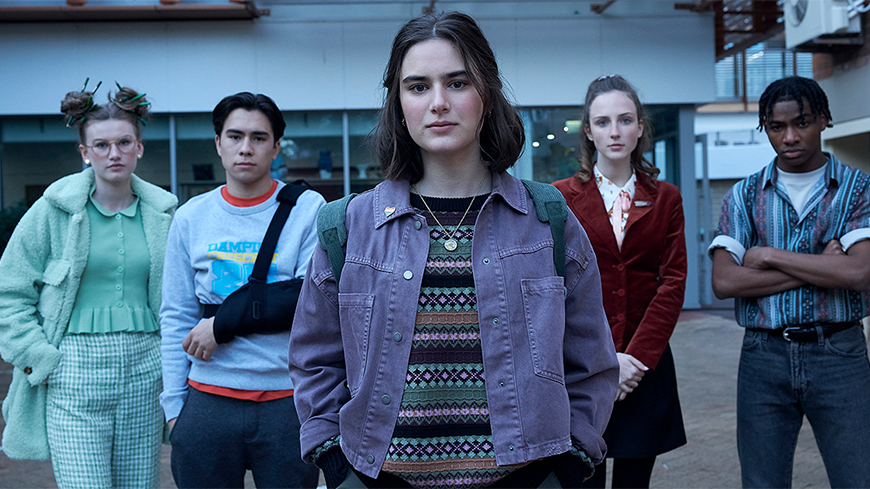 New educational resources for The PM's Daughter provide a youth lens on politics
As Australians prepare to go to the polls, educators can teach their students about politics and democracy with two brand-new educational resources for political comedy-drama series The PM's Daughter.
The Australian Children's Television Foundation (ACTF) has partnered with the Museum of Australian Democracy (MoAD) to create teaching resources for students in Years 5 to 6 and 7 to 10.
The PM's Daughter is a 10-part live action series set in Canberra, the heartland of Australian politics, produced by Fremantle for the ABC. It tells the story of Catalina Parkes Pérez, a teenager who's like any other, but with one difference: her mother is the new Prime Minister of Australia.
With the resources being released as the federal election approaches, educators can draw on these free materials when teaching students about their role as active members of the democratic community.
The secondary school teaching toolkit is designed for Humanities and Social Sciences (HASS), Civics and Citizenship, English and/or Media Arts students in Years 7-10. The learning prompts developed for each episode directly link to students' real-world context on both a local and global scale.
The primary and lower secondary school teaching resource aligns with Civics and Citizenship for students in Years 5-6 and Years 7-8. The resource can be used flexibly in the classroom, with activities and opportunities for discussion giving students the opportunity to engage with content under the themes of effective campaigning, issues that matter, and the influence of media on audiences.
The resources consist of activities which utilise content from the series coupled with active student participation, building knowledge of our democratic processes and civic responsibilities with a strong focus on developing media literacy and critical thinking skills.
Ahelee Rahman is a Year 12 student, school captain and passionate advocate for youth voices within our democracy. Ahelee worked on the resource as a youth consultant.
Ahelee said: "Young people have such unique perspectives to offer to our democracy, but we are excluded a lot of the time, either because we're not taken seriously or simply because we don't have the right to vote. But young people have such an important role to play in our democracy, and I find it really sad that a lot of us think we don't need to care about politics until we turn 18. I think improving Civics and Citizenship education is the best way to get young people more involved."
ACTF First Nations Designer April Phillips said: "We are proud to present this learning experience in partnership with the MoAD Learning team. The characters from The PM's Daughter drive the learnings, and students will no doubt find this to be an engaging and relatable way to connect with politics."
MoAD Learning Manager Dr Stephanie Smith said: "Everyone has an important role to play in our democracy. It is essential that we support young people and acknowledge how valuable their voice is. We are so delighted to have contributed to this fantastic resource which will not only support young people to explore the many ways to be heard in our democracy, but also develop an understanding the role of the media, how it affects our perceptions and consider ways to strengthen our critical thinking skills."
The resources are now available to view and download:
The PM's Daughter Teaching Toolkit (Years 5-8)