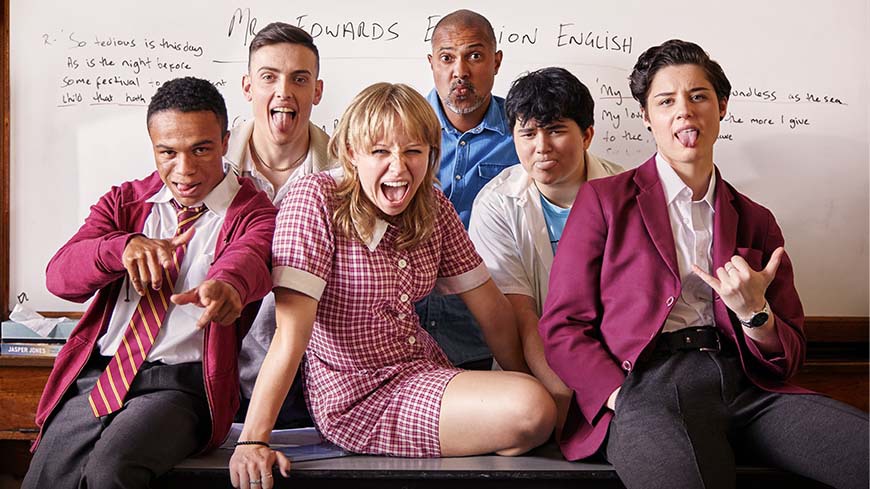 Exciting opportunity to co-host ACTF teen podcast
Are you (or do you know) an engaging young person aged 18-19 who is a charismatic storyteller with exceptional speaking skills and a commanding presence? Someone who takes pride in their identity and lived experience?
The Australian Children's Television Foundation (ACTF) is searching for two or three young adults to co-host an exciting new podcast!
About the podcast
This short-form podcast series explores the challenges faced by teenagers in the new Australian television series More Than This (currently streaming on Paramount+ Australia). Some of the themes explored include friendships, family and school pressures, consent, bullying, body image, relationships, and sexuality.
More Than This is an authentic exploration of adolescence in Australia, written and co-created by teen Olivia Deeble. In this podcast, we will further explore the topics covered in the show, creating a safe and collaborative space for teens to reflect and discuss.
About the position
We are looking for two or three young people between the ages of 18-19 to co-host our podcast. We're looking for individuals who are creative, mindful, articulate and captivating. Excellent speaking skills are a must. The young people selected for this opportunity will be working closely with trained educators and producers from ACTF and Queer Town in Melbourne to bring this unique podcast to life. Previous experience in podcast production is not a requirement. The podcast host roles are paid positions.
We welcome young people from all walks of life to apply for this opportunity. In particular, we strongly encourage young Aboriginal and Torres Strait Islanders, LGBTIQA+ individuals, and those living with disabilities to consider the opportunity. Podcast development and recording will take place in Melbourne and successful candidates will be required to travel to Melbourne for this work.
How to apply
Applicants are invited to apply here.
Please include the following information:
A written response (up to 150 words) introducing yourself. (Who are you? What excites you? Why do you think you would be a good podcast host?)
A short audio recording (up to 2 minutes) responding to the trailer for More Than This and sharing why you would like to make a podcast on the series
Applications are due Friday 22 April 2022 at 5pm.
ACTF's Privacy Collection Notice
We are collecting your personal information in order to select suitable candidates to be podcast hosts. Please see the ACTF's Privacy Collection Notice located here (https://actf.com.au/shop/privacy) in relation to personal information collected by the ACTF. The ACTF's Privacy Policy can also be found here (https://actf.com.au/shop/privacy). As this podcast is being delivered through a partnership with the organisation Queer Town, your personal information will be shared with Queer Town (https://www.queertown.com.au/). If you are not selected to become a podcast host, we will destroy the personal information we hold about you.
Contact
If you're looking for more information, don't hesitate to reach out to ACTF's Creative Learning Manager, Bridget Hanna: bridget.hanna@actf.com.au