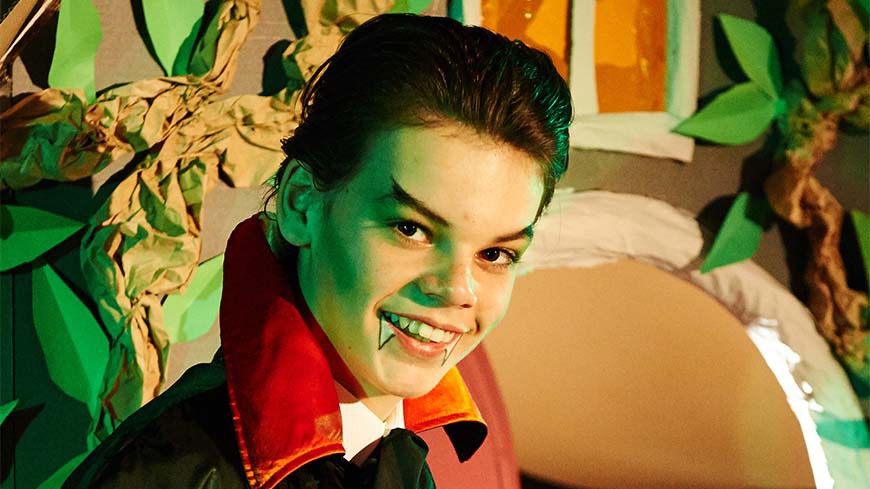 Spooky Screen Stories for Your Students
Looking for fun short-form content for your classroom this Halloween? Check out these titles.
Once upon a time, a White Witch moved into the neighbourhood of a Black Knight – and this didn't make for happy neighbours. While she makes tea, he throws axes.
This short, comedic series features two characters straight out of a fractured fairy tale – and they are destined to be together.
Little Lunch: The Halloween Horror Story
One of two specials filmed after the original series, 'The Halloween Horror Story' features all your favourite Little Lunch characters and the same trademark humour.
This 24-minute special episode cracks open the heart of the spooky celebration to explore, beyond a scary costume, what it is that children really fear and how they can overcome it.
Alex King wakes up on his birthday to find that time has reset itself and he must live through his most excruciating year of high school – all over again. Worst Year of My Life, Again! is a comedy about friendship, destiny and second chances and explores issues based around consequences, stereotypes, and decision making.
In the episode titled 'October – Halloween', Alex creates a cool Grim Reaper costume to wear to Nicola's Halloween celebrations – now he just has to get to the party without getting tricked or treated! Side-tracked by an unexpected detour to the hospital, his costume proves a bit too convincing when he ends up wandering the halls of a geriatric ward and scaring the patients. The second time around, Alex actually makes it to party event of the year. But will his costume once again be his undoing or can he rise above disaster and impress his dream girl this time?
Find this content and more in the ACTF Shop.
'The Halloween Horror Story' will air on ABC Me on Sunday 31 Oct at 4:42pm, or catch it any time on ABC iview.