One Award After Another for Little J and Big Cuz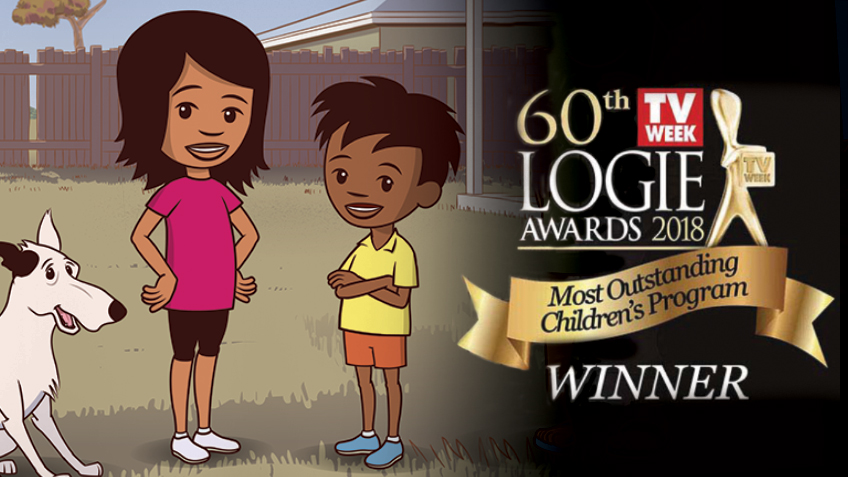 Australia's first Indigenous animated series, Little J and Big Cuz (Ned Lander Media for NITV) won the 2018 TV Week Logie Award for "Most Outstanding Children's Program" in July this year. Even more recently, the series won again with a Writers Guild Award at the 51st AWGIE Awards held in Sydney on August 30th - Erica Glynn won the "Children's Television: 'P' Classification (Preschool – Under 5 Years), Original or Adapted, Animated or Performed" award for her work on the episode: "Where's Aaron".
The series, which explores aspects of Indigenous community and culture, is currently in production on a second series which is scheduled for completion in 2019.
Little J & Big Cuz explores the ups and downs of the playground and classroom for five-year-old Little J, and his nine-year-old cousin, Big Cuz. There's always something surprising going on - whether it's at school, in the backyard... or beyond. The gaps in Nanna's ramshackle fence lead to Saltwater, Desert and Freshwater Country. With the help of Nanna and their teacher Ms Chen, Little J and Big Cuz are finding out all about culture, community and country.

Little J & Big Cuz (Series 1) is a Ned Lander Media/Old Dog Pictures production for NITV and ABC. The series is financed with support from Screen Australia, Screen Tasmania, Film Victoria, ACER and the ACTF.
The Australian Children's Television Foundation distributes Little J & Big Cuz worldwide.