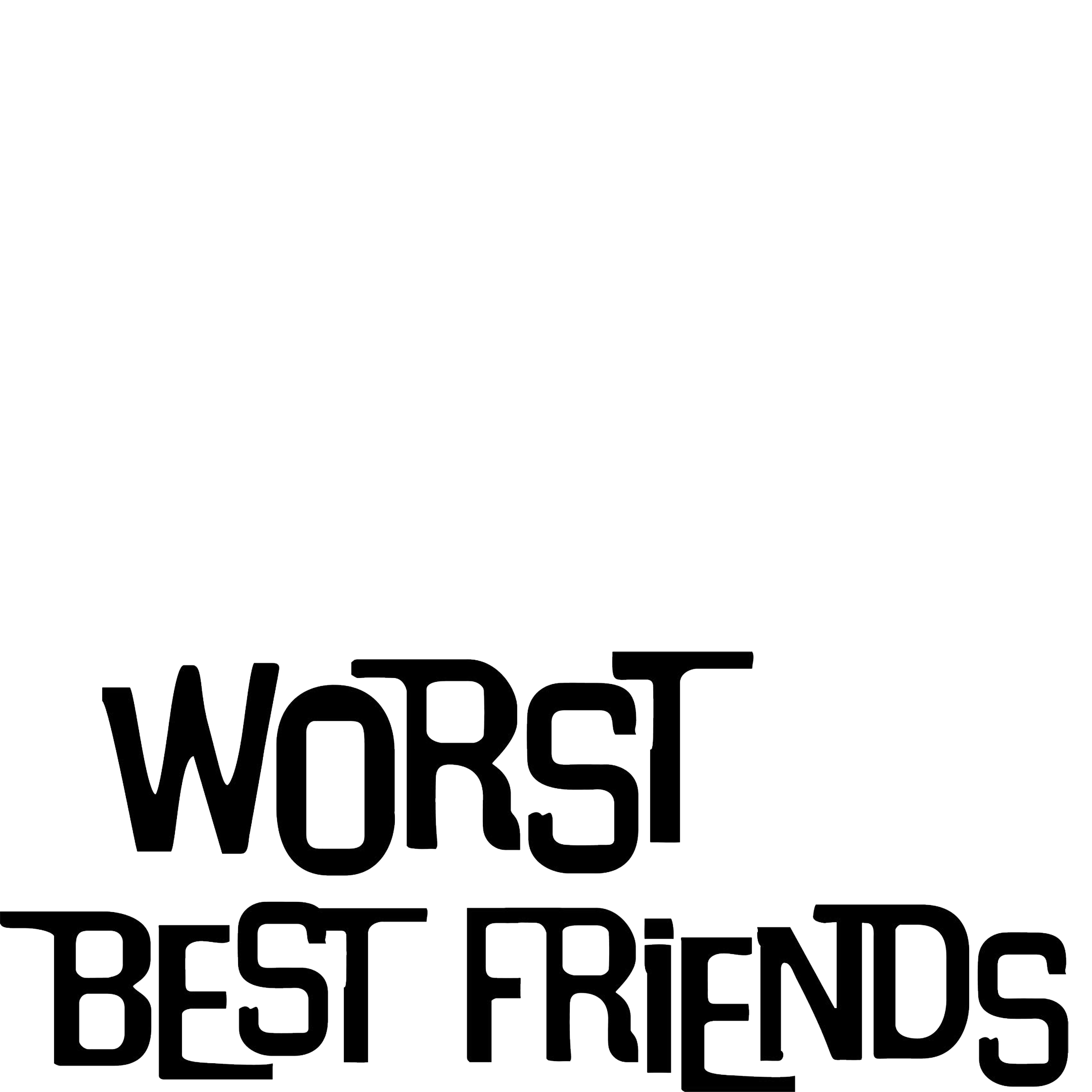 What happens when your two best friends are worst enemies? When the rough and tumble Dusting turns up uninvited to be Roger Thesaurus' best friend, Thesaurus is in trouble – he already has a best friend, the bossy Millicent.
Worst Best Friends
CoxKnight Productions Pty Ltd , 2002
Worst Best Friends is a comedy series that revolves around the life of young Roger Thesaurus, whose two best friends are worst enemies. Conceived and written by award-winning novelist and script writer Max Dann, Worst Best Friends features characters from Max's highly sccessful children's book.
Worst Best Friends has wide appeal to Primary children from Years 2 to 5, the comedy celebrating the absurdities of childhood, playground politics and family issues. The series has particular relevance to English and SOSE, with strong themes around civics and citizenship, identity and friendships.
This valuable teaching resource is applicable across a wide range of curriculum areas. Viewing and discussing Worst Best Friends provides a focus by which sensitive and controversial issues may be introduced into the classroom, including bullying and the breakdown of family relationships.
Free teaching resources for this program are available from the ACTF.
Episodes
Episode 1
The Excursion
On a school excursion to the Sparkling Star Bottle Works, Millicent and Dusting become trapped and are convinced that aliens have abducted Thesaurus. When Thesaurus eventually saves the day, the bottling works gives Dusting and Thesaurus free bottles of soft drinks.
Episode 2
Kiss of Millicent
When Dusting is cast as Don Giovanno in the school play, he swaps the part with Gilbert. There's no way he's going to kiss Millicent in the performance! But things go wrong when Gilbert gets an asthma attack on the night of the play and Dusting finds himself on stage kissing Millicent's tortoise, Alexander.
Episode 3
My Twin Rabbit
It's Help A Needy Person Week and Millicent, convinced that Dusting is poor, is determined to help him - whether he likes it or not! But when Thesaurus sleeps over at Dusting's, he discovers that Dusting's family is far from poor and Millicent learns a lesson about charity.
Episode 4
Fancy Rugs from India
When Dusting's Aunt Ivy comes to town and Thesaurus's mum forgets to cook him dinner, the two boys decide to sail away to Africa. But when Roger tells Dusting a ghost story on the first night, Dusting gets scared and deserts Thesaurus.
Episode 5
Eddie's Undies
Dusting's position as school bully is threatened when Eddie arrives at school. When Eddie threatens Millicent's pet tortoise, Millicent convinces Thesaurus and Dusting to teach Eddie a lesson - a lesson involving Eddie's underpants and a flagpole!
Episode 6
In the Pink
Thesaurus's life is turned upside down when Dusting and his Mexican walking fish decide to move in for a few days. When Millicent paints Thesaurus's room pink to drive Dusting out, Thesaurus is once again caught in the middle between his two worst best friends.
Episode 7
The Prince of Bermuda
While Thesaurus's dad takes him on a holiday to the local motel, Avril is convinced that the new P.E. teacher, Mr. Collins is about to propose to her. In an effort to win Avril away from Mr. Collins, Gilbert pretends to be French and challenges the teacher to a duel.
Episode 8
Moroccan Chicken
In an attempt to keep Thesaurus's parents from breaking up and taking him to Brazil, Millicent and Dusting team up to cook Mr. and Mrs. Thesaurus a romantic meal. But things don't go as planned when Millicent and Dusting fight, Chewbarker the dog steals the chicken and Thesaurus's fondue nearly burns the house down!
Episode 9
Better Than Glen
It's election time for Class Captain. Millicent backs Glen Appealing while Thesaurus backs Dusting. But when Glen shows more interest in swimming than the election and Dusting is caught cheating, it's Thesaurus who ends up becoming Class Captain.
Episode 10
Miss Personality
Millicent conducts a poll at school to prove that she really is a good person, but Dusting reminds everyone of Millicent's bad points. Millicent is devastated when her school friends tell her what they really think of her.
Episode 11
Single White Avril
Millicent decides to stay in bed until everyone at school apologises for being mean to her. But her decision has dire and unplanned consequences, as Avril tries to take over Millicent's position at school!
Episode 12
The Chosen One
In exchange for a rabbit, Molly offers to help prove to Max that he is not adopted. Meanwhile, Thesaurus's dad and Avril's mum hook up together and Thesaurus is forced to sleep in Avril's laundry.
Episode 13
Died a Horse
Dusting cons Thesaurus into going to the school fancy dress party in the rear end of Dusting's horse costume. But when Thesaurus sprains his ankle, it's Dusting who gets the nasty surprise - he'll have to dance with Millicent!
Awards
Banff 2003 – Rockie Awards Nominated for Children & Youth category

Winner - The Chris Awards 2003

The Chris Statuette 2003 – USA) (7 out of 7 rating points)
Running Time
13 x 24 mins
Production Company
CoxKnight Productions Pty Ltd
Language
English
Genre
Comedy Drama Live Action
Year level
Curriculum Study Areas
Themes