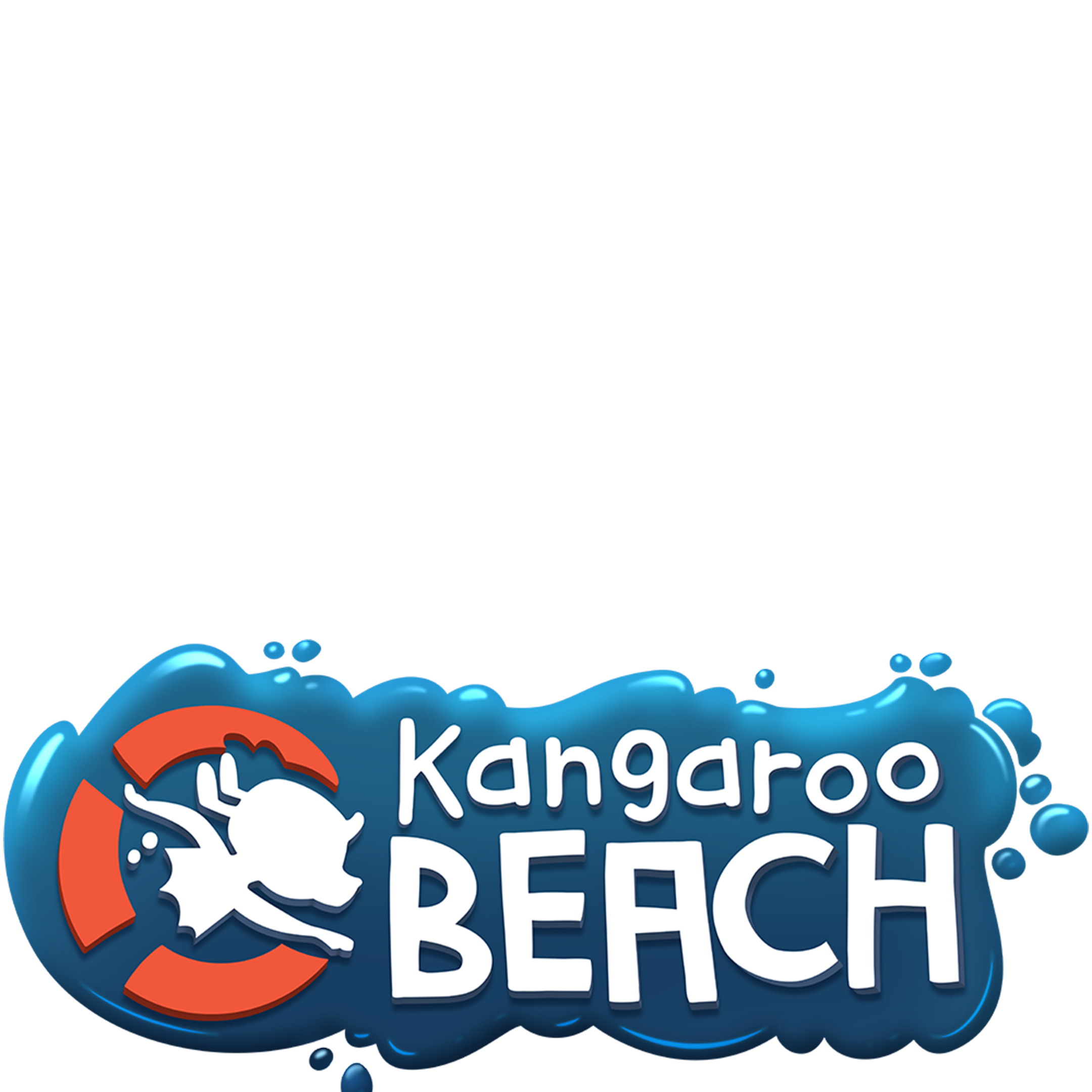 Four young animal friends share an action-packed summer training as cadets with their lifeguard heroes, keeping the water safe at the spectacular Kangaroo Beach.
Kangaroo Beach
Cheeky Little Media Pty Ltd, 2021
Welcome to Kangaroo Beach, a spectacular sunny paradise and summer home to four super-keen young lifeguard cadets.
Joey Pounce is a wannabe-hero lifeguard, platypus Gemma is a mini-marine biologist, wombat Neville is an expert sandcastle digger, and koala Frizzy is an all-singing, all-dancing, all-fabulous performer extraordinaire.
Every dazzling day is an action-packed adventure for the four furry friends, whether training to be lifeguards, mastering new water sports, discovering the marvels of the ocean, or scuba diving for underwater treasure. With waves to surf, a coral reef to enjoy, fascinating sea creatures to meet and a tropical island to explore, they're never far from fun – or danger!
But under the guidance of grown up lifeguards Bondi, Sandy and Big Trev, they're gaining imperative water safety skills that will help keep themselves and other beachgoers safe all summer. Through fun-filled games, sporting contests and on-the-job training, there's so much to learn about surf awareness, rescue equipment and protecting the beach, with a special medallion to earn for every new skill they master.
When an emergency breaks out, the cadets step up to help their heroes, putting their new skills and unique talents into practice, quickly becoming an essential part of every mission when the siren sounds on Kangaroo Beach.
When a surfing adventure ends with the cadets stranded on a deserted beach with two frightened youngsters, Neville lifts spirits with a story of a time he was scared… on his very first day on Kangaroo Beach.
Episodes
Episode 1
The Beach Race
Gemma is determined to win the Kangaroo Beach junior triathlon, score a trophy and, most importantly, beat super competitive Pounce! But when an emergency breaks out during the race, she discovers there are more important things than winning gold.
Episode 2
Pounce On Patrol
When Pounce earns Bondi's lifeguard cap for the day as a reward, it goes to his head – he thinks he IS chief lifeguard! But as he attempts a rescue, he winds up having to be rescued himself. When Gemma and Neville are caught in a whale-made whirlpool, will he leap in to save them, or alert a lifeguard?
Episode 3
Frizzy's Big Show
When a TV crew shows up to film rescues on Kangaroo Beach, Frizzy decides to play victim to get herself on telly. When that backfires badly, she performs a rip-roaring opera at sea in an elaborate (and heavy!) costume to get the attention she craves!
Episode 4
The Trophy Mystery
While the cadets are supposed to be supervising young Phillipa, Frizzy borrows the lifeguards' Golden Crabby award. But when a cheeky crab makes the shell-shaped trophy her new home and scurries off, the cadets turn into detectives to try and track it down – forgetting to pay attention to Phillipa and her toddler adventures!
Episode 5
Neville's Shark Drone
When local great white shark Charlene swims too close to Kangaroo Beach for the third time this week, Neville builds a shark-spotting drone – which quickly makes the lifeguards obsolete! But a too-confident Neville ignores the shark alarm, disaster strikes and Charlene gets beached in a cave. Now the lifeguards must work alongside technology to rescue the whopping big shark!
Episode 6
Lighthouse Storm
Frizzy is in explorer mode as 'Frizzy Bearhart', and discovers a secret path up the back hills to the lighthouse. But when lightning strikes the lighthouse, she needs rescuing from the storm. Determined to prove her worth as a great explorer, she offers to lead Bondi up her secret path to replace the broken lighthouse globe. But as Pounce and Neville prove their skills on the expedition, Frizzy feels like a failure. She saves the day when she climbs the lighthouse wall like a furry Spiderman!
Episode 7
Sandy's Surf School
The cadets are crushing it in Sandy's Surf School – all except Neville, who can barely stand up on the sand! So he secretly builds himself a Self-Surfer and soon he's surfing like a pro. But when his impressed friends sign him up for this afternoon's surfing regatta, he's suddenly way out of his depth! Maybe he'd be better off boogie boarding?
Episode 8
Frizzy's Treasure Hunt
The cadets are learning how to scuba dive, including the all-important message:Always swim with a buddy. But Frizzy is distracted by her own obsessive mission – to find King Neptune's trident and crown herself Queen of the Sea! When she abandons her buddy Big Trev to look for it, he winds up stuck in an underwater cave! Now Frizzy must guide Sandy to the rescue underwater, using scuba signals – and stick with her buddy.
Episode 9
Heatwave
It's the hottest day of summer and while Frizzy, Neville and Gemma try to cool down beached dolphin Shelley, Pounce is determined to prove he has staying power under the beating sun.
Episode 10
Brave In The Waves
When Pounce pretends he's an expert at diving under big waves, his friends ask him to teach them how - and he soon finds himself in deep trouble.
Episode 11
Rescue Roo
Pounce is literally bouncing with excitement to take part in Rescue Day, an epic, action-packed mock rescue on Boomerang Island. But when he sprains his thumper on the way to training, he's devastated to miss out, stuck back at the club for the day. But when a young wombat gets in trouble in the water, Pounce discovers that sometimes the best rescues aren't necessarily epic and action-packed!
Episode 12
Island Campout
Reading a comic book late at night, Frizzy is convinced she saw an alien koala spaceship visiting Boomerang Island. When Sandy announces a sleepover campout on the island, Frizzy seizes the chance to search for the intergalactic visitor. But the truth is more awe-inspiring than she thought...
Episode 13
Island Rescue
The cadets spend an afternoon exploring Boomerang Island, but when Ghërkinn's boat drifts away, they suddenly find they're castaways! Pounce, Gemma and Frizzy hop across some rocks towards the shore, but when they're stranded by a rising tide, it's up to a cautious little yellow wombat to save the day!
Episode 14
Ready Cadet Go!
When the cadets get a chance to win some medals in three rounds of challenges, Frizzy gets distracted by the promise of shiny gold things. But when Frizzy fails at all three, she climbs a tree, feeling sorry for herself – and discovers a hidden talent for spotting danger from up high!
Episode 15
The Big Swim
When the cadets compete in the much-awaited Battle of the Boards, they must work together as a team to try and win a brand new rescue board for the surf club. Trouble is, Neville is nervous he's going to let the team down. By knowing his limits and going at his own pace, it's Neville who teaches the others a lesson in one of the most dramatic Battle of the Boards since Bondi was a joey.
Episode 16
King Tide's Castle
Neville pretends to be royalty and builds himself a lifesize sandcastle but forgets Kangaroo Beach is due for a king tide.
Episode 17
Stay Calm And Snorkel
Gemma can't wait to see all the weird and wonderful sea creatures on Snorkelling Day, but her snorkel is getting in the way. Frizzy is being distracting while the cadets learn how to stay calm in the water, but in the end it's Frizzy who teaches Gemma how to relax.
Episode 18
The Dream Team
Pounce, Frizzy and Gemma each have their own personal superstar lifeguard hero. But during an action-packed ridealong day, they discover that it's not about the individual, but the team.
Episode 19
Coach Koala
To help Big Trev pass the annual lifeguard fitness test, Frizzy coaches her grandfather with an early morning bootcamp.
Episode 20
The Shark Prank
When Reef and Roadie are rejected from the cadets' safety film, they disrupt the production with a set of pranks but end up learning a valuable lesson about pretending to be in trouble when you're not.
Episode 21
Wild Waterslide
A giant inflatable waterslide is erected on the lagoon, but before they can ride the cadets must teach the younger kids how to float. When the waterslide is cut loose and blows out to sea, Wei's brand new floating skills come in handy.
Episode 22
Cadets vs Champs
It's Carnival Day at Kangaroo Beach with two teams competing in lifeguard games. But it's the young cadets versus the lifeguards - how can they possibly win against a stellar team of grown-up champions?
Episode 23
Trash Pets
When the cadets create animals out of rubbish they've cleaned from the beach, they dub them 'trash pets' and inspire other beachgoers to make their own, but soon things get out of hand and their treasure becomes trash once more.
Episode 24
The Lagoon Monster
When Pounce falls in the lagoon and gets covered in seaweed, the other cadets mistake him for a swamp monster, and decide they have to capture it.
Episode 25
Turtle Toddlers
It's the day of the big Kangaroo Beach beach cricket match, but when Gemma and the cadets find a nest of turtle eggs, they play 'parents', vowing to protect the eggs from seagulls, crabs and flying cricket balls.
Episode 26
Cadets in Charge
The cadets think lifeguarding is all about exciting rescues, glamour and gratitude, but when the lifeguards give them an opportunity to run the club for a day, they struggle to keep up with the many demands of running a beach. The lifeguards are ready to step in and take over, but then the cadets realise what's missing – communication. As Gemma gives her fellow cadets instructions over their walkie-talkies, suddenly they are doing a brilliant job – even performing their own river rescue!
Awards
2021 Australian Academy of Cinema and Television Arts (AACTA) Award
Nominee: Best Children's Program
2021 Screen Producers Australia Awards
Nominee: Animated Series Production of the Year
2021 Australian Writers Guild Awards
Nominee: Simon Dodd and Tristan Dodd, 'The Shark Prank'
Most Outstanding Script: Children's Television – 'P'
Year level
Curriculum Study Areas
Themes