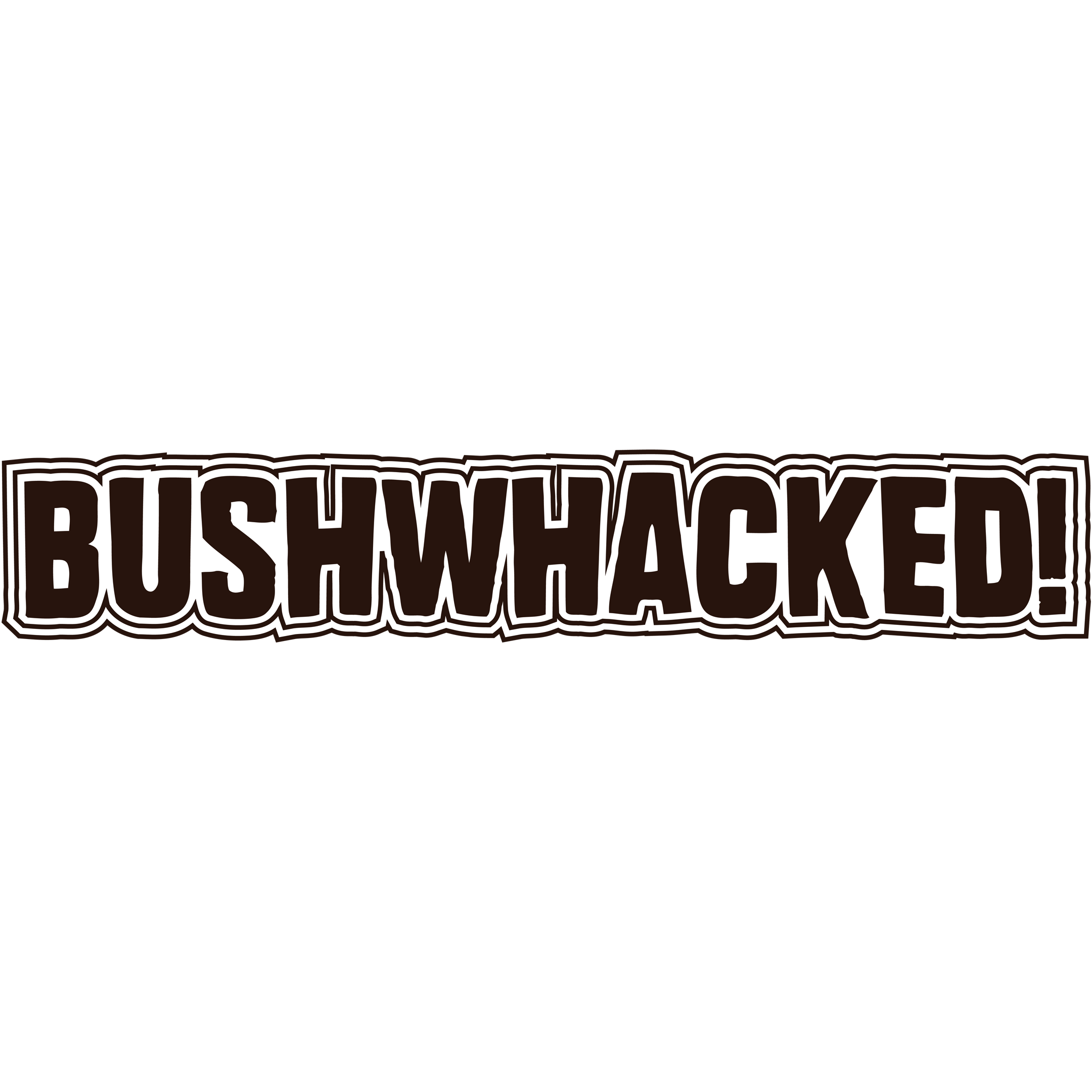 Bushwhacked! - Series 2 weaves adventure, travel, food, wildlife, history and culture as Kayne Tremills goes on the adventure of a lifetime with Indigenous co-host Kamil Ellis.
Bushwhacked! - Series 2
Mint Pictures, 2014
Bushwhacked! - Series 2 weaves adventure, travel, food, wildlife, history and culture as Kayne Tremills goes on the adventure of a lifetime with Indigenous co-host Kamil Ellis.
Crisscrossing Australia in search of adventure and Aboriginal culture, the hosts meet wildlife experts and Indigenous communities who help Kayne achieve his mission.
Chasing down dangerous spiders, killer sharks and venomous snakes, as well as friendly penguins, loveable turtles, a cantankerous cassowary, amongst other rare and endangered native Australian animals, the boys are constantly kept on their toes. And adventure is always calling as they challenge each other to death-defying experiences by rock climbing, skydiving or hurtling down a steep sand dune on a board to get to their mission.
Travelling to stunning locations from the Ningaloo Reef and Fitzroy River in Western Australia to Uluru and Kings Canyon in the Northern Territory, and to the tropical beauty of Heron Island on the Great Barrier Reef, Bushwhacked! is a high-octane, adventure-fuelled wildlife based series for the whole family.
Bushwhacked! Is an action-packed, high-energy, adrenalin-fueled race around Australia in search of some endangered, some seriously weird and sometimes deadly wildlife!
Bushwhacked!' is a 13-part series hosted by Brandon Walters and Kayne Tremills as they set off on the adventure of a lifetime to remote corners of Australia, meeting the country's weird and wonderful wildlife.
Kayne is ready to brave Kamil's new round of bigger and bolder adrenalin-fuelled outback missions in Bushwhacked! - Series 3.
Episodes
Episode 1
Whale Shark
Welcome back to Bushwhacked! We're jumping into the deep end as Kayne races a Whale Shark in a 100-metre splash dash!
Episode 2
Sea Eagle
Who says an airplane is the only way to fly? Check out Kayne defying gravity when he takes to the skies to fly alongside a White-Bellied Sea Eagle!
Episode 3
Perenties
The Perentie is the king of the desert – but they're notoriously shy, which means Kayne has his work cut out for him when he is challenged to find one and stage a pose!
Episode 4
Rodeo
This week Kayne & Kamil prove they're not a bunch of (rodeo) clowns when they get the chance to jump on a bucking bull and hang on for eight seconds – the shortest Bushwhacked! mission ever!
Episode 5
Sawfish
Ever tried to hug a fish? Neither has Kayne, but that's his challenge this week when the gets up close and personal with a Sawfish and give one a hug!
Episode 6
Camel
Back on terra firma this week, we're exploring the red desert, mustering a camel before Kayne has to catch its urine and comb his hair with it!
Episode 7
Dugong
Doctor Kayne, medical check the endangered Dugong!
Episode 8
Brown Snake
From underwater to one of the world's most deadliest land-dwelling creatures, this week our two adventurers will help save the deadly King Brown Snake from extinction!
Episode 9
Box Jellyfish
It doesn't get deadlier than this – Kayne has to give a deadly Box Jellyfish a manicure!
Episode 10
Urban Animals
We hit the "big smoke" and check out some endangered urban wildlife when we visit Sydney – home to the Harbour City and its many animals!
Episode 11
Tarantula
Spiders – it's one of the largest phobias people have around the world. So how will Kayne & Kamil go when they have to come face to face with a Giant Whistling Tarantula!
Episode 12
Manta Rays
It's one thing to take a "selfie" what about trying to take a happy snap with a giant Manta Ray while swimming underneath it! Yup, that's the challenge for Kayne today!
Episode 13
Emu
Just because the Emu can't fly, doesn't mean it can't run fast… See how our two adventurers go in trying to track an Emu and see if they can borrow one of its eggs!
Awards
2015 Kidscreen Awards (USA)
Nominated - Best Non-Animated or Mixed Series
2015 Chicago International Children's Film Festival (USA)
Winner: Special Jury Science/Maths Award
2015 Chicago International Children's Film Festival (USA)
Selected for screening
2015 Logie Awards
Nominated - Most Outstanding Children's Program
2015 Worldfest Houston
Winner - Best TV Series - Family/ Children
2014 Asian Television Awards
Winner - Best Children's Programme
2014 Banff World Media Festival Rockie Awards
Nominated - Children's Non-Fiction
2014 SPA Awards
Nominated - Children's Television producation
2014 TELAS Awards (Brazil)
Selected for screening
2014 Wildscreen Panda Awards
Highly Commended – Children's Choice Award
2014 The AIB Awards
Nominated - Children's Factual Programme/ Series
Running Time
13 x 26 mins
Production Company
Mint Pictures
Language
English
Genre
Factual Live Action
Year level
Curriculum Study Areas
Themes