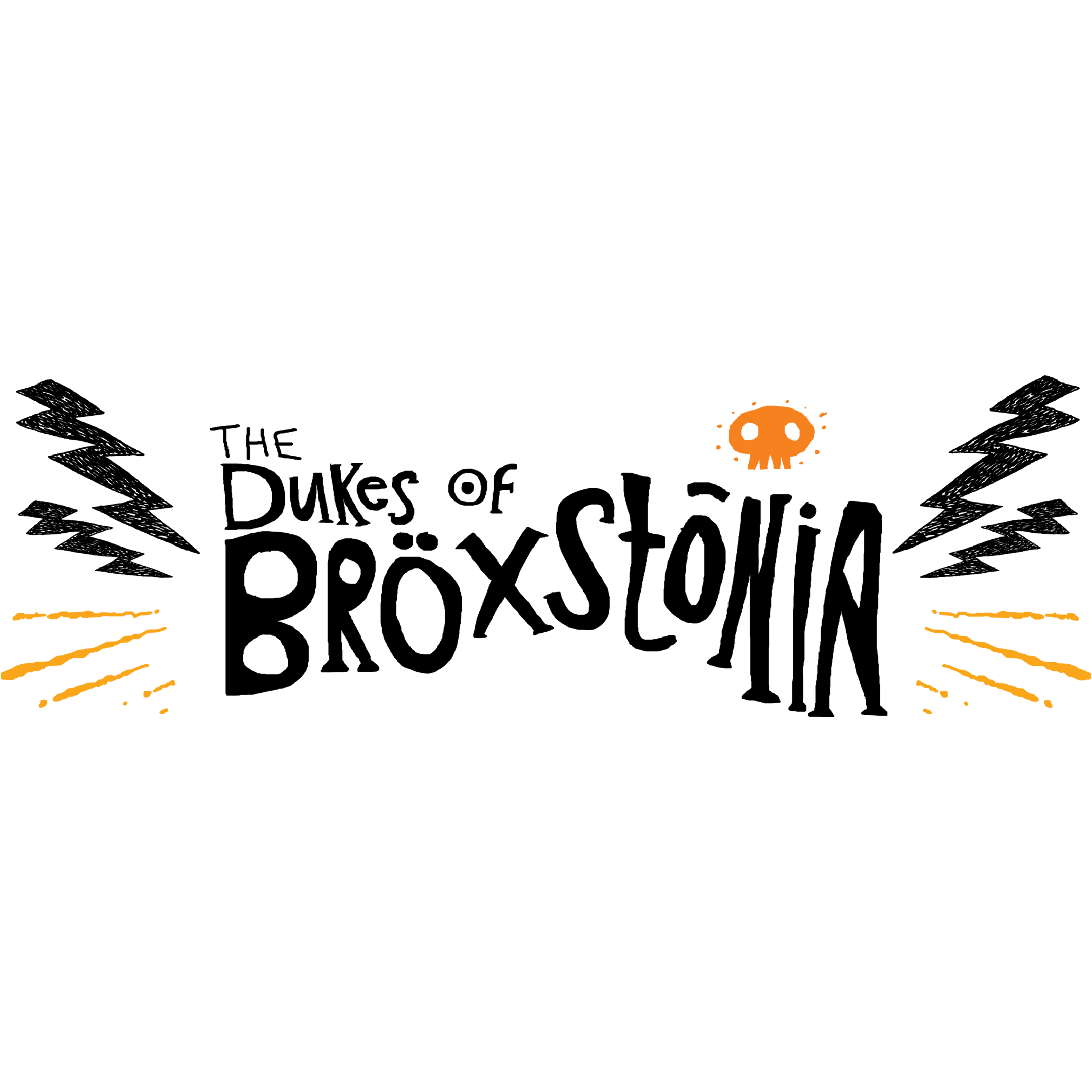 The Dukes are the hottest band to come out of Bröxstônia. Ever. The band is composed of teenagers - singer, Arj, drummer, Barj and guitarist, Larj. And thanks to the generosity of the Bröxstônian government, the Dukes are alw
Dukes Of Broxstonia - Series 3
Sticky Pictures, 2013
Bow down to rock!

The Dukes are the hottest band to come out of Bröxstônia. Ever. The band is composed of teenagers - singer, Arj, drummer, Barj and guitarist, Larj. And thanks to the generosity of the Bröxstônian government, the Dukes are always on tour, spreading their uniquely punk thrash sounds to an unsuspecting world!
In this long-form series of the Dukes, episodes feature the always insane adventures of the 'Lords of Loud', along with unique Bröxstônian advertisements.
Join Arj, Barj and Larj, as they deal with monstrous fans, rival bands, cyborg robots, video game monsters and wild west villains. But remember, what happens on the road, stays on the road.

The Dukes was created by writer Stu Connolly and designer Suren Perera, and features the voice talents of comedian Andrew McClelland. The series is produced by Sticky Pictures (Me & My Monsters, Pearlie, Dennis & Gnasher, Monster Auditions).
Episodes
Episode 1
Fly/Planet of Babies
The Dukes are on the road, when a pesky fly invades their van / The Dukes are zapped by a magical rattle to a planet ruled by a giant baby.
Episode 2
Arj-o-phone/Tomatoes
Arj turns into an auto-tuning microphone after a microphone accident / Barj's obsession with tomato sauce affects the band.
Episode 3
Undies/Trophy
Larj's undies come alive and try to break up the band / The Dukes' Best Band Hair Award trophy is stolen.
Episode 4
Game/Back to Bröxstônia
Barj is sucked inside a 1980s arcade game / The Dukes return home to Bröxstônia for a gig.
Episode 5
Skinny/Bite Night
The Dukes are visited by Barj's Mum / The Dukes stay in a hotel run by a vampire.
Episode 6
Robobarj/Larj in Love
Barj becomes a robo-crimefighter after an accident / Larj falls in love with a zombie girl.
Episode 7
Mojo/Strong Arj
Larj seeks out the Bröxstônian rock god / Arj becomes a stunt strong man.
Episode 8
Wanted/Axe Affair
Barj is mistaken for a wild west villain / Larj is fighting with his ex-guitar.
Episode 9
Royal Dukes/Photoshoot
The Dukes pose as royals to escape from monster fans / The Dukes mess up their album photoshoot.
Episode 10
Dukes in Space/Robot Bouncer
The Dukes board a space shuttle hurtling towards the sun / The Dukes' concert is hijacked by their rivals: the Lukes.
Awards
2014 Kidscreen Awards
Nominated - Best Animated Series
2014 Stuttgart Animation Festival
Nominated - Cartoons for Teens
2013 ACCTA Awards
Nominated - Best Short Animation
2013 Annecy International Animation Film Festival
Nominated - Television Series
2013 SPA Awards
Winner - Best Children's Television Production