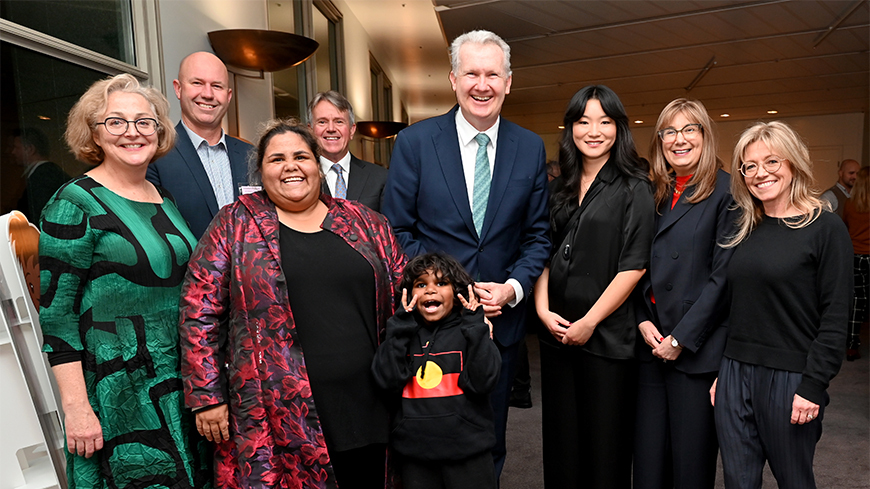 Children's television on the agenda at Australian Parliament House
Kids, cast members, politicians and screen industry professionals came together at Australian Parliament House this week to celebrate local children's content at a special event hosted by the Australian Children's Television Foundation (ACTF) and Minister for the Arts Tony Burke.
The ACTF 2023 Parliament House Showcase was held to exhibit some of the newest content supported by the ACTF, including an episode of the second season of the acclaimed political-comedy drama The PM's Daughter, which premiered on ABC ME and iview this week. The showcase also screened episodes of preschool animations Little J & Big Cuz and Kangaroo Beach, and the live-action series Barrumbi Kids.
Adults and children alike were delighted by an appearance by Neville and Pounce from Kangaroo Beach, with preschoolers, newborns and Senators among those to pose for photos with the excitable lifeguard cadets.
Young fans of The PM's Daughter were thrilled to meet Cassandra Helmot, who plays the lead role of Cat on the critically acclaimed series, while actor Aaron Fa'Aoso, who voices Old Dog in Little J & Big Cuz, made many new young friends in the crowd.
It was the first ACTF showcase at Australian Parliament House since 2018.
The event was held not only to showcase the world class children's content created in Australia, but to honour the cast, crew and creators who work tirelessly to bring Australian children's stories to the screen; the funders, broadcasters and streamers who provide investment and a platform for children to view these stories; and to thank the Government for its ongoing support of children's television and to highlight the value in the continued investment in Australian stories.
In his speech, Minister for the Arts Tony Burke said: "Learning about our stories, our emotions, our places, doesn't start when you reach adult drama – we want people to be relating to those stories from the beginning of their lives in this country. We want to make sure that those stories reflect the full representation of modern Australia.
"There are First Nations stories that need to be available not only for First Nations children, because it's essential that they see themselves on screen, but it's also essential and wonderful and beautiful that the rest of the nation gets to share in that as well. It's also the magnificent web of immigration stories that we have… we want to make sure that what we see on screen looks like modern Australia. That's what we mean when we talk about a place for every story."
ACTF Chair Helen Silver said: "Australians produce exceptional children's content, including both animation and live action children's drama, as a direct result of the Government policies and funding which underpin our industry. This is a wonderful opportunity to celebrate the breadth and diversity of our screen industry's offering to children, and the shows we've been supporting over the last few years. Quality children's content entertains, engages and inspires young audiences, and we know that it has many supporters in Parliament House. But there is nothing like bringing the shows, and children to watch the shows, into the building itself to demonstrate the value of investing in quality Australian children's content."
The ACTF is grateful to the partners who help to create and broadcast the world class content we were able to showcase at the event: Ned Lander Media, Media World and Blue Rocket (Little J & Big Cuz), Cheeky Little Media (Kangaroo Beach), Fremantle Australia (The PM's Daughter), Ambience Entertainment and Tamarind Tree Pictures (Barrumbi Kids), ABC, NITV, Screen Australia, VicScreen, Screen Tasmania, Screen NSW, Screen Territory, Screen Queensland, the Australian Council for Educational Research (ACER) and the Surf Life Saving Association of Australia.