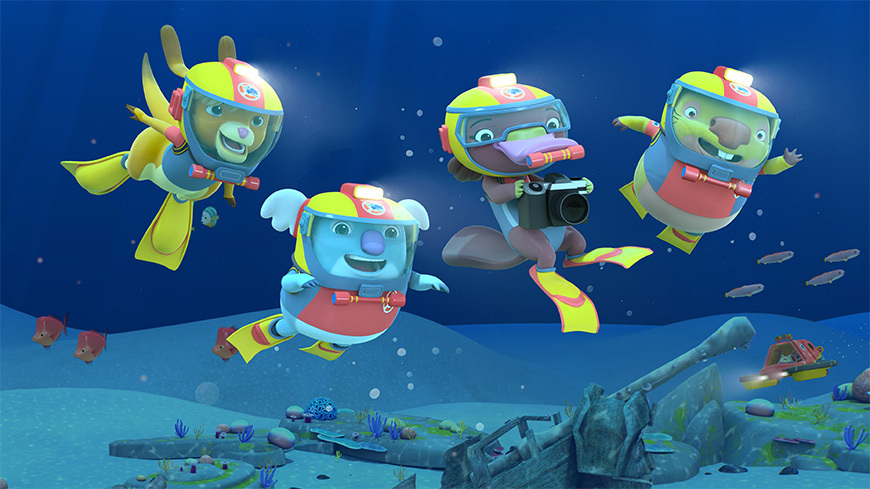 New episodes of Kangaroo Beach airing now
Australia's favourite lifeguard cadets are back, with the second season of the hit animated preschool series Kangaroo Beach out now.
Produced by Cheeky Little Media for the ABC, Kangaroo Beach is a fun-filled series about the adventures of four young animal friends, Pounce, Gemma, Neville and Frizzy, training as junior cadets with their lifeguard heroes at the spectacular Kangaroo Beach.
Every day is an action-packed adventure for the four furry friends as they train to be lifeguards, exploring the beach, the sea, swimming pools, rivers and rock pools, while empowering viewers with an imperative message about water safety in every story.
The second season explores new water safety themes and features a guest appearance from Australian actor Miranda Tapsell.
Cheeky Little Media Executive Producer Patrick Edgerton says Season 2 is full of the same fun, humour and adventure as the first season.
"There's lots and lots of fun on the beach, lots of adventure, a rescue in every episode, and the same level of water safety awareness and guidance in every episode," Patrick said.
"We developed Kangaroo Beach in response to the fact that child mortality through drowning globally is one of the leading causes of child mortality. In Australia we're a beach-going nation, we're a creek-swimming, river-swimming, backyard pool-swimming nation too, so we wanted to create a show that was entertainment first and foremost, but also provided crucial water safety messages."
Season 2 of Kangaroo Beach is now airing on ABC Kids and available to stream on iview.
The ACTF distributes both seasons of the series internationally.
Kangaroo Beach Series 2 is a Cheeky Little Media production for the ABC. Major production investment from the ABC in association with Screen Australia. Financed with support from the Australian Children's Television Foundation (ACTF) and Surf Lifesaving Association of Australia. International sales by the ACTF and Infinite Frameworks.