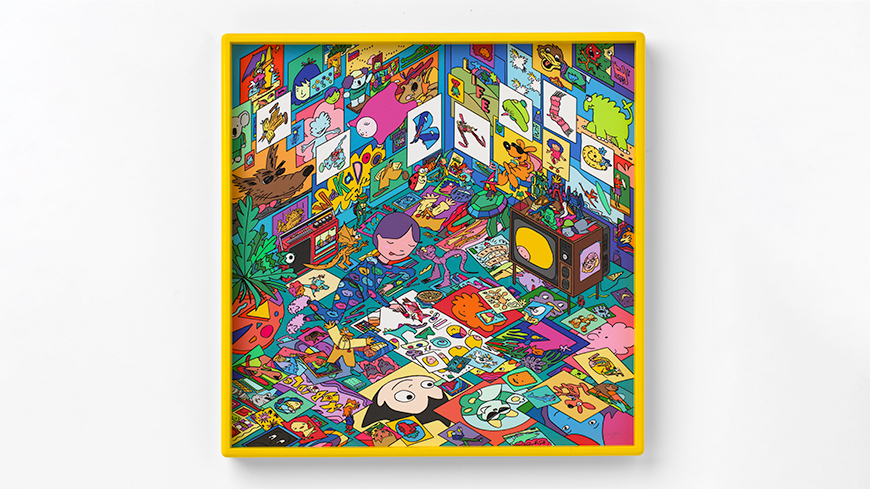 The Kaboodle Room in My Mind by David Booth
The stories, characters and worlds of children's television leave an indelible mark on our memories and help to shape our childhoods, our worldview, and – in some cases – our careers.
When Melbourne-based artist David Booth shared an artwork featuring the ACTF logo, we knew we needed to learn more about how children's television might be influencing contemporary visual arts. To what extent are the Australian artists who grew up during the 1980s and 90s influenced by the shows they watched in childhood? How might Australian children's television have ignited the imaginations of creative practitioners?
We invited six artists to create a new work based around their relationship with Australian kids' TV and the culture of their formative years. Celebrated as 'fan art', the artists explored their memories of ACTF stories across a broad range of mediums. The works were a vehicle to revisit the screen stories of their youth and examine the lasting impact children's television had on their childhoods and, as adults, their artistic practice.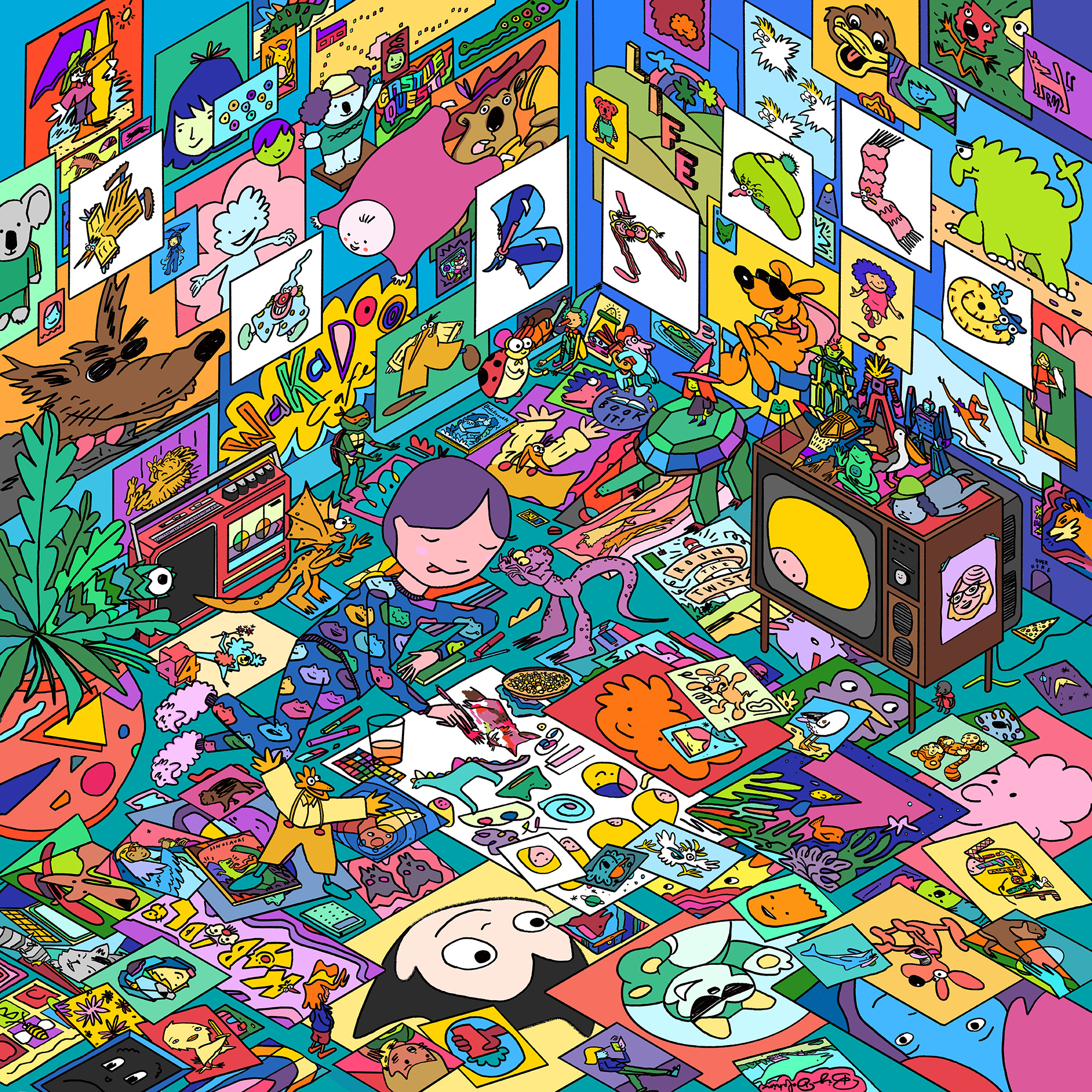 David Booth
The Kaboodle Room in My Mind, 2022
Giclee print edition of 15
How did our television content shape your childhood experience?
I was born in Tasmania in 1981, and there was pretty limited access to TV, so I soaked up anything I could get. The past is so blurry, but I do know I was mesmerised by anything that looked drawn. Things that were drawn made sense to me.
There are so many things that I must have seen or heard only once that morphed into weird memories and inspiration.
Tell us about one of your fondest and strongest memories of watching Australian television.
All the TV I saw as a child really transported me away from my little island. It definitely made me want to draw and make things.
The Kaboodle theme and introduction is very familiar and grounding to me. It looked like someone drew it and I could almost imagine drawing my own version when I grew up. I really liked the Life Be In It commercials. I loved the wobbly lines and how kind of weird it all was. Lift Off! was definitely part of my after school snacking schedule. It was a mix of weirdness, creepiness and also inspiration. The backsacks made big impression on me. Lift Off! made a world that I wanted to live in.
How has ACTF content influenced your art practice?
Cartoons, books and drawings from my childhood are a major part of my art practice. It's something that I spend a lot of time digging around in the memory of. Accessing the free daydreamy space of childhood is the pursuit of why I draw and create.
After digging into the archives at the ACTF I've rediscovered how much the colours and creations have impacted me. There's more to it that's hard to even put into words. It's more blurry feelings and and a taste that it leaves in my mouth.
Looking back I can say that the ACTF shows that I consumed definitely felt Australian. I was prime age for the Paul Jennings books so Round the Twist was perfect treasure for me. Such a good level of adventure and daydreaming for my growing brain. There's something locked away in those feelings that I'm always trying to rediscover.
Describe your artwork and the story behind it.
There is a room in my mind that I can access that holds all the images, flavours and feelings from lying on the carpet in front of our wooden family TV. I'm drawing the things I see and dream about. It all gets blurry looking back in time; characters from TV and books and pop culture all mash together to form a memory of a feeling about my budding inner world as a young boy. I love looking back on these shapes and colours that are buried deep in my mind. Digging through the ACTF archive has awakened some memories and feelings that seemed lost. The rediscovery and reactivation tastes sweet.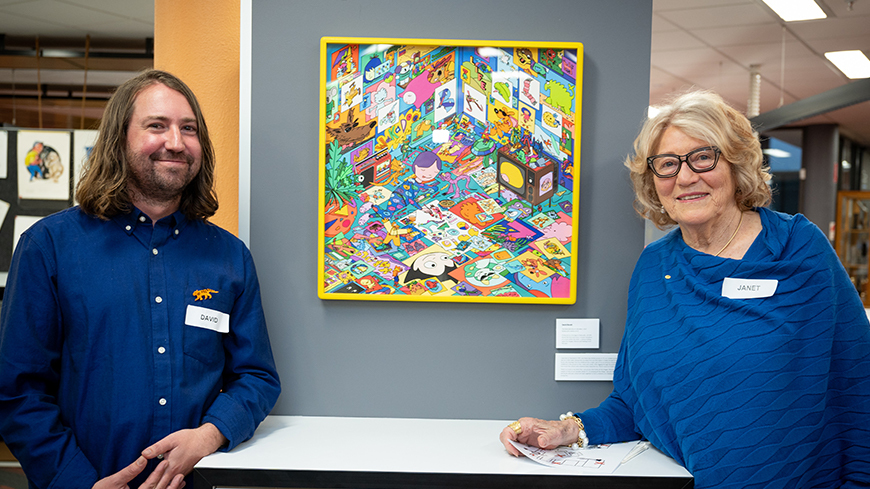 David Booth with former ACTF board chair Janet Holmes à Court, who received one of David's limited edition prints as a thank you for her 36 years of service.