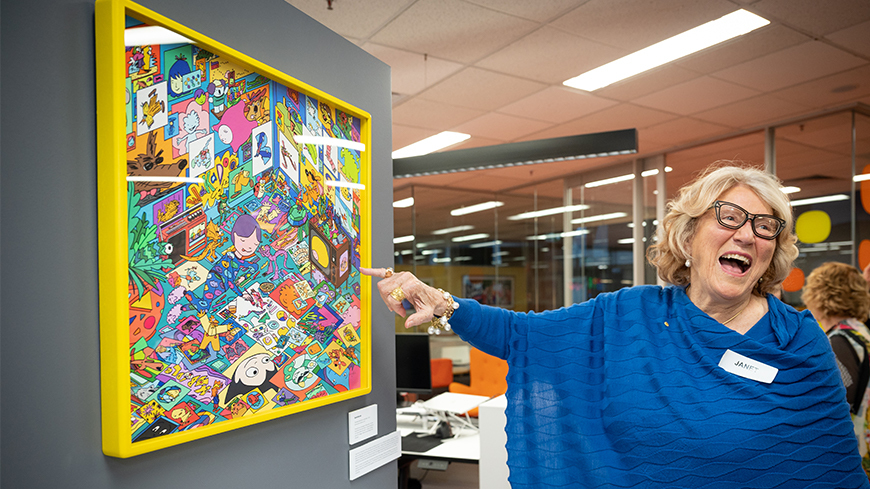 Artists celebrate Australian children's television
The stories, characters and worlds of children's television leave an indelible mark on our memories and help to shape our childhoods, our worldview, and – in some cases – our careers.
When Melbourne-based artist David Booth shared an artwork featuring the ACTF logo, we knew we needed to learn more about how children's television might be influencing contemporary visual arts. To what extent are the Australian artists who grew up during the 1980s and 90s influenced by the shows they watched in childhood? How might Australian children's television have ignited the imaginations of creative practitioners?
We invited six artists to create a new work based around their relationship with Australian kids' TV and the culture of their formative years. Celebrated as 'fan art', the artists explored their memories of ACTF stories across a broad range of mediums. The works were a vehicle to revisit the screen stories of their youth and examine the lasting impact children's television had on their childhoods and, as adults, their artistic practice. These artworks were showcased at the farewell event for outgoing chair Janet Holmes à Court at the ACTF head office. While they remain the property of the artists, we hope that it might be possible to exhibit them soon.
ACTF CEO Jenny Buckland said: "We have been blown away by the artworks created during this project. They illustrate that the television we watch as children has a profound impact, right at the time when we are developing our identity. If it's great content, made especially for us, it has the capacity to fire our imaginations, influencing who we become. To see the influence of Australian children's content reflected in these captivating works has been incredibly rewarding. Thank you to all the artists who delved into their childhoods to create these wonderful pieces."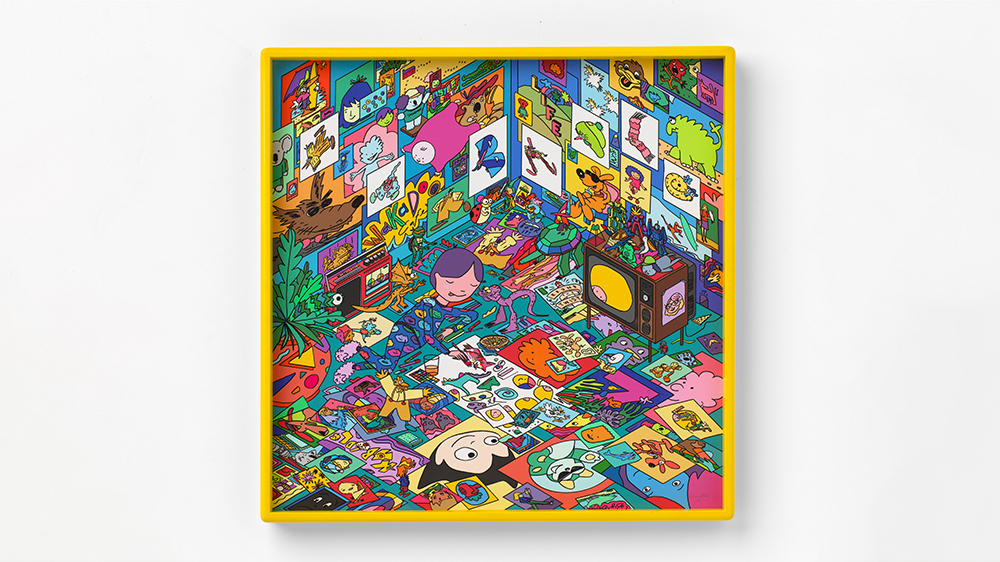 David Booth
The Kaboodle Room in My Mind, 2022
Giclee print edition of 15
"I was born in Tasmania in 1991, and there was limited access to TV, so I soaked up anything I could get. All the TV I saw as a child really transported me away from my little island. It made me want to draw and make things. Cartoons, books and drawings from my childhood are a major part of my art practice. Accessing the free daydreamy space of childhood is the pursuit of why I draw and create. After digging through the archives at the ACTF I've rediscovered how much the colours and creations have impacted me. There's more to it that's hard to even put into words.
There is a room in my mind that I can access that holds all the images, flavours and feelings from lying on the carpet in front of our wooden family TV. I'm drawing all the things I see and dream about. Characters from TV and books and pop culture all mash together to form a memory of a feeling about my budding inner world as a young boy."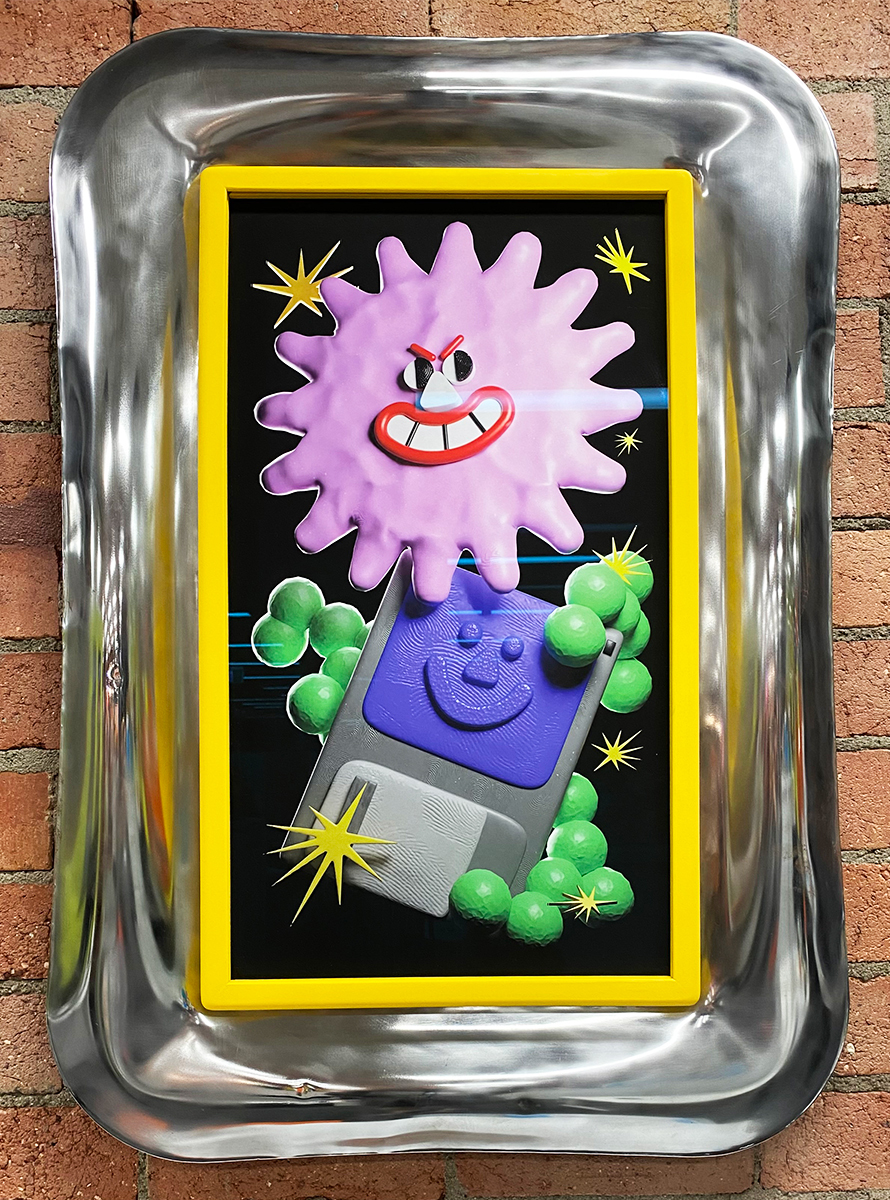 Tim Meakins
Virgil, 2022
3D render, custom frame, Hydro-Form steel frame
"Cartoons have always been at the forefront of my interest growing up, and are extremely influential to my art practice. The colour, style, and emotion these narratives would weave inspired me at a very young age to conjure stories of my own and imagine worlds beyond real life. I think without television, my practice would have taken a very different path. ACTF has influenced my practice through its consistent creation and creative ways of storytelling; colour, fun and extending my imagination beyond the bounds of the natural world.
This artwork is representative of Virgil the A.I. from Crash Zone, illustrating his ability to morph through technologies, interpreted in my style. The outer frame is made out of steel and uses a technique called Hydro Forming where two steel plates are soldered together and expanded with water. This material usage and technique represent the computer screen or simply technology holding Virgil within. The colourful 3D rendering imagery draws light to the fun and explosive nature of story lines and the characters of the show."
Felix Colgrave
When Strange Things Happen, 2022
Digital animation
"Round the Twist's stories always stuck with me, and while I didn't get home from school early enough to see it consistently or I'd just catch the ending, it was enough to prompt me to pick up Paul Jennings's books from the school library so I could read the rest of the stories, which became a huge part of my childhood, and has shaped the stories that I wanted to write as an adult. Seeing a range of Australian stories on TV that were animated, or dealt in the fantastical, made that feel touchable and is probably why I'm an animator today.
The stories and creatures in Round the Twist are all so memorable that it seemed a shame to choose just one episode. So, I made the piece as a series of vignettes featuring some of the creatures encountered in different episodes, each illuminated by the iconic lighthouse. The implication in the show is that all of these paranormal goings-on are permanently there even though the Twist family only encounter one per episode. I liked the idea that all the creatures could be there at the same time, going about their business, while the family is asleep."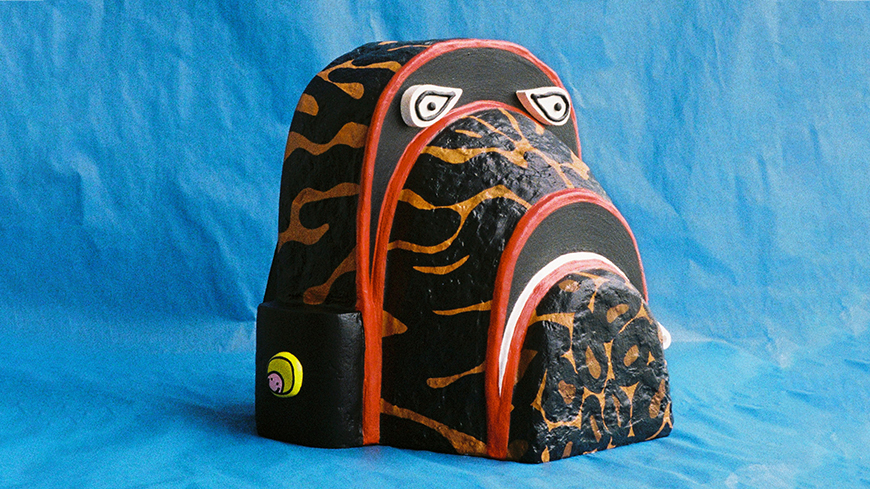 Carla McRae
Snapsak the Backsak, 2022
MDF, PVA glue, synthetic polymer filler, clay, acrylic paint
"ACTF shows paint a hazy, grainy backdrop to my childhood. The sounds, colours, aesthetic and characters have all lingered in my mind and in my mouth as a visceral texture and flavour of growing up in that time. The sensibility that floats through those formative ACTF shows – strong primary colours, patterns, hand-rendered, a bit naïve – has bled through to my work because it's bundled up with my own sense of self through nostalgia, childhood, memories and feelings.
I've created a wooden replica of Snapsak, one of the Backsaks from Lift Off! I've thought about those Backsaks every time I've drawn a backpack for as long as I can remember. When I was a kid, if I loved a character, I drew them over and over, cut them out and stuck them on walls, took them with me in the car to live alongside me. Recreating Snapsak in this three-dimensional tangible form is a tribute to that act of child-like dreaming and making. I really hope she cracks open the memory vault for someone who might have forgotten about her and all the beauty and chaos of children's TV from that era!"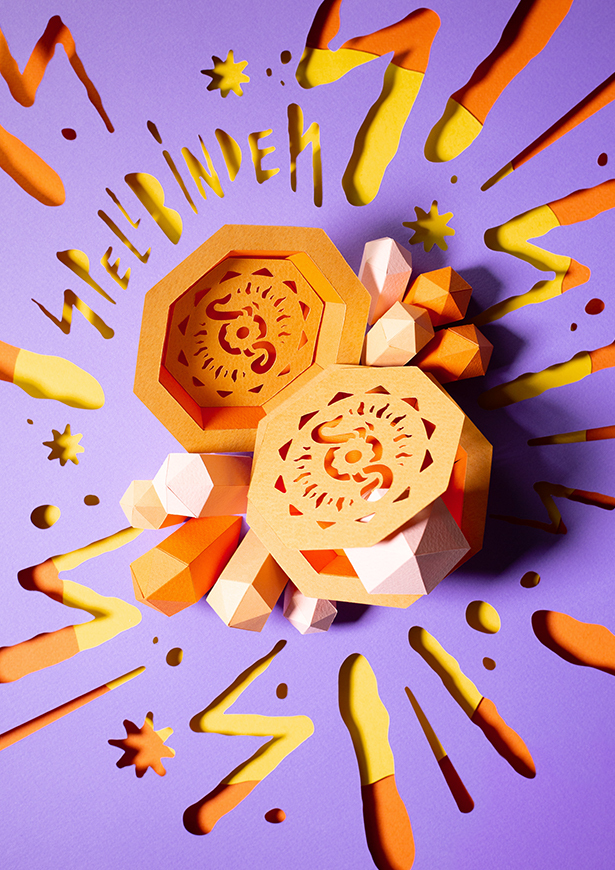 Magda Ksiezak
Calling Magda, 2022
Paper, tape
"Without a doubt my childhood was shaped by television and in particular children's TV content aired in the after-school time slot. The shows were a portal into another world for me. Being an immigrant and always feeling slightly on the outer was something I recall feeling quite a lot of in my younger years. Children's TV shows were a way I felt a connection to kids my age. I didn't feel so alone and, in a way, my awkwardness felt normalised.
Spellbinder is about two parallel worlds that open up to one another. One world is set in Australia and one in Poland – my birth country. I remember when I first came to know that – all of a sudden I had an overwhelming feeling of connection and pride. I remember making an Eye Stone for myself out of a magnetic chess board. This piece for me was about being able to make a more realistic version. I wanted to make an image that was bright and bold and use the Eye Stone as a tool for communication back to my 13-year-old self."
Cat Rabbit
We've opened our eyes and we're flying up high, 2022
Animated film, felt, wool fibre, found cardboard, found fabric, recycled PET filling, thread, armature wire, foam
"The mainstays of my TV roster were Round the Twist, Genie from Down Unider and Lift Off! I felt really immersed in those worlds and I was particularly in love with the characters. These pockets of television offered a fun and comfortable realm to jump into.
My artwork draws on one particular memory from primary school when we were gathered in the library for a 'very special treat'. The teacher wheeled in a telly and explained that we were about to watch a very important new show. The excitement was palpable. When the TV was turned on we were not prepared for the weirdness that ensued. Backpacks that talked? An eerie, faceless baby that everyone inexplicably found endearing? 'Imagination is the key' is what it taught me.
This short animation attempts to encapsulate the 'what on earth am I watching' moment I experienced on that fateful day. I want to take everyone back to that primary school library they knew, to evoke the smell of old books, stale biscuits and squashed bananas, to a place where perhaps they had a similar memory of discovery and wonder."