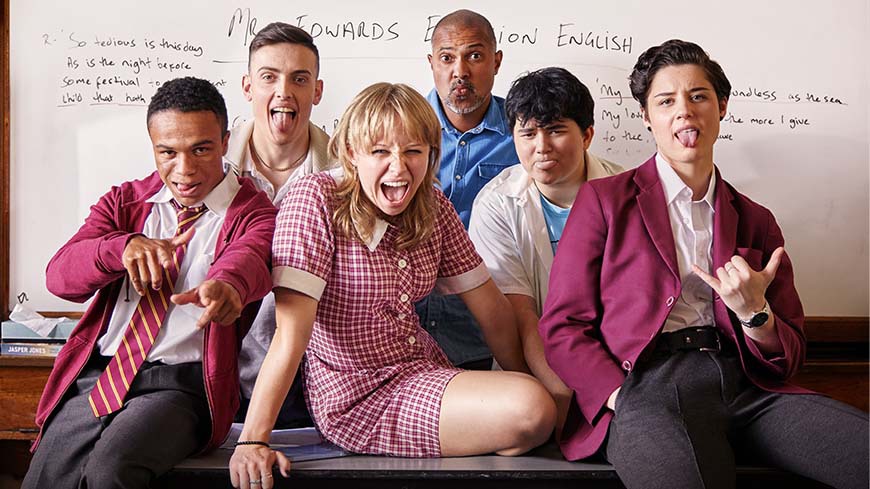 New resource supports teachers to explore consent and identity in the classroom
Secondary teachers across Australia now have access to a new resource to safely explore challenging topics with teenage students, including consent and respectful relationships.
The Australian Children's Television Foundation (ACTF) in collaboration with Queer Town has created a comprehensive digital resource designed to empower young people to navigate and explore adolescence.
This resource examines the unique challenges facing teenagers as they come of age and invites students to explore these highs and lows through the characters and storylines in More Than This.
More Than This is a ground-breaking six-part drama series written and created by teen actor Olivia Deeble with characters co-created by Luka Gracie. The show shares the real, authentic and often raw experiences of five high school students from diverse backgrounds, exploring issues such as body image, online harm, bullying, and family and academic pressures.
The learning resource provides students and educators with five digital lessons which explore the topics of: identity and belonging; gender identity and sexuality; consent and respectful relationships; family, peer and academic pressures; and mental health.
The resource includes a range of classroom materials to support the exploration of the series, including engaging group learning tasks, self-reflection activities, scene experts for analysis and conversation prompts, and interviews with creators Olivia Deeble and Luka Gracie.
The release of this series and learning resource coincides with new updates to the Australian Curriculum as well as impacts on students' mental health and learning over the last few years. Consent education will be mandated across all year levels in all Australian schools from 2023 and educators are expressing overwhelming need to support young people's wellbeing and mental health as a result of the disruptions to school and life from the pandemic.
ACTF Creative Learning Manager Bridget Hanna (she/her) said: "Our purpose as educators is to encourage self-reflection and support the development of thoughtful and considerate young adults. This free digital learning resource aims to provide educators with support when exploring difficult but essential conversations in the classroom and provides a catalyst for students to better understand themselves, their peers and the world around them."
More Than This Writer and Creator, Olivia Deeble (she/her) said: "Our intention with More Than This is to start those really important conversations and do it in a way that isn't shameful or scary, making sure it is a safe and inclusive space. We, as teenagers, don't know what's going on half the time: we're all struggling and we're all learning and trying to figure out a very different time in our lives."
Founder and Director at Queer Town, Archie Beetle (they/them) said: "Queer Town is proud to have co-produced this learning resource, which aims to meet young Australians where they're at while encouraging them to challenge existing ideas and experiences through meaningful conversations and exercises. This resource is more than a collection of lessons, it's a vehicle for empowerment that will equip young people with a new set of tools to explore adolescence with."
Child and Adolescent Psychologist Dr Michael Carr-Gregg (he/him) said: "Bullying, body image, homophobia and the like are universal issues facing all teenagers. The only way to deal with these issues is to equip our children with the emotional resilience and practical strategies to tackle them. Screen content that accurately and authentically reflects the modern-day adolescent experience has never been as important as it is right now as so many teenagers battle mental health issues."
The new resource is available here. It is suitable for students in Years 9-12.
More Than This is now available to download at the ACTF store or to watch on Paramount+.