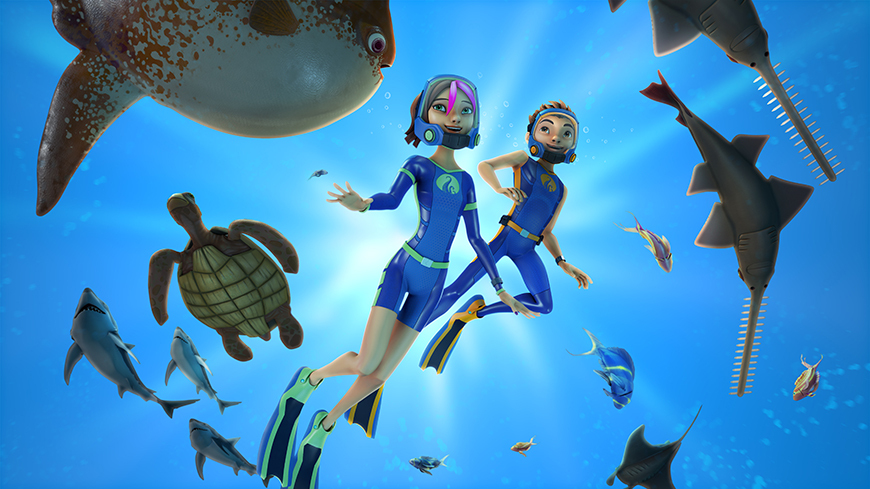 New episodes of The Deep to premiere on the ABC this week
A fourth season of the global hit animation series The Deep will premiere to Australian audiences this Friday, 24 June.
13 brand new half-hour episodes of the series will be available on ABC ME and iview.
Developed for 8- to 12-year-olds, The Deep follows the adventures of the Nekton family – a brilliant team of underwater explorers who travel the mysterious depths of the ocean, where most of our world lies unexplored and unexplained. The deep is a place where leviathans swim through sunken cities, where pirates lurk amidst floating black markets, and where a mysterious group of Guardians hide long lost secrets.
In season 4, the Netkon family has finally found the fabled city of Lemuria, unlocking secrets and tantalising mysteries.
ACTF CEO Jenny Buckland said: "The Deep has been incredibly successful worldwide, and we're proud to be involved in this new season. Each episode is full of action, adventure and humour as the Nekton family explores their visually spectacular underwater world."
The Deep is based on the graphic novel series created by bestselling comic book author and playwright Tom Taylor. Series 1-3 have been sold to more than 130 markets across the globe.
The Deep Season 4 is an Australia-Canada-Singapore co-production produced by A Stark Production, WildBrain and Infinite Studios for the Australian Broadcasting Corporation. Produced in association with the Australian Children's Television Foundation, Screen NSW, CBBC, MediaCorp Pte Ltd, and Family Channel, Telefilm Canada, and the iMDA.