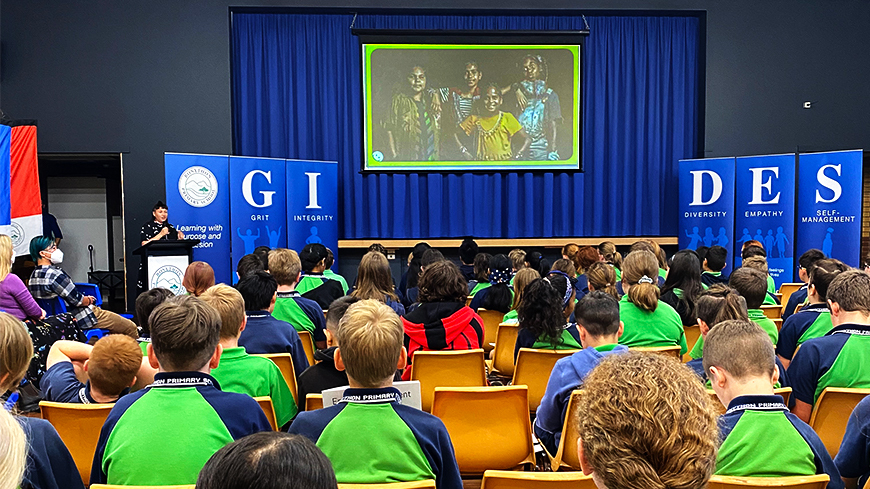 ACTF at the Empowered Students Leaders Conference
On Friday 18 March, the Bonython Public School's Year 5/6 Namadgi students dedicated a day to immersing themselves in the Empowered Students Leaders Conference, which is held annually in Term 1 at their ACT school.
The conference offered students a holistic approach for reflecting on their own leadership, with hands-on breakout sessions from organisations and institutions including The Museum of Australian Democracy, The National Film and Sound Archive and Robogals.
The program's keynote address centred on the idea that we build ourselves as leaders over time; we grow through collecting experiences and learnings. During her presentation, ACTF First Nations Learning Designer April Phillips shared still images from ACTF-supported series old and new, including Little Lunch, The Inbestigators, Thalu, And Then Something Changed, First Day, The Girl From Tomorrow, Paper Planes, Dog Star and Woven Threads. The key moments highlighted in these stills represented leadership qualities for students to 'collect' throughout their lives, including empathy, listening, resilience, compassion, visions for futurism, advocacy of human rights, love of adventure, environmental awareness and being strong collaborators.
Following the conference, Bonython Executive Teacher and Year 5/6 Team Leader Marissa Owens noted: "Your words about no one being a born leader really made an impact, and in fact this featured in many of the students' reflections".
Looking to meet the ACTF Learning team at a conference? Join us at the 2022 ALEA conference.