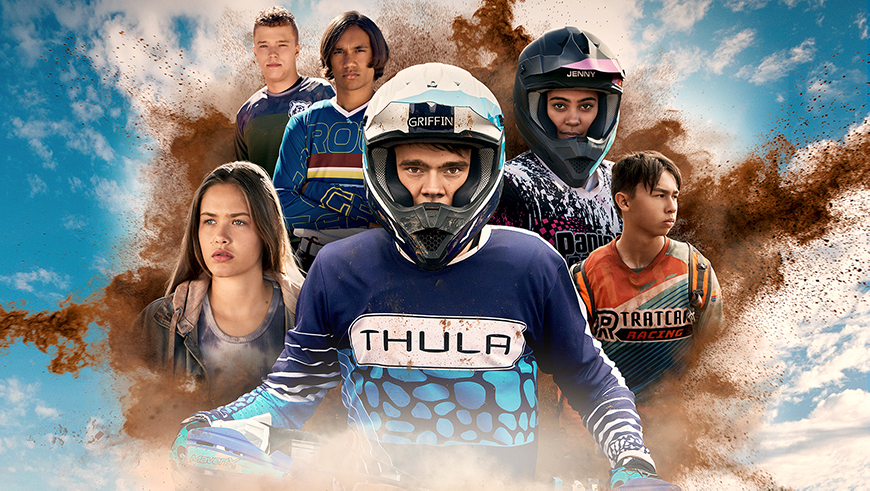 Aussie adventure drama series MaveriX goes global
Viewers across the globe can now watch MaveriX, with the high-adrenaline drama series streaming worldwide on Netflix.
MaveriX, the exhilarating story of a group of teenage motocross riders set against the spectacular backdrop of Australia's red centre, is now available in 31 languages across 244 countries.
The Brindle Films series premiered to Australian audiences on ABC ME and iview in April, and was released worldwide on Netflix on Thursday, 12 May.
MaveriX follows a group of junior riders that make up the first intake of the MaveriX Academy – a training program designed to push the riders to their limits, supercharge their talents and set them on a course to the big time.
The series shows the challenges the teenagers face as they live and train together in the unforgiving Australian outback to compete in the Alice Springs Race Day, the State Championships and finally – if they make it – the Nationals.
MaveriX features a talented cast of teenagers including Darcy Tadich (Neighbours), Tatiana Goode, Sebastian Tang (Barons), Tjirdm McGuire (Grace Beside Me), Angelique Maggi and Sam Winspear-Schillings (The InBestigators).
ACTF Executive Producer Bernadette O'Mahony said: "MaveriX is a thrilling adventure series, which demonstrates the grit, courage and teamwork required to succeed in competitive sport while showcasing spectacular stunts performed in the striking Aussie outback. With a wonderful cast of characters audiences will relate to, each facing their own challenges, MaveriX is an exciting series that we know kids and families across the world will enjoy."
MaveriX is a Brindle Films production for the ABC and Netflix. With production investment from Screen Australia, ABC, Screen Territory, the Australian Children's Television Foundation and the South Australian Film Corporation.