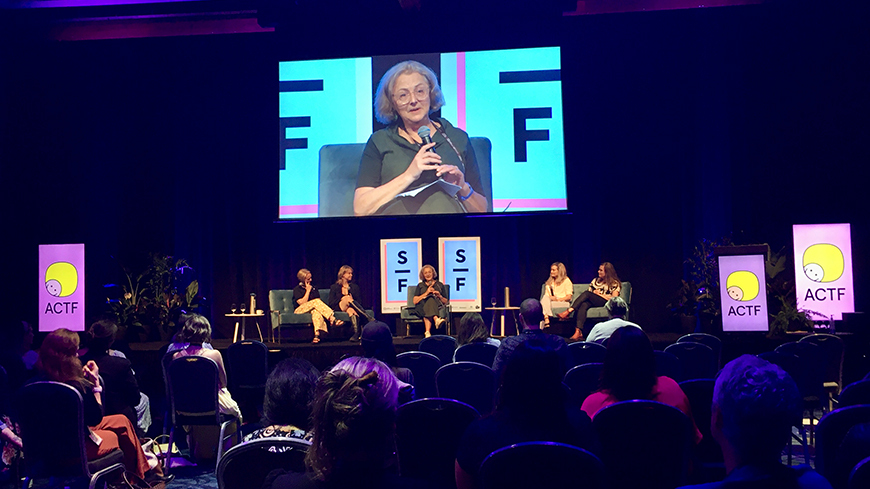 Age Appropriate: Creating YA Content of Relevance
The 14-18 age group is an audience that is often overlooked in television. Viewers in this demographic have moved beyond children's content, but they are not yet adults, either – yet at least here in Australia little content has been specifically made for them.
Until now. In 2022, two local Young Adult (YA) series are launching for this age group. At the recent Screen Forever conference, ACTF CEO Jenny Buckland spoke to the creators of the newly released More Than This and the upcoming Heartbreak High reboot to explore why the YA demographic has been traditionally overlooked, why this audience is important, and how creators can tap into this emerging opportunity and create content that the teen audience can relate to.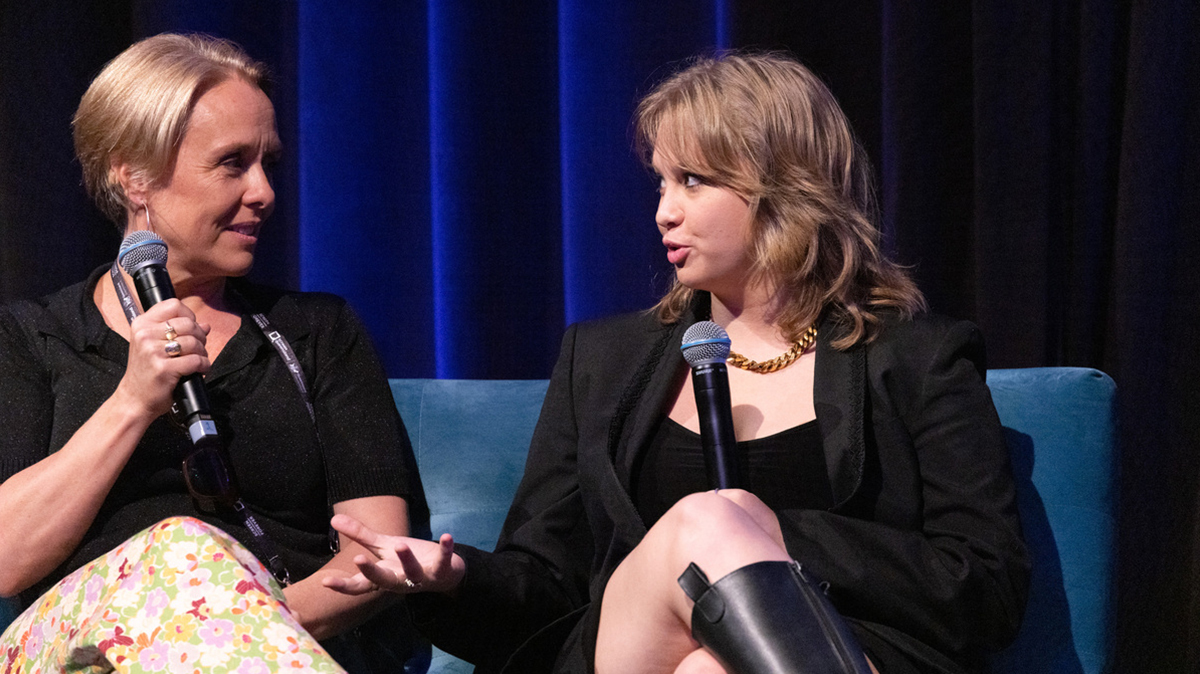 More Than This producer and director Kate Gorman with creator, writer and lead actor Olivia Deeble
Why has the YA demographic been overlooked in Australia?
Moderator Jenny Buckland suggests that one of the reasons for the lack of content for the 14-18 age group is that traditionally it may have been difficult for free-to-air networks to find a place for it.
Heartbreak High executive producer Carly Heaton agrees.
"There was no timeslot for it, but there also wasn't an appetite because as money gets pinched and pinched teenagers aren't grocery buyers in the old commercial network. The advertising revenue that they used to generate content, they couldn't get that from teenage shows, so there has been a big gap," she said.
But the growth of SVODs has presented new opportunities for local content made for this demographic. Heartbreak High has been commissioned by Netflix, while More Than This is streaming exclusively on Paramount+ Australia.
"Now that we have the streaming platforms there's a real appetite to be niche and to be able to tailor to everyone," Carly said.
"We can have Heartbreak High, we can have More Than This, we can have Bump – they're all really good shows that teens and everyone can enjoy that haven't been on traditional television before now," said Heartbreak High writer and creator Hannah Carroll Chapman.
"For Netflix and the big streamers I know it's a really big market for them, Netflix particularly, the YA genre," said Carly. "Some of their biggest shows are YA – Sex Education, Euphoria for HBO, Elite... If you look at Stan and Bump, they've commissioned their third season and they're also doing a spin off."
Why is the teen audience so important?
Adolescence is a critical and transformative stage of life, involving dramatic physical and emotional changes. It can be a confusing and overwhelming time. When children see characters they can relate to depicted on screens, they experience recognition and affirmation.
Hannah and Carly recall discovering Heartbreak High as teenagers and how much of an impact in had on them and their peers, calling the first season a "cultural touchstone" for teenagers living in that time.
"It was one of the first times that we as teenagers saw ourselves on screen," Hannah said.
"They looked like we looked and their stories were relatable and they went through the same traumas that we went through, and we hadn't seen that on TV before," said Carly.
While auditioning for teen shows in Hollywood, actor Olivia Deeble had felt frustrated at the lack of authentic scripts and storylines. She felt that none of them spoke to her Australian high school experience.
Aged 17 at the time, she created the concept and first scripts for More Than This: the real, authentic and raw story of five Year 12 students finding their way at a suburban Melbourne public school.
"I wanted young Australians to watch something on television that they could identify with and so that they didn't feel so alone," she said.
"When I was first coming up with the idea for the show, I interviewed probably 50 to 100 [teenagers]… I asked them, 'what do you want to see on screen?'"
The answer: they wanted to feel seen. They wanted to feel equal. And they didn't want to be treated like idiots.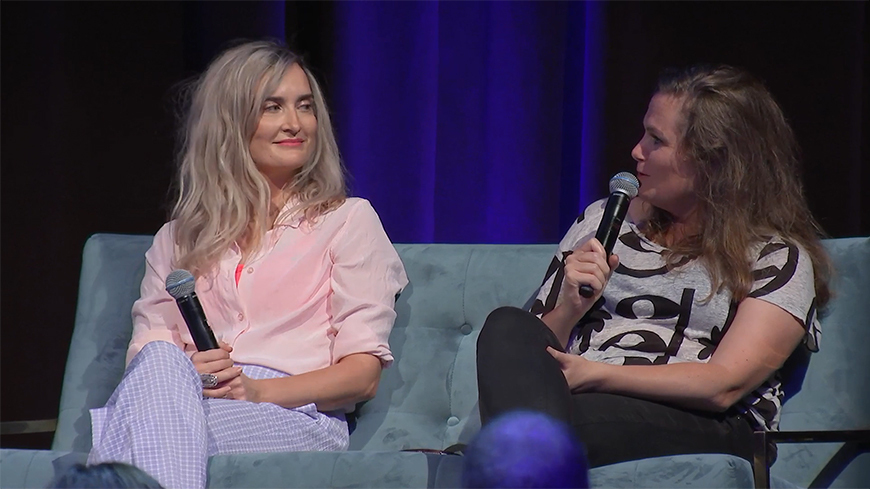 Heartbreak High writer and creator Hannah Carroll Chapman and executive producer Carly Heaton
What is the key tenet to creating a successful YA television series?
The creators behind both series say that above all, YA television series must be authentic.
For More Than This producer and director Kate Gorman, that meant letting the teenage creators and cast take ownership of the characters and stories.
"What we always tried to do through all this project was not have the adult objectification of youth, or not tell our high school stories – it's really hard to not do that because we all have a high school story," said Kate, who is Olivia's mother.
"Once we started working with the young actors, it became 'what is their story?', and a lot of the characters evolved from the things that they brought to it.
"By letting them have ownership of that and contributing to their character in that way and sitting back and letting [the young cast] drive it, your authenticity is just there – you are not manufacturing it, it is so real.
"I kept saying to everybody, 'try not to let the adults in the room take over – it's their voice'."
Hannah and Carly say that on Heartbreak High the young cast also had a lot of input and were advised to tell the creative team if they felt like part of a script or scene was inauthentic.
"We pre-cast really early and so we had these actors feeding in early on, and they often changed things in the script where they went, 'that's dated, that's out, we don't speak like that, we do this'," said Carly.
Olivia says that authenticity in a plot and script leads to much more authentic on-screen performances.
"We're really learning now to not tell stories that aren't our own," she said. "The thing that I'm just begging for now as a young writer and then also a performer is, 'how authentic is that story? Have you just written it because you want to relive your youth and you think you know me as well as you know yourself? Or have you asked a lot of young people if this is authentic?'
"If you're writing a story and you're an older person and the story doesn't add up to a modern-day teenager, you're actually taking away my voice, and then I'm performing something that isn't authentic to anyone. Just ask a teenager, say 'hey, does this sound right, does this make sense, what's your opinion on this?' and then continue to write that story, but have a reference point, because then I'm going to feel listened to and heard and want to give that character justice."
Now and then
The Australian high school environment is constantly changing. Most working screen writers have been away from the schoolyard for years or even decades, and Olivia says she felt that come through in some of the scripts she read while auditioning. Her high school experience bore little resemblance to the portrayal of high school so often seen in American screen content.
"I came up with the concept off the bat of not wanting to have cliques or these stereotypical characters that we so consistently see on our screens," said Olivia.
Carly says those cliques also didn't seem to exist in workshops with teenagers during the development of Heartbreak High.
"Something that really stuck out [while] talking about the evolution of Heartbreak High and what is it now, what is authentic to teens now, is not having those cliques and how considerate they all were of each other and of difference," she said.
"It doesn't mean there's not high school drama and bitchiness and craziness, but we were so blown away… the ability to deal with difference and do that in an authentic way was I think one of the big leaps forward from the original and telling the story from today's teenagers."
In creating the reboot, Hannah and Carly had to wrestle with the shadow of the original Heartbreak High, which still has a loyal fan base.
"We wanted this to be its own show that belonged to teens," said Hannah. "[This isn't] just this show that exists for the old school fans, so I'm hoping that there's a nice balance there – that people who loved the original show will feel the essence of that show, but it's very much for a younger generation."
Going forward
Jenny believes there is room for more YA content on Australian screens – and she's open to getting behind more projects.
Carly says the adolescent years are fascinating to explore on screen.
"You're sitting in that liminal moment as a teenager, so you are often loud, edgy or risky, but at the same time you're still a kid – you still need your mum and dad, you still need your peers," said Carly. "It's that push and pull between childhood and adulthood which is what we're exploring… you're trying to work out who you are and your identity. That's a cataclysmic event."
Hannah agrees. "Teenagers are going through firsts of everything, and that is exciting viewing."