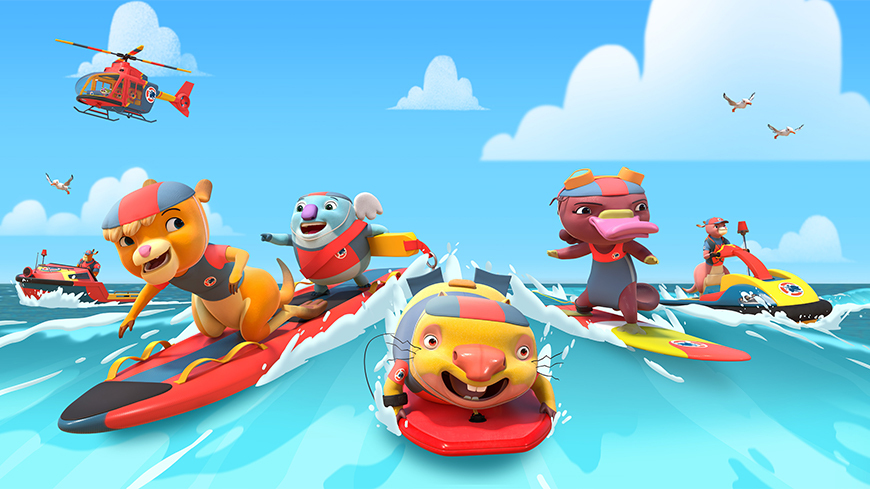 Kangaroo Beach to return for a second season
Everyone's favourite lifeguard cadets will return to the small screen next summer, with Season 2 of Kangaroo Beach now in production.
Kangaroo Beach is a fun-filled series about the adventures of four young animal friends, Pounce, Gemma, Neville and Frizzy, training as junior cadets with their lifeguard heroes at the spectacular Kangaroo Beach.
Every day is an action-packed adventure for the four furry friends as they train to be lifeguards, exploring the beach, the sea, swimming pools, rivers and rock pools, while empowering viewers with an imperative message about water safety in every story.
Since its premiere in 2020, Kangaroo Beach has become a smash hit with an average of 1.6 million views per episode on ABC Kids and iview.
Cheeky Little's Executive Producer Patrick Egerton said: "We're so happy to be heading into Season 2 of Kangaroo Beach. Congratulations to the entire Cheeky Little team for making a wonderful show that resonates so strongly with kids and their families. After the rapid success here in Australia it's madly exciting to see the show make a huge splash in the UK, LATAM and beyond. I think 2022 will be a big year for our little lifeguard cadets!"
Bernadette O'Mahony, ACTF Head of Content said, "The ACTF is pleased to be teaming up with Cheeky Little on Season 2 of Kangaroo Beach and to be able to bring this delightful and positive series to the world."
Season 2 of Kangaroo Beach is expected to premiere on ABC Kids and iview in summer 2023.
The ACTF will distribute both seasons of the series internationally.
Kangaroo Beach Series 2 is a Cheeky Little Media production for the ABC. Major production investment from the ABC in association with Screen Australia. Financed with support from the Australian Children's Television Foundation (ACTF) and Surf Lifesaving Association of Australia. International sales by the ACTF and Infinite Frameworks.