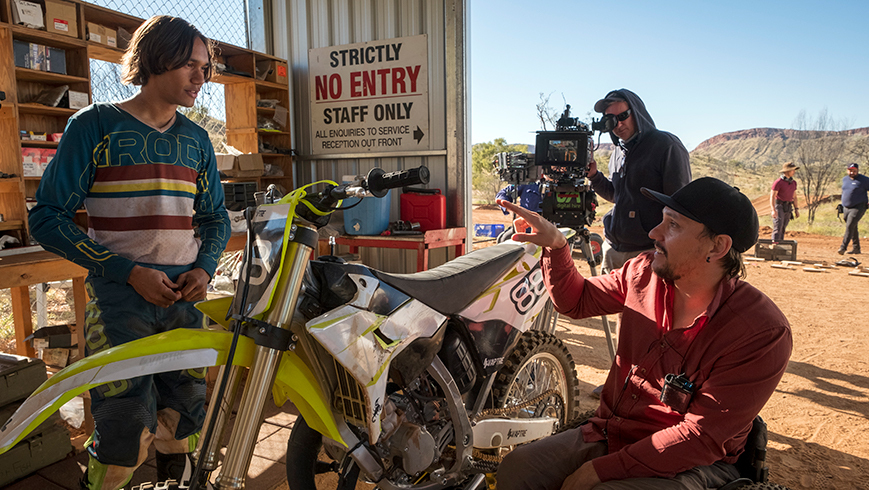 Interview with Isaac Elliott: creator, executive producer and director of MaveriX
Set in the thrilling world of motocross racing, MaveriX follows a group of junior riders that make up the first intake of the MaveriX Academy – a training program designed to push the riders to their limits, supercharge their talents and set them on a course to the big time.
The series shows the challenges the teenagers face as they live and train together in the unforgiving Australian outback to compete in the Alice Springs Race Day, the State Championships and finally – if they make it – the Nationals.
Co-created by Rachel Clements from Brindle Films, the idea for MaveriX was inspired by her son, Digby – an under-10 central Australian BMX champion who wanted to transition to riding dirt bikes.
The premise of the series was also inspired in part by co-creator, executive producer and director Isaac Elliott's own childhood.
"I grew up living at the Motocross track in a caravan with my parents, or in two caravans and a bit of a shack, so I literally dirt biked through my backyard. So this idea of creating this camp where people can come to developed out of that," says Isaac.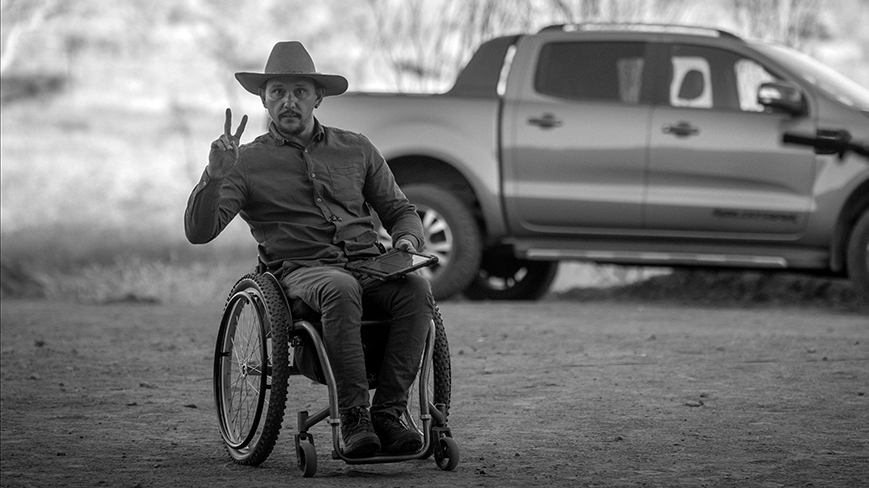 Isaac Elliott on set. Photo credit: Daniel Asher Smith
The result of this collaboration between Rachel, Isaac and writers and co-creators Sam Meikle and Fin Edquist is a thrilling, high-adrenaline adventure series which demonstrates the grit, courage, and teamwork required to succeed in the competitive world of motocross racing.
Isaac knows all about these qualities. He began riding dirt bikes around the time most kids start riding pushbikes without training wheels.
"I would have been nine. I think I first rode a bike when I was probably six at my grandparents' shack, but I think I crashed it through a fence and they didn't let me ride it again," he says.
Isaac went on to compete nationally in junior motocross. His grit and resilience were put to the ultimate challenge when he was involved in a life-changing accident during the Finke Desert Race.
The crash left Isaac using a wheelchair – yet a decade after the crash, he returned to compete in the race, a gruelling two-day off-road event in the Northern Territory, covering more than 450km of challenging desert terrain.
He says that even though it's a "niche sport", the world of motocross presented an opportunity to explore themes and issues that are universal for the young audience. The six main characters in MaveriX hail from very different backgrounds, facing unique pressures and challenges.
"We figured motocross can be a bit of a melting pot of people from different backgrounds," he says. "The beauty of MaveriX is that motocross is essentially the base where everything's built from, but the characters go through far more universal things and we just use motocross as a vehicle to explore them. Things like health issues and gender and family and potential cultural issues. There's a whole host of issues that we're able to tackle.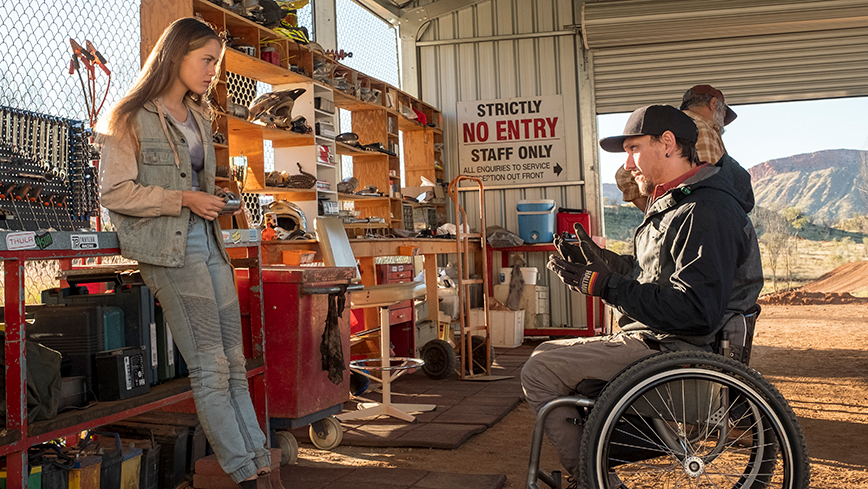 Photo credit: Daniel Asher Smith
"We live in quite a competitive education landscape and competitive sport landscape and competitive social media landscape. We spend a lot of our time comparing ourselves to other people in these spheres, whether it's an exam at school or whether it's social media followers or whether it's motocross or whether it's another sport.
"But I think what we show is that you can be competitive in those areas but you can also be friends. It doesn't stop you from caring about the other people, which is a really powerful thing for kids and teenagers to learn.
"When you're on the bike, I think everyone is aware of the risk that you're taking when you're riding – if anyone gets hurt, everyone's coming together, there's no celebrating anyone being injured. There's a family environment. Even if you're battling on the track, even if you're competitors."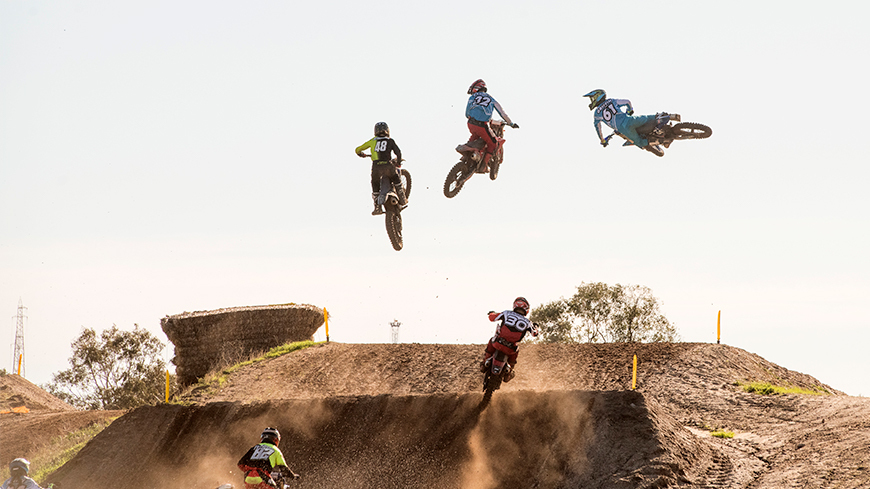 Photo credit: Daniel Asher Smith
Shot in and around Alice Springs, MaveriX isn't just a vehicle to teach the child audience about hard work, resilience and friendship: it's also a visually spectacular series showcasing daring stunts performed in a stunning outback setting. For Isaac, there's nothing quite like motocross to get the blood pumping.
"It is that edge of your seat [feeling] – at any point there could be an accident or there could be something incredible. There's so much on the line. And not just like, I hope I win, but it's also like if any of the riders make one mistake, it's all over," he explains.
"For me, watching bike racing is filled with that potential tension of something bad happening, but also something great happening for [someone] who's spent years or their whole life basically chasing this dream to be a champion. And that's just really compelling viewing, I think."
MaveriX premieres on ABC ME and iview this Friday, 1 April. Netflix will premiere the series outside of Australia in 2022.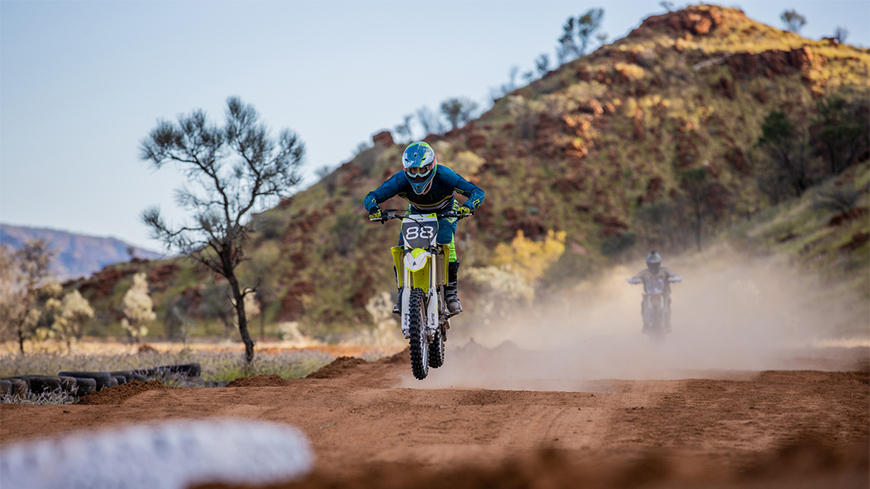 Photo credit: Charlie Lowson