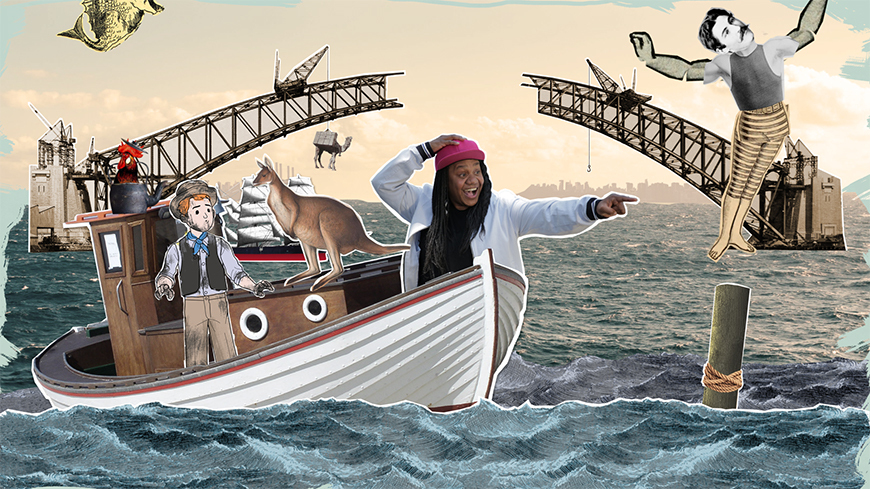 Creating factual content for younger audiences
With younger audiences becoming more engaged with documentaries, factual programs and their own content creation, there is great power and potential in children's factual content.
As part of the 2022 Australian International Documentary Conference (AIDC), the Australian Children's Television Foundation (ACTF) joined producers and commissioners for an informative panel session, 'Stepping into little shoes: creating factual programming for younger audiences', presented by Screen Queensland.
Commissioning Editor, Factual & Fact Ent for BBC Children's 7+ Kez Margrie told the panel that creating factual content for children is incredibly rewarding, especially the potential to open up new avenues that the audience may not have known existed.
"What's different with kids who are finding this content is they're finding something perhaps for the first time, and learning something for the first time, and so you never know when you're just going to touch a spark in a child that changes the course of their life plan, that inspires them, that makes them think, 'I could do that' or 'I'm really interested in that'," she said.
"You never know when you're making content for kids who you're going to inspire."
Kez says that in creating factual children's content it's vital to keep the audience at the centre, and ACTF Head of Content Bernadette O'Mahony agrees.
"Put kids at the centre of it. We see so many programs in factual pitched that are general viewing. You know, 'oh, kids will like this' – but that doesn't actually make it a kids' show. We're not looking for something that could be on any platform as general viewing, we are looking for something that is kid focused."
Bushwhacked!, from Mint Pictures, weaves adventure, travel, food, wildlife, history and culture as the young hosts travel stunning Australian locations chasing down spiders, sharks and snakes and challenging each other to death defying experiences like sky diving. It is the ACTF's most successful factual program, going to three seasons and screening in over 60 territories around the world.
"It's got young hosts, it's got adventure, it's got kids going, 'I wish I could go and slide down that sand dune, I could do these sorts of things'. If you look at that show, that is a kids' show, it's aimed at kids. Parents might enjoy it with their kids too, but kids are the only audience we're interested in getting.
Are You Tougher Than Your Ancestors? is a fun and immersive living history series from Flying Kite Pictures that pits the skills of today's kids against the exploits of children from Australia's past.
Creator Vanna Morosini told the panel she wanted to find a way of sharing Australia's history in a way that children would be engaged with, "and also this idea of older people saying, you know, 'when I was a kid, I used to have to walk five kilometres', or 'I couldn't just find something on my phone, I had to look at a map and have a compass," she said.
It was Vanna's first venture into kids' factual, and she agrees that keeping the child audience at the centre is crucial.
"It's a great space to work in, and it's an amazing audience, and I think the biggest thing I learned and was really conscious of during the whole process is not to underestimate your audience. Kids are really smart.
"The other thing is that it has to be fun. It has to be engaging, it has to have that kind of 'oh my god' quality to it, because if it doesn't, they will literally walk away… so you really have to keep the drama, the tension, make it exciting, make it fun, to sort of hook your audience in, because they're quite brutal."
Kez Margrie agrees. "Actually, they're the hardest audience. Children are the biggest critics, they have more at their fingertips now than ever before that they can just switch off and go and do something else, so we have to keep on our toes in order to make content that they're interested in and stick with," she told the panel.
"I think you'd be hard [pressed] to really pick out from our slate what's entertainment, what's factual, because of course even in the factual content we will be creating moments for kids to laugh, be shocked, be scared, whatever, which you'd do the same in entertainment. The most important thing is that children want to see it and want to engage with it… it doesn't really matter whether they know what the genre is.
Managing Editor, ABC Children's Content Mary-Ellen Mullane says the older children get, the more challenging it becomes to keep them engaged.
"They are very tech savvy, kind of running rings around all of us, I think – really setting a cracking pace, and there's lots that we can learn from that cohort. I'm talking more about upper primary school aged kids. We seem to be able to hang onto kids up until about the age of 12 and then they're just off and running," she said.
"They are just on their phones, on every device going, they are programming everyone's televisions at home, running rings around all of us and doing so beautifully, so we're really kind of challenged by, 'how do we engage with that group, how do we make content that they want to consume?'."
"There's lots of possibilities there in terms of playing with story and form and engaging those kids in surprising ways – they're a really interesting bunch, it's really hard to surprise them because they've seen it all."
Despite the challenges in keeping a discerning audience engaged, Mary-Ellen says it's a joy to create children's factual.
"It's the most fun cohort to make content for because they have a funny bone: they're cheeky, naughty rule breakers and incredibly open because they are learning things for the first time.
"There's so much blue sky in factual content… [it's] a lot of fun to make, and that's a big part of being able to work in this space, is the sense of humour, kind of making fun projects come to life."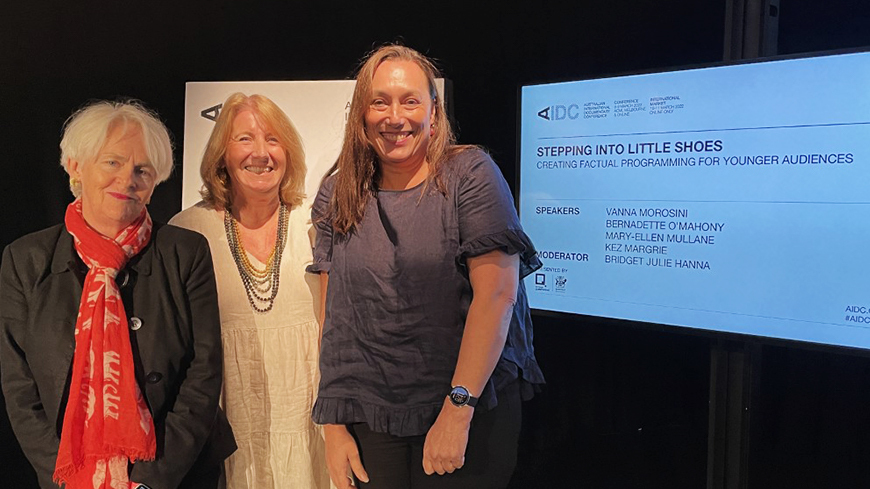 Managing Editor ABC Children's Content Mary-Ellen Mullane, ACTF Head of Content Bernadette O'Mahony and Are You Tougher Than Your Ancestors? creator Vanna Morosini
This AIDC panel was produced by ACTF's Creative Learning Manager Bridget Hanna and Wildbear Entertainment's Kate Pappas. The session was supported by Screen Queensland.