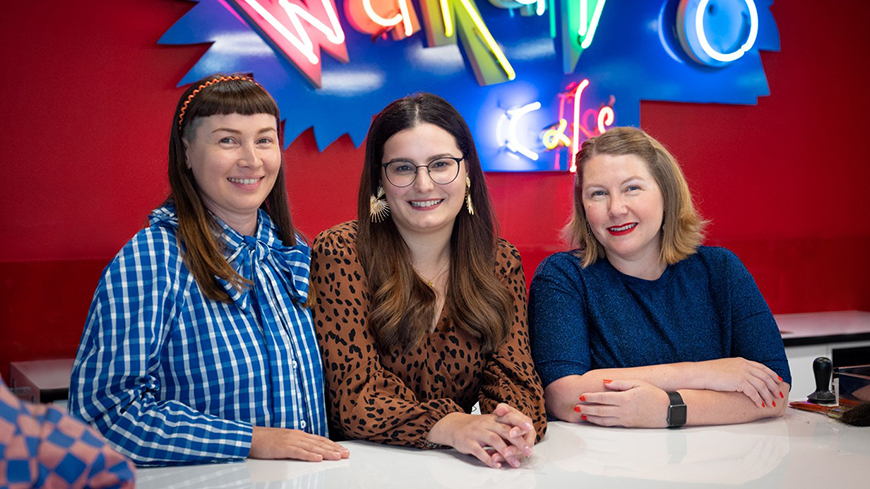 Meet the ACTF Learning Team
The Australian Children's Television Foundation begins the 2022 school year with an expanded education offering, welcoming two educators who bring diverse knowledge, skills and partnerships to the organisation.
The ACTF believes that locally produced screen stories hold great educational, social and cultural value for Australian children. To highlight the curriculum relevance of ACTF-funded content and to support teachers in incorporating media texts in the classroom, the ACTF Learning team develops resources and events that engage learners in viewing, analysing and creating screen stories in the classroom and beyond.
In late 2021, our education offering was expanded in response to the increasing number of projects being funded by the ACTF. April Phillips and Bridget Hanna join Janine Kelly in the ACTF Learning team.
April Phillips is Wiradjuri-Scottish educator, digital artist, graphic anthropologist and audience specialist, with ancestry to the Galari people of regional NSW. April is proud to be a part of the ACTF learning team as a First Nations Learning Designer. She is passionate about innovative approaches to learning such as multi-modal resources and live virtual delivery, with the view that every young person deserves the best content delivered in the most accessible and engaging way.
Before joining the ACTF, April contributed to a tech start-up to launch the NEO-Learning platform. Her contribution as the Creative Learning Producer was in partnership with Reconciliation Australia under the Telstra Foundation Tech4Good program. In 2021, April was invited by the Australian Curriculum Reporting Authority as a critical friend for both Media Arts and Visual Arts under the curriculum review. April holds a Bachelor of Creative Arts and Design and is currently obtaining a Master of Education with a double specialisation: Design and Technology and Visual Arts.
Connect with April on LinkedIn here.
Bridget Hanna is an enthusiastic creative arts producer, artist, author and educator who is passionate about creating inspiring digital learning experiences for all learners. She joins the ACTF as the Creative Learning Manager and brings extensive experience from working in the museum and creative arts sector, where she has championed audience-driven experience design.
Bridget has worked on a range of content creation and programming for children, including leading the creative direction of the multi-award-winning Learning Lab and immersive projection experiences, River Connections, WORLDS Immersive and Mindfulness in the Rainforest at Museums Victoria. She also brings a passion for working in screen and media literacy education. Bridget previously worked at Australian Centre for the Moving Image, where she contributed to education programs, media and communications and exhibitions on key projects such as, Wonderland, Key Frame, Beyond Projection and Dreamworks Animation: The Exhibition.
Connect with Bridget on LinkedIn here.
After joining the organisation five years ago, Janine Kelly now works in the expanded ACTF Learning team as National Curriculum Manager. Janine advocates for inclusive and representative screen stories that engage children, affirm their identities and build empathy in the classroom and beyond. This focus is emphasised in the learning content, programs and experiences she produces and in her outreach to teachers and schools. Recent projects include teaching toolkits for And Then Something Changed, Are You Tougher than Your Ancestors? and First Day.
Before joining the ACTF, Janine taught in a range of educational settings locally and abroad. Enthusiastic about lifelong learning, Janine is currently completing a Master of Education at the University of Melbourne, specialising in Equity, Diversity and Social Change.
Connect with Janine on LinkedIn here.
The ACTF Learning team anticipates an exciting year ahead of screen and media literacy education. Through outreach, collaboration and dialogue with teachers around the country, we aim to forefront educational content made with and for Australian children. We invite you to follow our newsletter, reach out for support and partnerships, and to join us on 2022 school year journey.