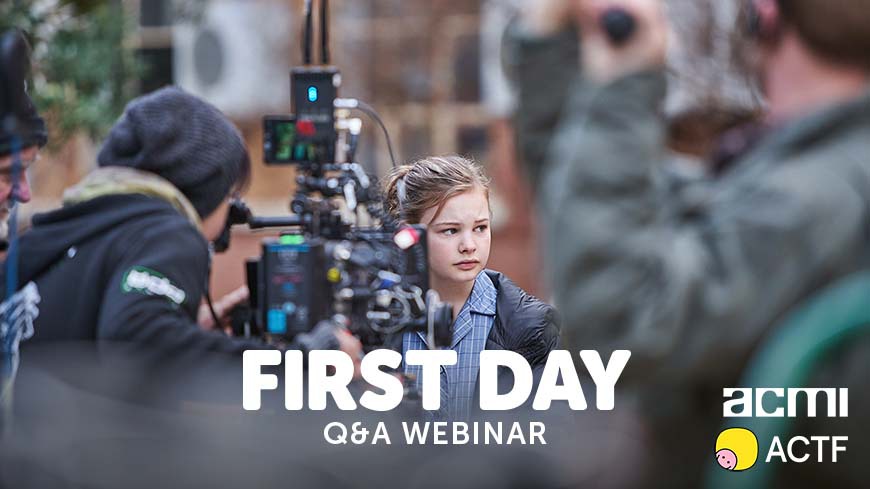 First Day: Go Behind the Scenes in Our Q&A Webinar
Teachers and students, meet lead actor Evie Macdonald, producer Kirsty Stark and writer / director Julie Kalceff from First Day in this free ACMI x ACTF event.
On Friday 19 November at 12:00pm AEDT, Australian students will have the opportunity to hear from key cast and creatives behind the ground-breaking series, First Day. A recent winner in the 2021 International Emmy Kids Awards, First Day tells the story of Hannah, a transgender girl starting high school. Hannah's story was introduced in the 2017 short film of the same name and is explored further in this four-part series.
This half-hour session provides a unique opportunity for students to engage with award-winning industry professionals on topics relevant to both English and Media Arts curriculum content. Our guests will discuss authentic storytelling on screen, with a focus on diverse representations, finding your audience, and character and story development. Participating students will learn how the series communicates meaning and viewpoints, gaining insight into the media production process.
Teachers, if you and/or your students are unfamiliar with the series, you can now stream all four episodes on ABC iview. Our free teaching toolkit is also a useful resource, suggesting learning tasks for Year 6 and 7 students to explore the themes in the series.
Webinar Details
Date: Friday 19 November
Time: 12:00pm – 12:30pm AEDT (9:00am AWST, 11:00am AEST, 11:30am ACDT)
Year levels: Year 6-10
Register now: https://actf.tv/FirstDayWebinar
For further details: education@actf.com.au