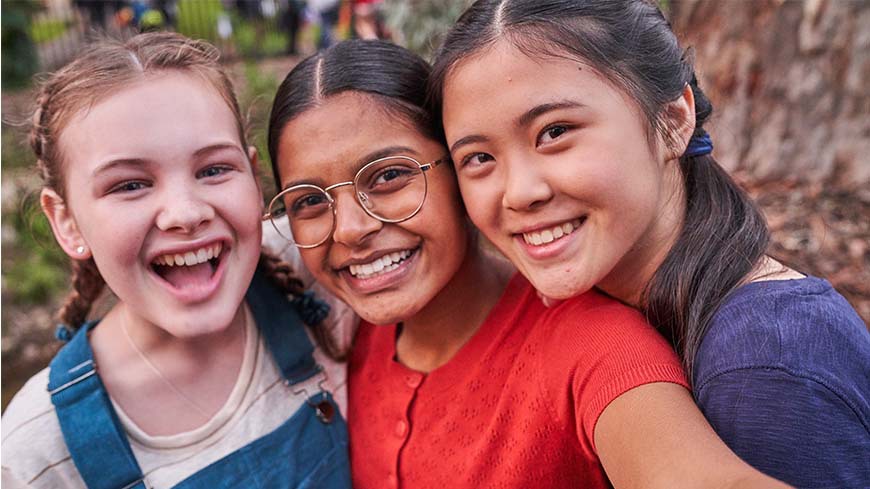 First Day celebrates Emmy win
The ground-breaking children's drama series First Day, supported by the Australian Children's Television Foundation (ACTF), has won an International Kids Emmy Award.
The four-part series, produced for the ABC by Epic Films in association with Kojo Entertainment, won the Best Kids Live-Action Emmy Award – the second year in a row an ACTF-supported show has won in the category, with season 1 of Hardball taking out the award in 2020.
First Day tells the story of Hannah, a transgender girl starting high school. Hannah experiences all the excitement and fear associated with this transition, but her first day is even more significant: it's the first day she will wear a girl's uniform to school and go by her chosen name, rather than the boy's name she was given at birth.
First Day has been honoured with accolades at a number of prestigious awards ceremonies both at home and internationally, including the Rockie Awards, Rose d'Or Awards, Kidscreen Awards and the GLAAD Media Awards.
It has been aired across six continents, with the show picked up by broadcasters in the US and Canada, the UK, Ireland, Europe, Japan, Brazil, Taiwan, Israel, South Africa and New Zealand.
The ACTF contributed funding to the production of the series and is the international distributor.
ACTF Head of Content and First Day Executive Producer, Bernadette O'Mahony said: "First Day has broken new ground with the story of Hannah, who has to navigate not only the challenges that come with starting high school, but also find the courage to live as her most authentic self. We are exceptionally proud of this very special show, which reflects the Australian Children's Television Foundation's core values of inclusion, diversity and resilience."
First Day is available for purchase through the ACTF's online shop, or can be viewed on ABC iView.
Production on the second series of the show wrapped in August this year and will premiere on ABC ME in 2022.
You can view the Emmy acceptance speech from producer Kirsty Stark here.
First Day is produced by Epic Films in association with KOJO Entertainment for ABC TV, with investment from Screen Australia in association with the South Australian Film Corporation, the Australian Broadcasting Corporation, and the Australian Children's Television Foundation (ACTF). The ACTF distributes First Day internationally.