ACTF Approves $584,830.37 in Script Development Funding in 2020-21 Financial Year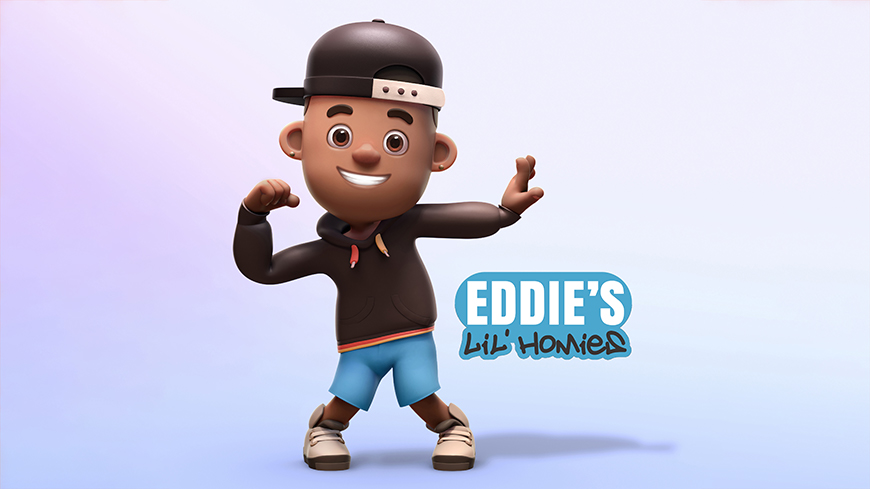 Image: Eddie's Lil' Homies – based on the books written by Eddie Betts
© Highly Spirited and Vishus Productions
In 2020-21 the ACTF approved a record level of development funding - $584,830.37 - in 16 projects. They included live-action and animated projects for all age groups.
Bernadette O'Mahony, Head of Content at the ACTF says: "The development team at the ACTF is having so much fun working with the writers and producers on all these shows. There is such a great mix of stories with comedy, fantasy, high-end adventure and drama. It's exciting to see the quality of the work coming through from these creative teams over the past year and we look forward to seeing even more unique and original ideas from both emerging and established creators coming through over the next 12 months."
The projects approved for first or second round development funding during the financial year just finished include:
Barrumbi Kids, a 10 x 24-minute live action drama series, from Ambience Entertainment (NSW) & Tamarind Tree Pictures (NT), which has since been commissioned by NITV for production in the Northern Territory in 2021-22. Danielle MacLean and Monica O'Brien will be producing, Screen Australia, ACTF and Screen Territory are investing.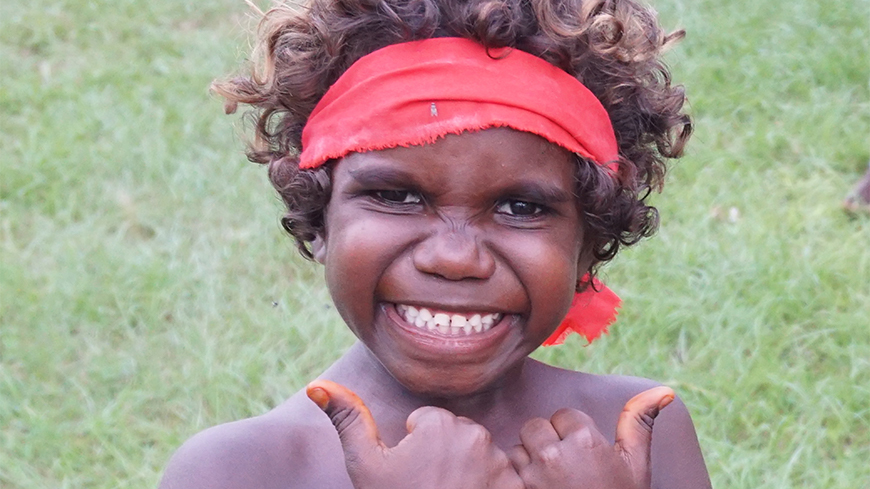 Image: Abraham Moore, Beswick
Tomias and Dahlia are best mates. Life in their remote Top End community is definitely not for the faint-hearted, with crocs, cyclones, ancestral spirits, the smallest school in the world, bushfires, little sisters – in short a whole outback worth of danger and adventure - lurking behind every anthill.
Billie & Jack, a 10 x 25 minute live action drama series, from 720 Creative (VIC) and Fremantle Media (NSW), with Paul Walton and Karla Burt.
Following the lives of Billie B Brown and Jack Driessen, a show celebrating the importance of friendship and the idea that when someone's got your back, you're brave enough to create a world of possibility.
Eddie's Li'l Homies, 24 x 5 minute animated series, from Highly Spirited (VIC). The creative team includes Sophie Byrne, Eddie Betts, Anna Scullie and Luke Jurevicius.
On a mission to spread kindness and compassion, Eddie and his friends come together to form the kindness crew. Based on the best selling books, Eddie's Li'l Homies will tackle problems like bullying and peer pressure, and highlight the importance of empathy, diversity and culture with fun catchy rap songs.
Lightning Primary, 10 x 25-minute live action drama series from Gristmill (VIC), with creative team Wayne Hope, Robyn Butler, Molly Daniels and Caitlyn Staples.
When lightening strikes their primary school, a group of grade fives must deal with the surprising consequences: the school is now magic, and the school principal is missing.
MaveriX, a 10 x 25 minute live action drama series, from Brindle Films (NT), which has since been commissioned by the ABC and went into production in the Northern Territory and South Australia in 2020-21. The producers are Rachel Clements and Trisha Morton-Thomas, Screen Australia, Screen Territory, ACTF and SAFC are investing.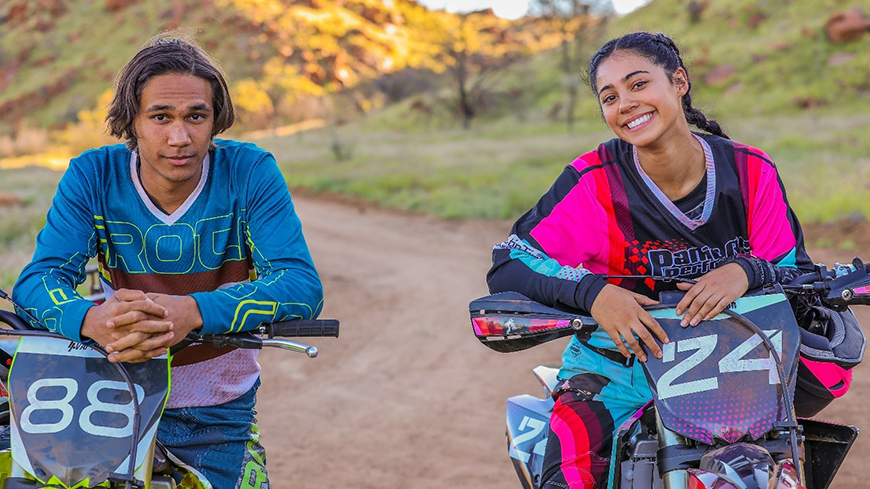 Image: Richie (Tjiirdm MacGuire) and Jenny (Tatiana Goode) on location in Alice Springs.
Six wildly different wannabe teen champions are selected to train at the newly established MaveriX riding academy. The stakes are high on and off the track, and to be their best they'll look deep inside themselves and question everything they thought they knew about who they are and what they thought they wanted.
Meet The Smiths, a 10 x 22-minute live-action drama series, from SLR Productions (NSW), Suzanne Ryan.
A modern Indian family return to their hometown on the NSW north coast, replacing their city life with banana farming, as they unexpectedly embrace the family and culture they've avoided for so long. In doing so, they realise they've come home.
Out Of This World, a 10 x 25-minute high-concept mystery drama from Billy Anchor Productions (Vic) created and written by David Hannam and Mark O'Toole.
Five soon-to-be step siblings aged between 10 and 16 are shipwrecked on what appears to be a deserted island and must band together and overcome their differences if they are to make it home – to the other side of the galaxy.
Owl Riders, a 26 x 11-minute animated series, from Vishus Productions (SA) and Cheeky Little Media (NSW).
Young, fierce and feisty, Eda is destined to be a hero. The only thing between her and glorious honour is her …. name!? Eda has been born into a long line of the world's greatest villains – the Valdimites. It will take all of Eda's moxie and skill to save the people of Peleda and prove once and for all that no one should be judged on their ancestry.
Project X - 90 minute live action feature film, from Easy Tiger (NSW).
Queen of Dogs, a 90 minute live action feature film, Northern Pictures (NSW) with creative team Catherine Nebauer and Joe Weatherstone.
While out searching for her beloved pug, Gusto, Maddy is bitten by an Irish Wolf-Hound and inherits the ability to talk to dogs. With her new found talent Maddy sets out to find her pug, but word of her power gets out and her mission is diverted by all sorts of dogs seeking her assistance.
The Dodo Survival Guide, a 70 minute animated film, from Moody Street Kids (VIC), producer Gillian Carr.
Refusing to believe he is the last of his kind, cynical Dodo Dave makes a desperate bid to escape the lost lands of Arkana, a hidden sanctuary where the last of the creatures we believe to be extinct live in harmony. When he and his side kick Pari encounter an unscrupulous naturalist they realise the true meaning of family and home, and that they must fight to save theirs, before it is lost forever.
The Many Worlds of Michaela Moor, a 13 x 24-minute live-action series from Brendan Luno and Ray Boseley.
A quantum glitch sends studious and organised Michaela Moor careering uncontrollably to a different universe each day.
Time Writers, a 10 x 24-minute mixed media series from Midwinter Films (NSW), Abi Tabone.
A young girl exploring the historic town of Port Adelaide discovers a portal to the past and escapes with her rambunctious imaginary friends into different times and places in history to uncover and solve mysteries from the past, which in turn impact the present.
True Colour of a White Lie, a live-action feature film from Pirate Size Productions (VIC), Bryony McLachlan and Dan Nixon.
Based on the novel by Gabriel Bergmoser. Nelson is desperate to escape the daily humiliations of high school. When his parents take over a ski lodge, he gets his wish. In a world where no one knows he's a loser, he can be whatever he wants. But reinvention is complicated … as Nelson's new world spirals out of control, he'll discover that no matter who you are, the hardest thing is to run away from yourself.
What the Actual?!, a 10 x 25-minute live-action drama series from Alix Beane, which has since been optioned by Easy Tiger.
A girl gets to have all the things she ever wanted, only to want the things she once had.
You Must Be Layla, a 13 x 25-minute live-action drama series from Goalpost pictures. Creative team Rosemary Blight, Kylie Du Fresne, Ben Grant and Yassmin Abdel-Magied.
Full of heart and humour, You Must Be Layla, is based on the book by Yassmin Abdel-Magied.