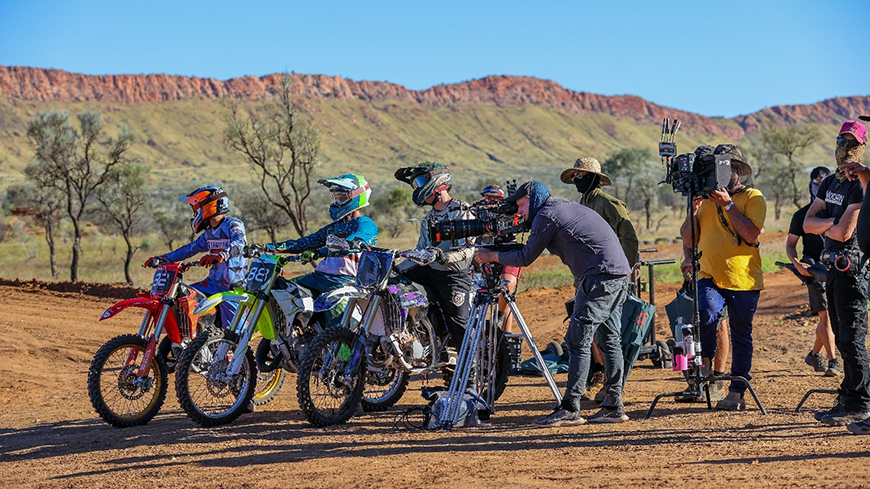 MaveriX in production outside Alice Springs, NT.
Cameras are rolling on the adrenalin-fuelled series MaveriX.
Currently filming in and around Alice Springs in Central Australia, MaveriX takes place against the ancient backdrop of the MacDonnell ranges in Arrernte Country. This highly ambitious drama series follows six talented motocross riders selected to join the MaveriX Academy where they are put through their paces, both personally and professionally, as they work towards making the national championships and becoming the elite riders they aim to be. But along the way they find that the real challenges aren't all out on the track.
Hundreds of actors from all over Australia auditioned for the series, with the selected cast coming from across the country. The MaveriX team are Darcy Tadich as Scott and Sam Winspear-Schillings as Bear both from Victoria, Tjiirdm McGuire as Richie and Charlotte Maggi as Angelique both hailing from Western Australia, Tatiana Goode as Jenny from South Australia, and Sebastian Tang as Kaden from New South Wales. Rounding out Team MaveriX are Rohan Nichol as Scott's dad and coach, Griffo, Jane Harber as Bear's mum Tanya, and Kelton Pell as MaveriX mechanic Vic.
The cast have spent considerable time during pre-production and rehearsals in motocross training, and the production is lucky to have three-time MX1 Australian national champion Dean Ferris and former professional rider Renae Ferris on the production as riders and doubles, as well as a number of other elite riders.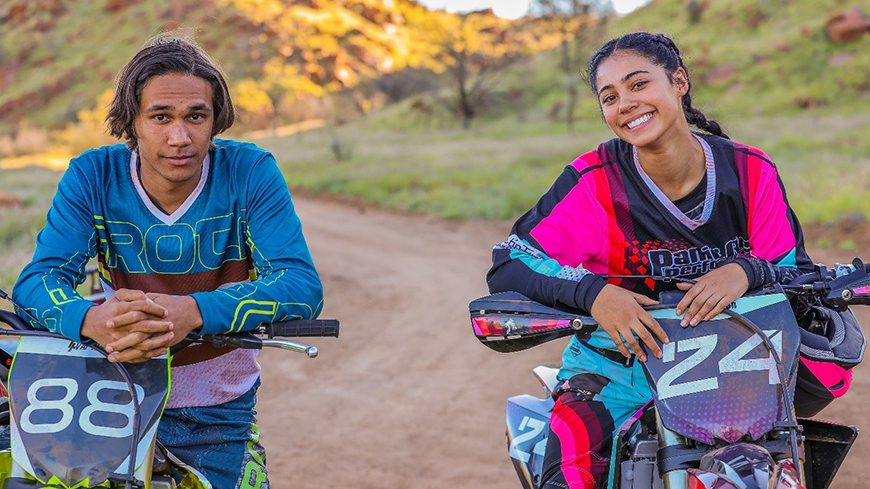 Richie (Tjiirdm MacGuire) and Jenny (Tatiana Goode) on location in Alice Springs.
The MaveriX production team have worked with experts in the field to build the series its own motocross track outside of Alice Springs featuring the track, chill out shed and bike workshop – the MaveriX Academy. With the MacDonnell Ranges as MaveriX's backdrop, the location itself feels like another character in the series.
The MaveriX set, along with the speed and adrenaline of the training and racing sequences (which DOP Bruce Young is covering using every tool at his disposal including drones, ATV vehicles, bike and helmet cams) is delivering a visually stunning drama series.
With compelling stories about what it takes to reach your potential and pursue your dream in an extreme sport, a fantastic cast of young actors, and high speed, high stakes action, MaveriX will give audiences an electrifying, action-packed drama.
With production to be completed at the end of 2021, this tween/teen series has been commissioned by ABC ME (Australia) and acquired by Netflix for rest of world, and we are sure that it will thrill Australian and international audiences for years to come.


MAVERIX is a Brindle Films production for the ABC. Major production investment from Screen Australia in association with the ABC, Screen Territory and the Australian Children's Television Foundation and financed with support from the South Australian Film Corporation. The executive producers are Bernadette O'Mahony, Mary-Ellen Mullane and creators Rachel Clements, Sam Meikle and Isaac Elliott. Series directors are Ian Watson, Isaac Elliott and Geoff Bennett.