Kids' Content for the International Day of Human Space Flight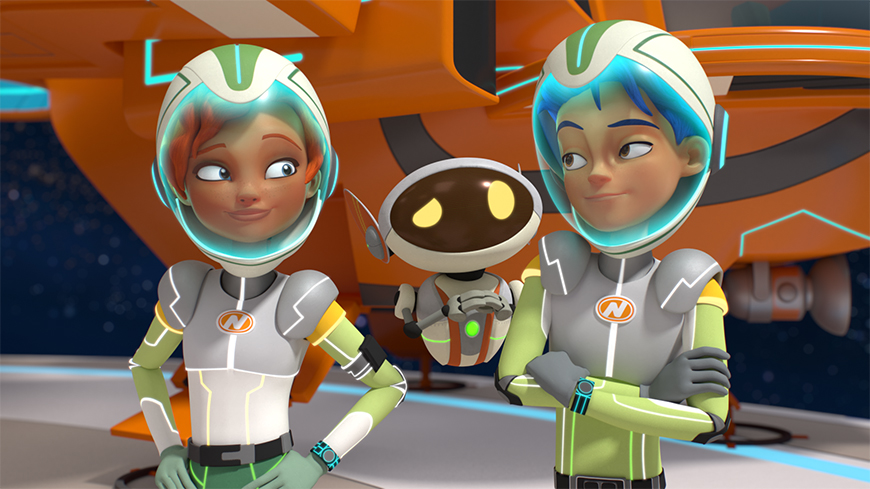 The International Day of Human Space Flight is observed on 12 April – a day to celebrate human space travel and the advances made by space science and technology. Are you looking for content to develop students' knowledge of Earth and space sciences ahead of this day?
Incorporating many key concepts relevant to the primary Science curriculum, Space Nova launches on ABC ME on Friday 2 April. Space Nova is set in the year 2162. Life is a blast for space adventuring siblings, Jet and Adelaide Nova and their parents, Josie and Hugo. During a routine research mission, these intrepid Aussie astronauts stumble across an abandoned alien space craft. They also discover that the craft is powered by a rainbow substance that's so powerful, it sends the ship zipping away at speeds humanity never dreamed possible. But although the Novas were unable to capture the craft, or the 'Star Dust' that powered it, they now know that there is an advanced, intelligent species out there, able to travel the universe in the blink of an eye. If only they can find them…
The ACTF will release education materials for Space Nova later this year.
In the classic ACTF-supported series Sky Trackers, Mike and Nikki are both scientists' children, living beneath the massive dishes of a space tracking station in the heart of the Australian outback. Nikki is 13 and into science - her dream is to be the first person on Mars. Mike is 14 and into rock music - he thinks science sucks. Mike's horse and guitar are the only things that make his life at the station bearable - until he falls for Nikki, that is.
The series incorporates factual space information and inspires an interest in the universe around us. For teaching ideas, see the free Sky Trackers Education Resource.
Additional series and films relevant to Earth and space sciences content include: