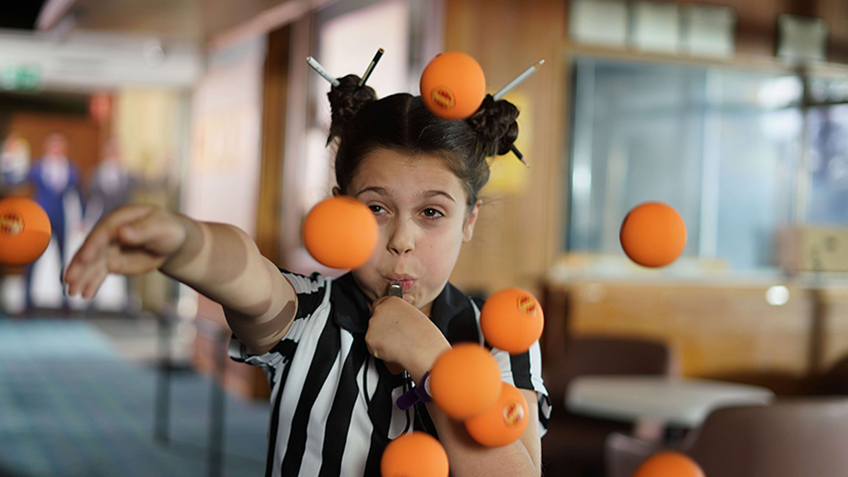 A world champion soccer coach from Germany once said: "The round has to go into the square" and so it is for the handball combatants in the live-action comedy children's TV series Hardball which ARD HR have just acquired from the ACTF for broadcast on KiKA, Germany's public channel for kids.
The multi-award winning Hardball is a 13-part live-action comedy exploring themes of inclusion, multiculturalism, family and friendship. The series will be dubbed into German for broadcast on KiKA.
Created by Guy Edmonds and Matt Zeremes and produced by Northern Pictures, Hardball sees laid-back and optimistic Mikey move with his rugby playing father from New Zealand to Sydney, soon finding himself in the thick of the ultra-competitive, schoolyard game of handball. Rocking into school with the most powerful, yet out of control, serve the neighbourhood has ever seen, Mikey is befriended by Jerry and Salwa, who join forces to train him to take out the local handball crown.
Says Patricia Vasapollo - ARD HR, Head of Family & Fiction: "Many think he will never make it, but Mikey teaches them all a lesson of optimism and tenacity. Filled with fun and comedy, Hardball conveys to our young audience the underlying universal message that leading a good life starts with yourself and your positive approach towards its challenges".
Jenny Buckland, ACTF CEO, had this to say: "While Australians haven't been able to travel this year, our TV shows can, and German kids and their families are bound to love the Hardball gang as much as we do. This positive show full of heart, is proving to be just what the world needs right now."
Hardball is produced by Northern Pictures for ABC Me and financed with the assistance of Screen Australia, the ACTF, ABC Television and Create NSW.
Hardball is distributed internationally by the ACTF and has already been sold to or screened in Australia, France, UK, Norway, Ireland, Canada, Hong Kong, Portugal, Slovenia, South Africa and the Middle East.
A second series of Hardball is currently in production in Sydney and will be available in the first half of 2021.