Coming in Term 4: Are You Tougher Than Your Ancestors? Q&A Webinar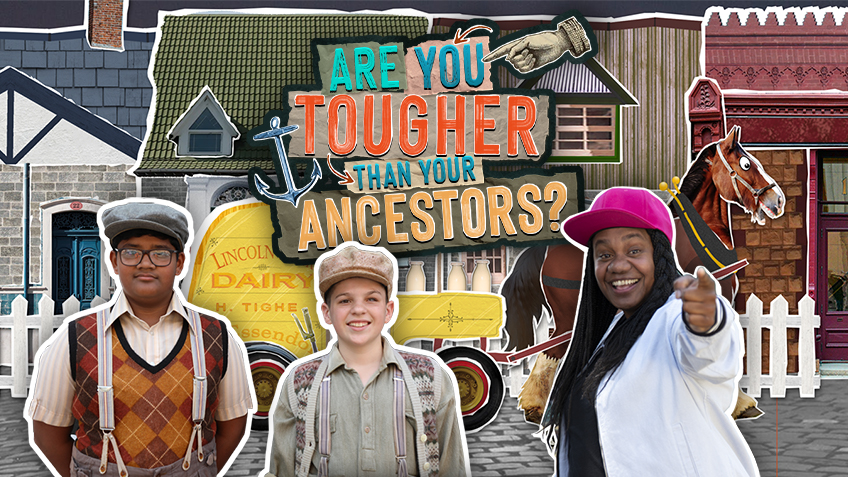 Are You Tougher than Your Ancestors? has been enthusiastically embraced by Australian primary teachers since its release. Our upcoming free webinar gives schools the chance to go behind the scenes with the creator and cast of this immersive living history series.
Primary students from around Australia are invited to participate in our live Q&A session with creator Vanna Morosini, host Ghenoa Gela, and cast members Jeffrin and Harry from the 'Milk Run' episode. In this virtual learning event, participants can ask Vanna, Ghenoa, Jeffrin and Harry about the ideas behind this engaging series, and the work that goes into bringing a TV series to life.
For those new to this unique series, Are You Tougher than Your Ancestors? pits the skills of today's kids against the exploits of children from Australia's past, to find out how they measure up. It challenges modern kids to walk in the shoes of a child from another era.
We have recently heard from many teachers who love using the series in their primary classrooms. It is frequently incorporated into history and geography inquiry topics, and presents a springboard for class discussions about culture, traditions, heritage, ancestry, independence, responsibilities, resilience, and empathy.
Places are limited for this event – register now.
Webinar Details
Date: Thursday, 12 November 2020
Time: 12:00pm – 12:45pm (AEDT)
Year levels: Years 1 – 6
Cost: Free
To register or learn more, visit: Are You Tougher Than Your Ancestors Webinar