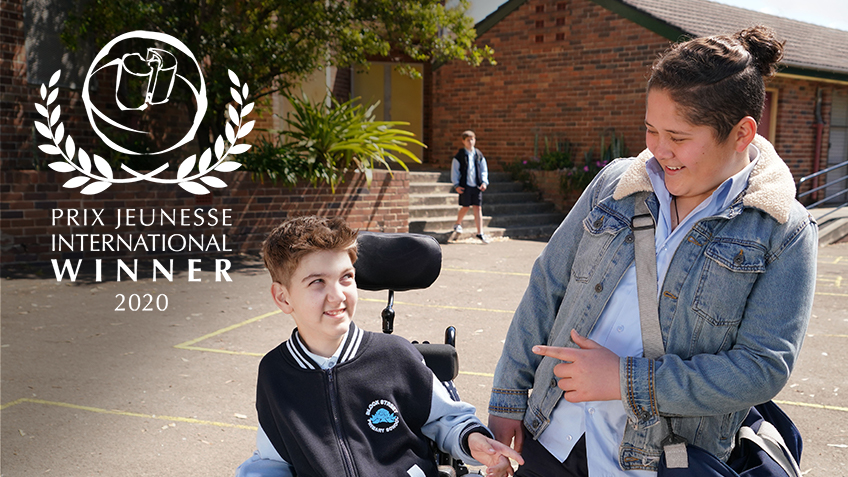 Hardball Scores Top Prize at Prix Jeunesse
Hardball has won the top prize in the 7-10 Fiction Category at Prix Jeunesse! With a healthy number of awards and nominations already attributed to the series, the win at Prix Jeunesse seals Hardball's reputation as a series full of heart that strikes a chord with audiences all over the world.
The Prix Jeunesse Foundation honours and promotes quality children's television content from across the globe. The prestigious festival occurs only every two years, where international industry experts gather in Munich to recognise and celebrate the most outstanding content created especially for children across a range of categories. Almost 500 programs are entered from countries all over the world, and each is subjected to a rigorous pre-selection process in January by an expert jury, with only one fifth of entries selected to compete in the festival.
This year due to COVID-19 travel restrictions, the festival was held online for the first time in Prix Jeunesse history. This allowed the hundreds of children's media professionals to participate in the festival from their home countries, where they were able to watch and vote for the shortlisted programs. Hardball clearly resonated, with voters appreciating the quirky humour, diverse representation and attention to detail in exploring the world of their characters:
"This programme really nails diversity - it's done in an honest and non tokenistic way." – United Kingdom
"Love this show, unique to see a light comedy drama made for this age that has terrific writing, acting, directing while addressing issues of diversity for both culture and body size along with disabilities. So well done!" – Canada
"So fresh! Love the diversity. Great plot and characters. The dry-wit humor made me laugh. Sweet as!" - Argentina
"This series looks like being a total cracker. Great performances, direction, editing, art direction, production values... and a frantic but entertaining script that might be a little too fast for some viewers - not that that would matter! The setting isn't grand but it's really interesting, and the situations, though heightened and attention-grabbing, are somehow still normal and naturalistic. The attention to detail is rare: hardly ever do we see the place food has in kids' lives, but even that is in here. The issues and the various cultural phenomena are all writ large, even in this first episode, but the feel is confident, light and always very, very funny. These kids remain empowered even as they face a plethora of typical challenges, educational, sporting, social, disability, hierarchical, etc, which is great. And, it's got heart. I imagine any child of the target age seeing this opener would surely want to come back for more." – Ireland
"Great characters, pointed dialogue, remarkable timing, incredible cast and last but not least really funny!" – Belgium
ACTF Executive Producer Bernadette O'Mahony says "Hardball really is a joyful series that's so well executed, where diversity is just the norm. It's great to see that it resonated so strongly around the world with Prix Juenesse participants – and I think we all need a good comedy at the moment!"
Congratulations to Executive Producer Catherine Nebauer, Producer Joe Weatherstone, series creators Matt Zeremes and Guy Edmonds and directors Darren Ashton, Kacie Anning and Fadia Abboud and the wonderful team at Northern Pictures on their win! The ACTF would also like to congratulate everyone involved in the creation of the series, especially the ABC, Screen Australia and Create NSW. It is truly an enormous achievement to be recognised at this level.
The Australian Children's Television Foundation holds the worldwide distribution rights for Hardball.