Little J and Big Cuz – Series 2 to Premiere in January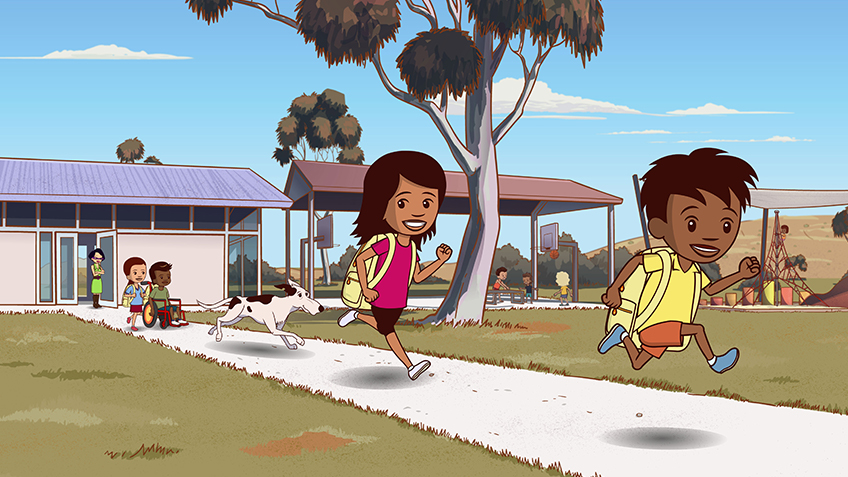 A second season of award-winning children's series, Little J and Big Cuz will premiere this January 10 on NITV.
In 13 new episodes airing weekly, Little J and Big Cuz will continue to learn about culture, community and Saltwater, Desert and Freshwater Country.
Series 2 will also see the return of a diverse, Indigenous writing team and stellar voice talents including Deborah Mailman, Miranda Tapsell, Ningali Lawford-Wolf, Aaron Fa'oaso, Ursula Yovich and Shari Sebbens.
Little J made its mark in 2017 as the first Indigenous animated series to broadcast on Australian television. Created for children aged four to six, the series aims to help kids prepare for schooling and demystify Indigenous culture for non-Indigenous children.
Little J and Big Cuz has received accolades including a TV Week Logie Award, a SDIN Diversity award and an AWGIE Award. The program has also been NITV's most successful animated children's program to date.
NITV Channel Manager, Tanya Orman is proud to see the return of Little J and Big Cuz to our screens.
"It's vital for all Aussie kids to see themselves represented on TV, and this program is incredibly relatable for children across the country. It's a beautiful thing to be able to weave strong educational and social impact messages together in such an entertaining show," she says.
Miranda Tapsell, who voices 'Little J' in the series, agrees. "It's really important for Aboriginal and Torres Strait Islander kids to see themselves reflected on screens, in positive and complex characters. I wish we had Little J and Big Cuz when I was growing up," she says.
Little J's first series has been translated into six Indigenous languages. Even more languages are set to be incorporated in series 2, including Noongar, Torres Strait Creole, Warlpiri, palawa kani, Gija and Wiradjuri.
Episode 13 will be in memoriam for Ningali Lawford-Wolf following her passing. Ningali played 'Nanna' in the series – a character selected as this year's special ambassador for National Aboriginal and Torres Strait Islander Children's Day. The episode will commemorate Ningali's contribution to Little J & Big Cuz, and the incredible life she lived.
Little J and Big Cuz – Series 2 will air on NITV at 7.30PM on Fridays from January 10. Following broadcast, episodes will be available to stream on SBS on Demand and on Little J and Big Cuz's website. Series 1 will be available for catch up viewing on SBS on Demand from January 2.
Little J & Big Cuz Season 2 is a Ned Lander Media, Media World, and Blue Rocket production for NITV and ABC Children's, with investment from NITV in association with the ABC. Financed with support from Screen Australia, Screen Tasmania, Film Victoria, ACER and the ACTF.
The Australian Children's Television Foundation distributes Little J and Big Cuz worldwide.