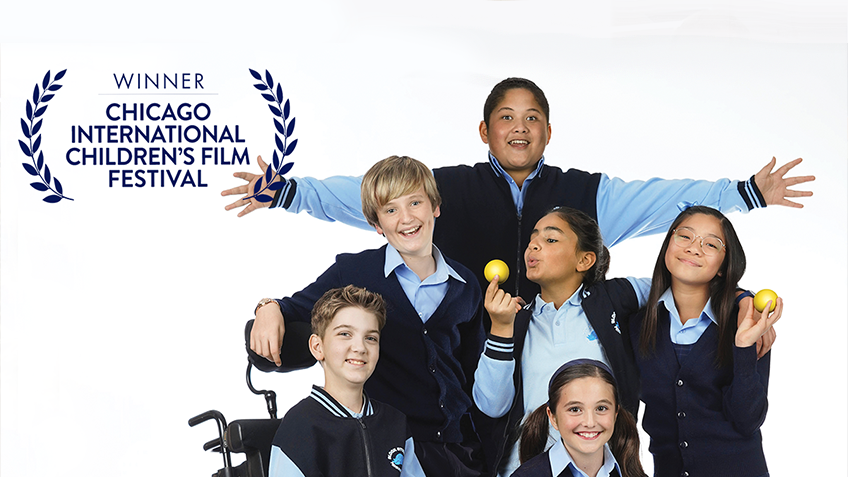 Hardball Receives CICFF Award
Hardball (Northern Pictures) has received a top prize at the 36th Chicago International Children's Film Festival.
Episode 1: 'Across the Ditch' was awarded First Prize from the Professional Jury for Best Live Action Television Production.
The selected episode follows 11-year old Kiwi boy Mikey, who is uprooted from his quiet existence in New Zealand and transported to Western Sydney after his Daddy scores a rugby league contract. On the first day at his new school, Mikey discovers the ultra-competitive schoolyard game of handball, and that he has the most powerful strike in the world. If only he could make the ball land in the right suburb…
CICFF received more than 1,100 entries across 40 countries this year. Hardball was also counted among the 247 high-quality films and programs selected to screen to audiences across Chicago during the ten-day festival.
The Chicago International Children's Film Festival is the largest children's film festival in North America. It presents the best, most innovative film and educational experiences for kids, families, students and industry professionals from around the world. The festival judges its entries based on the ethos that films are made for, and not about, children.
Hardball's recognition on the awards circuit and at home is growing. Since its release this April, the popular comedy/drama series has been shortlisted for an AACTA, ATOM and SPA Award, and reached more than a million plays on ABC's VOD platform iView.
The ACTF congratulates Northern Pictures and the Hardball team on a very exciting and well-deserved win.


Hardball is a Northern Pictures production for the ABC, with investment from Screen Australia in association with the ABC. Financed with support from the ACTF and Create NSW. The ACTF distributes Hardball internationally.