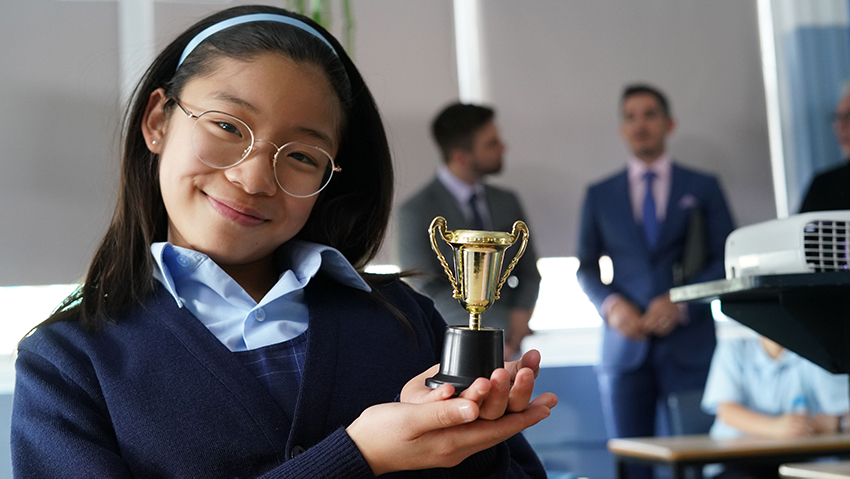 Hardball and Woven Threads to Screen at the Chicago International Children's Film Festival
Australian kids' stories are resonating with audiences across the globe, with both Hardball (Northern Pictures) and Woven Threads (Benchmark Films) selected to screen at the 36th Chicago International Children's Film Festival. Hardball has also been announced as a finalist in the 'Best Children's Television Program' category at the SAE ATOM Awards.
The selected Hardball episode, 'Across the Ditch', follows 11-year old Kiwi boy Mikey, who is uprooted from his quiet existence in New Zealand and transported to Western Sydney after his Daddy scores a rugby league contract. On the first day at his new school, Mikey discovers the ultra-competitive schoolyard game of handball… and that he has the most powerful strike in the world! If only he could make the ball land in the right suburb.
Woven Threads was selected by CICFF for the episode "The Amazing Gift of Education", which follows the story of 11-year old girl, Atika Hussain, a Hazara from a country village in Afghanistan. In Atika's community, education is not considered to be important for a girl. When Atika's family moves to Australia, she pursues her dream of studying law at university.
CICFF received over 1,100 entries this year. Both Woven Threads and Hardball were counted among the 247 high-quality films and programs selected to screen to audiences across Chicago.
The Chicago International Children's Film Festival will be held from November 1 - 10 at venues across Chicago. The SAE ATOM Awards will announce winners at the Tertiary and Industry Awards Night on Tuesday 26 November at Hotel Esplanade in St Kilda, Melbourne.