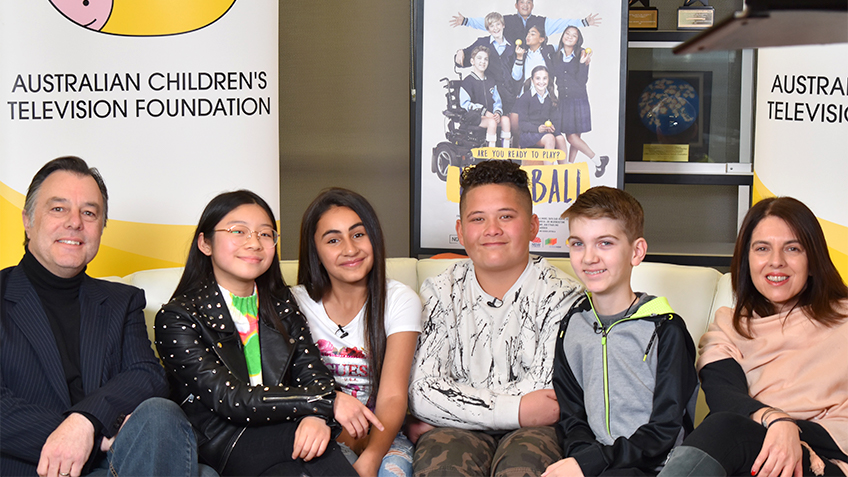 L to R: ACTF International Sales Manager, Tim Hegarty, Hardball's Erin Choy (Tiffany), Reannah Hamdan (Salwa), Semisi Cheekam (Mikey) and Logan Reberger (Jerry), and ACTF International Sales Manager, Roberta Di Vito.
Live-action comedy-drama, Hardball (13 x 24 min) premiered in Australia on ABC TV in April, and has proven to be wildly popular ever since, with over a million plays to date on ABC's VOD platform iView.
Libbie Doherty, Head of Children's at ABC Television, says "Hardball is crammed full of laughs and celebrates the highs and lows of life on the handball school circuit. Set in the suburbs of Western Sydney, Hardball delivers a contemporary view of Australia and the wonderful cultural mix of our country. This series has a lot of gags per page but delivers the punch with a lot of humour and heart. As the #3 title on ABC ME iView overall this year, kids have voted with their viewing and it remains one of our most searched for programmes on our app indicating that kids continue to seek it out for repeat viewing from word of mouth."
On the back of sales this year to TVO (Canada), NRK (Norway), TVB (Hong Kong), RTB (Portugal), RTV (Slovenia), and others, Hardball has recently been selected for screening at the 36th Chicago International Children's Film Festival and has also just been announced as a finalist in the 'Best Children's Television Program' category at the Australian Teachers of Media Inc. (ATOM) Awards.
Marney Malabar, Director of TVOkids (Canada), had this to say of the series: "Hardball brings together people from different backgrounds, cultures and experiences in this clever and funny series. The show is a delightful celebration of diversity, inclusion and friendship through sport."
Distributed globally by the Australian Children's Television Foundation, Hardball is a fast-paced live action series, full of laughs and crammed with action-packed sport sequences. Aimed at the 7 to 12 audience, the series follows fish-out-of-water Mikey as his friends Salwa and Jerry attempt to make him the best handball player Western Sydney's ever seen. While traversing the highs and lows of pre-teen life, Hardball explores themes of family, multiculturalism and acceptance.
Led by Northern Pictures Executive Producer Catherine Nebauer and produced by Joe Weatherstone, Hardball was created by Guy Edmonds and Matt Zeremes.
Episodes of Hardball will be available for screening at MIP Jr for the first time.
Visit the ACTF stand (P-1.B84) during MIPCOM for more Hardball information.