New to the ACTF Shop: The Inbestigators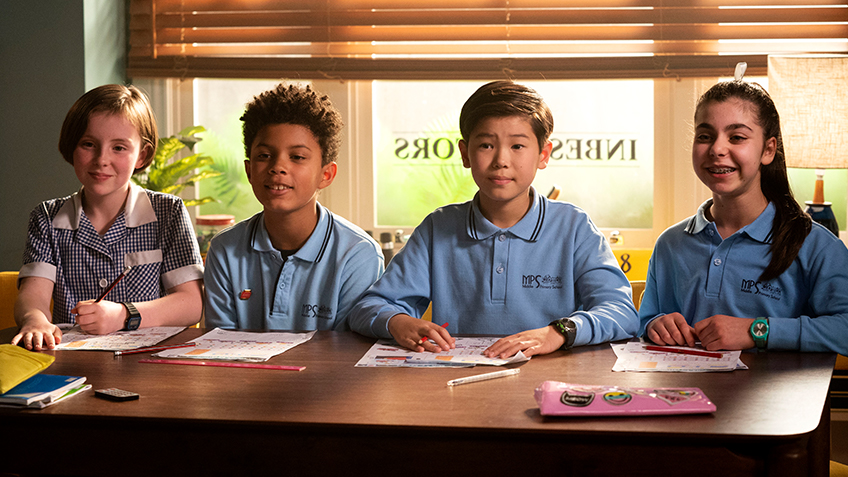 Having been described as 'Little Lunch meets Sherlock Holmes', primary teachers and students alike will love Gristmill Productions' latest children's program, The Inbestigators. The series is now available to download from the ACTF Shop.
The Inbestigators is a mockumentary comedy series about a backyard detective agency capably run by children. Produced by the creative team behind Little Lunch, this clever and engaging series begins on new kid Maudie's first day at school.
When 10-year old Maudie expertly solves a crime with her new classmates Ezra, Ava and Kyle, the future is obvious: the four children must form a detective agency. Operating out of the granny flat in Ezra's backyard, these funny and disparate Grade Five kids work together to solve playground and neighbourhood mysteries, becoming best friends in the process.
Fore fronting critical thinking and problem-solving skills, the audience can't help but observe, analyse, and make deductions as they see Maudie piece important clues together. The young detectives collaborate to solve a different 'whodunnit' in each of the 20 episodes, from missing mugs to disappearing deliveries to a spoiled sports day.
The Inbestigators is rated G (no need for permission slips!) and is now available as a digital download in the ACTF Shop. The education license provided with our once-off digital downloads means that:
You own the series
You have permission to store the digital files on your school's network
You have permission to share the content with student and teacher devices within your school's network
Content is available to use immediately after your purchase.
For more engaging screen content for the primary classroom, browse the titles in our Education Catalogue or the ACTF Shop.