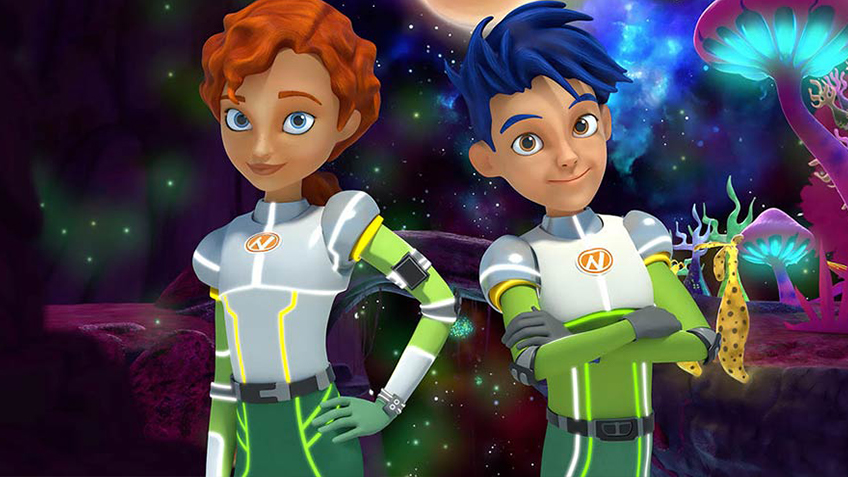 IMAGE: Mediaweek
Sydney's SLR Productions has commenced production on a new animated action-comedy series for six to ten year olds.
The 26x24min series, Space Nova is a collaboration between SLR Productions and Malaysia's Giggle Garage Animations, for broadcast on Channel Nine, ABC ME and German pub-caster, Super RTL.
The ACTF invested in the development of Space Nova back in 2017, alongside ABC and Super RTL.
"The idea of a distinctly Australian series that showed Australians at their best in the science and technology fields, through an adventure series, and tapped into what is going on presently with the establishment of Australia's first space agency was an exciting idea", said Bernadette O'Mahony, ACTF's Head of Development and Production; "and we are pleased now to also be able to support the production as well".
Produced by Suzanne Ryan, the driving force behind SLR Productions, whose award-winning shows include Guess How Much I Love You – The Adventures of Little Nutbrown Hare, Lexi and Lottie and I Got A Rocket!, Space Nova will add to the more than 160 hours of children's content already produced by SLR.
"Space Nova is an exciting and captivating space adventure, which follows the Nova family's search for alien life throughout the universe. This is a great collaboration between esteemed partners Super RTL, ABC ME, NINE Network, Giggle Garage, Screen Australia, Create NSW, ZDF Enterprises and Australian Children's Television Foundation. I am thrilled to launch into space and bring this incredible show to life," says SLR Productions' CEO and Executive Producer, Suzanne Ryan.
Nine Network's Co-Head of Drama, Jo Rooney says Space Nova is an adventure that audiences are sure to love.
"Suzanne and the team at SLR Productions have a proven track record of delivering entertaining and age-appropriate content. We [at Nine,] can't wait for Space Nova", she says.
Screen Australia's Head of Content, Sally Caplan added that there's 'a lot to like' about SLR's upcoming venture.
"This series… is distinctly Australian and reflective of our multicultural society. I look forward to seeing [it] find an audience here and around the world", she says.
Space Nova is a SLR Production for Super RTL, the NINE Network and ABC ME. The series is financed with the support of Screen Australia in association with Giggle Garage, Create NSW and the Australian Children's Television Foundation. ZDF Enterprises will distribute the series worldwide (excluding ANZ). The ACTF will distribute the series in Australia and New Zealand.