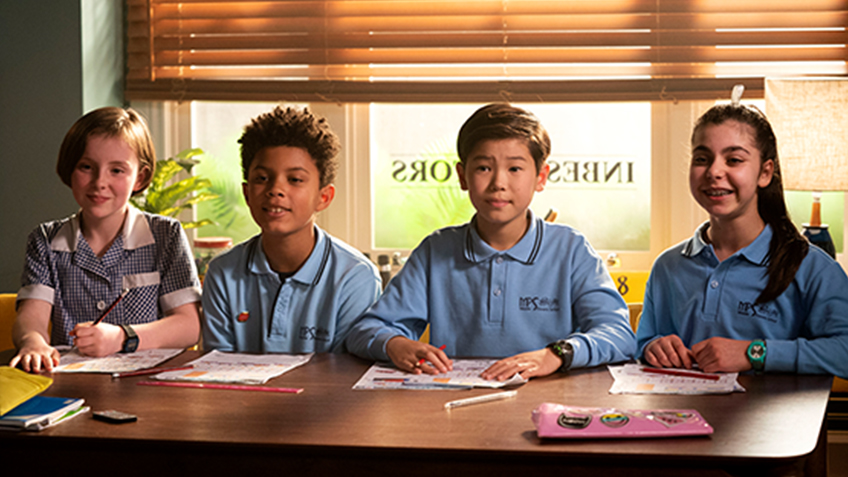 New Series The Inbestigators Debuts June 21
The Inbestigators, a new live-action comedy/mystery series from Gristmill (the creators of Little Lunch) will begin June 21 on ABC ME.
Eleven-year-olds Ezra, Maudie, Ava and Kyle are The Inbestigators; a friendly neighbourhood detective agency run by this mismatched group of primary school kids who've taken over the granny flat in Ezra's backyard. On call to solve any puzzle that crops up at school or in the neighbourhood – this team of savvy sleuths love nothing more than a mystery.
In every episode, there's an intriguing case to crack, told by the kids in a similar mockumentary style to Little Lunch. While keeping audiences hooked through intrigue, comedy and action, The Inbestigators is packed full of heart as it explores themes of honesty, friendship and loyalty.
After the overwhelming success of Little Lunch, Gristmill producers Robyn Butler and Wayne Hope are looking forward to introducing another children's comedy to the world.
"We took the comic tone of Little Lunch and married with it the private detective, mystery genre (one of our favourites), inventing a ground-breaking procedural comedy for kids. We are immensely proud of the show that we have produced," says Butler and Hope.
Inbestigators EP and ACTF Head of Development and Production, Bernadette O'Mahony says the new series will be a hit with children and their parents.
"The Inbestigators is fresh and original, every episode keeps you guessing and smiling. And the characters are just divine – we've fallen in love with them and know the audience will too."
Audiences don't have to wait much longer for The Inbestigators to hit Australian screens. The series will launch at 5pm Friday June 21 on ABC ME with episodes screening daily. Outside of Australia, the series will launch on Netflix as a 'Netflix Original' series later in the year. We can't wait for The Inbestigators to begin!

The Inbestigators is a series from Gristmill, made with the support of Screen Australia and Film Victoria for ABC and Netflix. The Australian Children's Television Foundation distributes The Inbestigators worldwide.