Our Top Picks for MIPJunior 2018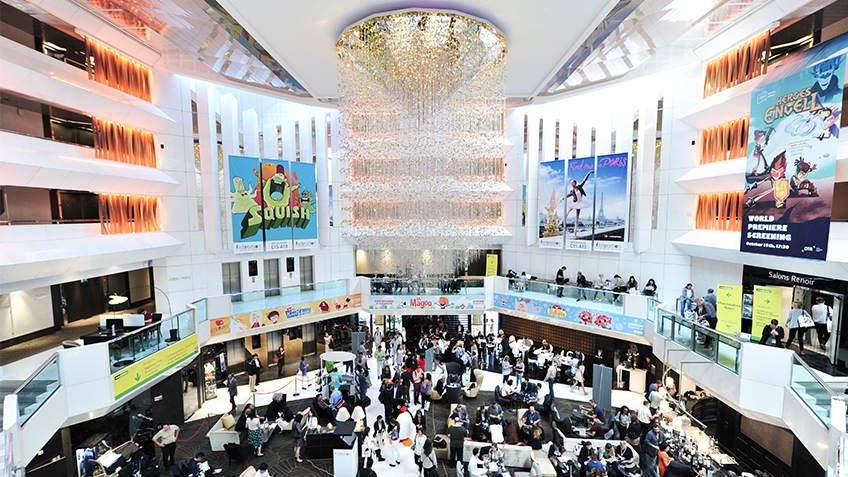 More than 1600 participants from 70 countries will visit Cannes next weekend to attend MIPJunior, the leading international event for kids programming. To those attending MIPJR: in between scheduling meetings, polishing pitches and strategising new series, don't forget to fit a few conferences into your diary.
MIPJunior's conferences are a great opportunity to hear from leading kids' buyers, commissioners, sellers, producers and creators, who cover everything from the latest trends to key issues impacting kids' entertainment globally.
There's a huge line up of sessions scheduled over the MIPJunior weekend - 28 in all. The ACTF's Head of Development & Production, Bernadette O'Mahony as well as International Sales Managers, Roberta Di Vito and Tim Hegarty, will be attending as many MIP sessions as time will allow. Here are a few of the sessions we recommend:
THE CREATORS' SUPERPANEL
13 Oct 2018 – 10.10AM
This panel celebrates the gifted individuals driving modern excellence in children's television. Participants in The Creators' Superpanel will engage in a lively discussion about the creative process, financing challenges, working with linear and OTT broadcast partners, and keeping up with fast-changing media habits.
MIPJUNIOR IP PITCH
13 Oct 2018 - 2.45PM
Back at MIPJunior for the second year in a row, the MIPJunior IP Pitch (previously known as Pitch Your IP for Animated Series) is a pitching competition dedicated to producers and creators of children's content to source original IP ideas from the book & gaming industry.
The 5 best properties will be pitched live on stage in front of a Jury of kids industry experts.
During the deliberation time, hear from an exclusive case study on "True and the Rainbow Kingdom" and how to turn an IP into a successful TV format.
VIEW FROM THE TOP: GAZING INTO THE FUTURE OF KIDS MEDIA
13 Oct 2018 - 3:40PM
Where is the kids media business today… and where is it headed? Members of the MIP Markets Kids Advisory Board share perspectives on what we can expect, based on the current business climate and the big questions confronting the industry. Come watch as they also debate one another's predictions!
30 MN WITH... FERNANDO SEMENZATO AND DIEGO RECK, NATIONAL GEOGRAPHIC

13 Oct 2018, 4:30PM
In these intimate sessions, key content executives share their programming, acquisition and commissioning strategies over 30 minutes. This quality time allows producers to get a sense of what the market currently needs… and prepare their pitches accordingly.
Nat Geo Kids is National Geographic Partners' multiplatform entertainment destination (TV & App) for 4- to 7-year-olds. Nat Geo Kids offers parents a safe destination with the backing of National Geographic, one of the most prestigious brands worldwide with a legacy of over 130 years that gathers together the best scientists, explorers, photographers and filmmakers to create stories that help change the world. In this sense, Nat Geo Kids' goal is to accompany children in their growth, knowing that vocation and passion for nature, adventure, creativity and science start in childhood.
NAVIGATING THE OTT LANDSCAPE
13 Oct 2018, 4:40PM
The big OTT platforms are now a well-established part of the kids content landscape, and no longer the mysterious new kids on the block. But what is it actually like to create and sell shows to them? And which OTT is the best home for your property? A fireside chat with experienced creators, producers and distributors on considerations and best practices of working with on-demand platforms.
DIVERSITY & INCLUSION IN KIDS CONTENT: THE STAGE IS SHIFTING
14 Oct 2018, 10:50AM
Children's content is getting more diverse, but there's plenty left to do. In TV's role as co-educator and co-definer of norms, it's critical to offer children wider viewpoints that promote openness and compassion for others. In this informal, innovative format, you yourself get to build on this conversation. How can we better support BAME, LGBTQI+, less-able and other poorly represented populations?
MIPJUNIOR PROJECT PITCH
14 Oct 2018, 2:45PM
Known as one of the most awaited sessions at MIPJunior, the MIPJunior Project Pitch (formerly MIPJunior International Pitch) is dedicated to creators and producers seeking financing for projects in development.
After reviewing projects collected via the MIPJunior Screenings Library, our industry jury chose the five best projects to pitch live on the MIPJunior stage.
During the Jury's deliberation, Bruce Kane, Founder & Director of BES Animation studios, will share his experience with Boxwars, a live-action format for kids which won last year's competition. Bruce will explain how they refined the show for an international online audience creating a new, platform agnostic format.
30 MINUTES WITH... NINGNING SUN, TENCENT TECHNOLOGY
14 Oct 2018, 2.45PM
Tencent Kid (kid.qq.com) is China's first children's web portal. It is the most popular Chinese children's online platform for domestic and overseas kid's brands.
Since 2015, Tencent Kid has been focusing on video content operations and now Tencent Kid Channel (https://v.qq.com/child) shares the second largest traffic on Tencent Video platform. In 2016, Tencent Penguin Pictures began to invest in children's IP and is looking forward to various types of project investment, overseas distribution and spin-off authorization cooperation.
MIPJUNIOR KEYNOTE: MARGIE COHN, PRESIDENT DREAMWORKS ANIMATION TELEVISION
14 Oct 2018, 5:00PM
In a keynote session titled "Creating Timeless Content in Ever-Changing Times", Margie Cohn will chronicle five years of extraordinary growth and expansion and will discuss what it takes to create innovative kids and family series across multiple distributors that can keep up with today's ever-evolving market. As DreamWorks looks ahead to more diversified distribution, Cohn will offer her thoughts on the future of the industry and why it looks bright for content creators.
Margie Cohn serves as President of DreamWorks Animation Television reporting to Universal Filmed Entertainment Group (UFEG) Chairman, Jeff Shell. Cohn oversees all television development and production for the studio's rapidly-growing slate of original television series, including DWA TV's groundbreaking multi-year deal with Netflix as well as hulu, Amazon, Universal Kids and other leading broadcasters around the world. As part of the studio's global initiatives, she and her team are tasked with creating original animated programming inspired by DreamWorks Animation and Universal Pictures' iconic franchises and feature films, as well projects based on original and acquired IP. Since the studio's inception in 2013, DreamWorks Animation Television has won 22 Emmy® awards.
For more information on all ACTF programs, visit Roberta, Tim and Bernadette during MIPCOM at the ACTF stand # P-1.B84. For the complete two-day conference program, visit mipjunior.com.