Get Ready to Play Hardball!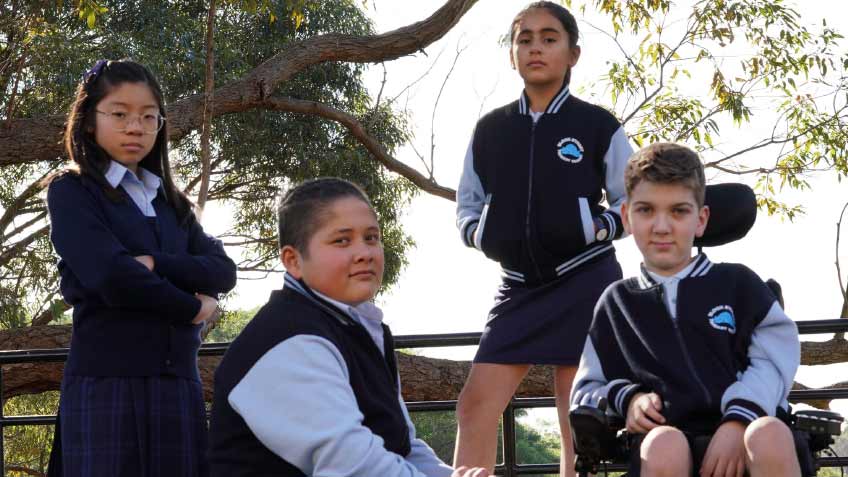 Pictured (L to R): Hardball cast members Tiffany (Erin Choy), Mikey (Semisi Cheekam), Salwa (Reannah Hamdan) and Jerry (Logan Reberger).
Northern Pictures' first foray into live action drama for the 7-11 audience has commenced shooting in Sydney. Set for broadcast on ABC Me, and distributed internationally by the Australian Children's Television Foundation, Hardball is the brainchild of creators Guy Edmonds and Matt Zermes.
Hardball is a fresh, 'skux-as', fish-out-of-water story about Kiwi boy Mikey who moves to Western Sydney and finds himself in the thick of the ultra-competitive, schoolyard game of handball. Rocking into school with the most powerful serve the neighbourhood has ever seen, Mikey is befriended by Jerry and Salwa, who join forces to train him to become a weapon of precision and skill - equipped to topple resident king of the court, Tiffany, and take home the Western Suburbs handball crown. A series full of heart and humour, this underdog story explores themes of multiculturalism, inclusion, family and friendship.
Led by Northern Pictures Executive Producer Catherine Nebauer and produced by Joe Weatherstone, Hardball was created by Guy Edmonds and Matt Zeremes, who met as actors and have been busily building up experience on the other side of the camera. Hardball marks their first foray into children's television, with the duo writing all 13 episodes, and bringing their own fast-paced, action driven humour to the series. Matt and Guy will also cameo as Tiffany's dads, Steele and Stone, in the series.
The series principal cast includes Helen Dalimore (Here Come The Habibs!, House Husbands, Home and Away) as school principal Ms. Crapper, and introduces talented newcomers Semisi Cheekam as Mikey, Reannah Hamdan as Salwa, Logan Reberger as Jerry, and Erin Choy as Tiffany.
"Hardball is seriously funny, and Guy and Matt have tapped into a sport every kid knows how to play, whether they call it handball, four square or something else – it's universal – and the audience will all want Mikey on their team. It's a series with real heart and warmth to it – these characters have such a great friendship and way of dealing with life's ups and downs." Bernadette O'Mahony – Executive Producer, ACTF
The series is directed by Darren Ashton (Here Come the Habibs!, The Wrong Girl and Worst Year Of My Life, Again!), Kacie Anning (The Other Guy, Wham Bam Thank-You Ma'am and You're Skitting Me), and Fadia Abboud (Here Come The Habibs! Series 2, Club Arak), and will be shot in and around Western Sydney over the coming months.
"For Northern Pictures, there was never any doubt who to approach about both further developing and then distributing our first comedy series, ACTF was always top of mind. Bernadette and the team there absolutely understand what we, as producers, need to deliver to the local market, as well as for the international marketplace. We are delighted to be working with the ACTF who have been instrumental in helping us craft the series and excited to have commenced shooting." Catherine Nebauer, Executive Producer, Northern Pictures Pty Ltd.
Hardball is produced by Northern Pictures for ABC Me and financed with the assistance of Screen Australia, Australian Children's Television Foundation, ABC Television and Create NSW.
Start practicing your handball moves! There is a new challenger in town!