Tasmania Given A Sneak Peek of Little J and Big Cuz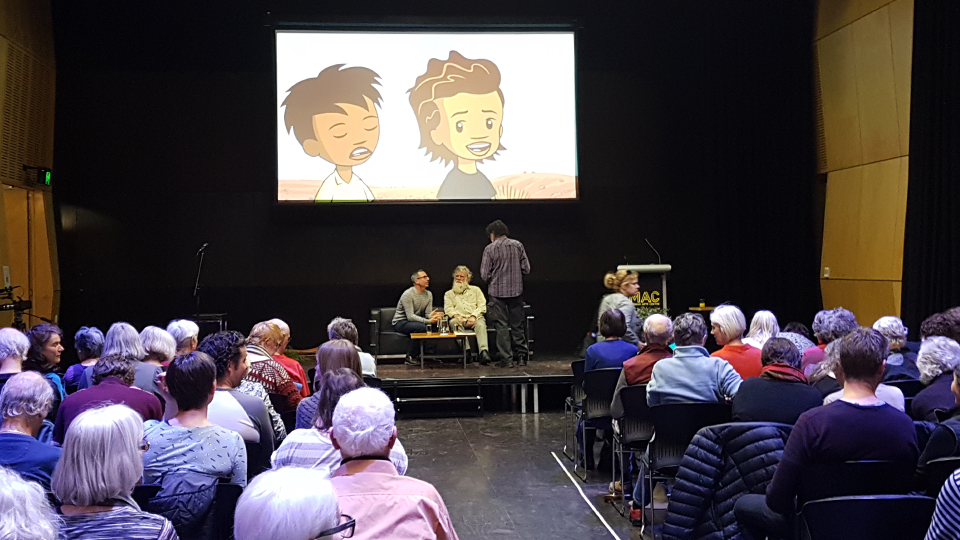 NITV's new children's series Little J and Big Cuz was introduced by Bruce Pascoe who wrote on the series and discussed his episode 'Old Monster Dog' and the writing process. The audience in Hobart then enjoyed the first viewing of the series with the screening of Bruce's episode and a short behind the scenes video in which the passionate cast discussed why the series is so special to them.
Hidden Stories was a two day event held by the Tasmanian Writers' Centre and the Tasmanian branch of Children's Book Council of Australia to mark Indigenous Literacy Day. Carrying a theme of 'celebrating stories', the event offered a program of events ranging from dance, song, discussion and film. This was something of a milestone in Tasmania, that successfully brought together people from all family groups to talk about the often hidden yarns that link us, and the need for these stories to be passed on to the generations to come.
Little J and Big Cuz; a 13 x 13 minute animated series follows the adventures of five-year-old Little J and his older cousin Big Cuz, who live with their Nanna and whose outback life and adventures at home and school form the basis of each episode.
The series will also have a preview in the Northern Territory later this month when SBS will showcase the series to delegates at the Remote Indigenous Media Festival at Yirrkala in North East Arnhem Land.
Little J and Big Cuz is in production for NITV by Ned Lander Media. The ACTF will distribute the series, with production investment from ACER, Screen Australia, Film Victoria and Screen Tasmania. The series will be available in 2017.