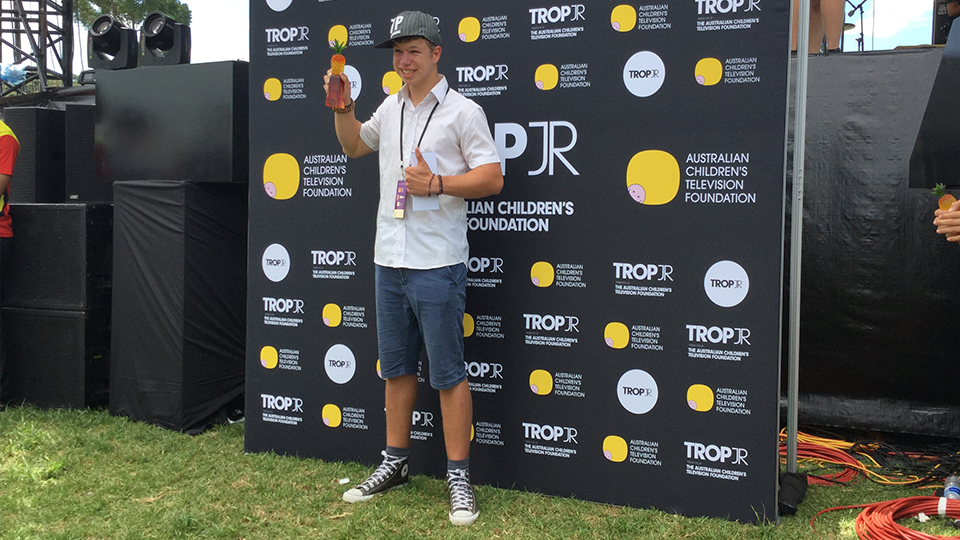 Yianni Rowland's 'Chess People' Wins Trop Jr 2016!
Trop Jr, The Short Film Festival for Kids, was held this Valentine's Day in Sydney.

Yianni Rowland's short film 'Chess People', has won the 2016 Trop Jr festival for a poignant animated film about two boys protesting against war, in a chess world.
Yianni, from Northcote High School in Victoria, competed against 14 other young finalists aged under 15 in an outdoor screening at Sydney's Centennial Parklands on Valentine's Day afternoon.
From 11AM onwards, the Trop Jr event had an energy-packed line up of events in store for the festival-goers. Not only was there live entertainment and celebrity appearances, but a broad range of fabulous short films from children around Australia and beyond were played on the outdoor screen.
The 15 young finalists pulled out all the stops in this year's competition. Director Nisanur Sen's short 'The Escape Plan' involved computer-generated dinosaurs, 'Fireworks' by Lisa Studden contained some creative 2D animation, while Liam Alexander's film 'Social Death' explored the dangers of mixing parents and social media.
The X Factor's Brothers 3 kept the energy high throughout the afternoon with a special live performance. Afterwards, Emmanuel Rodriguez (formerly from Justice Crew) performed an impressive hip-hop dance demonstration that the crowd thoroughly enjoyed.
After much discussion amongst the judges including Madeleine Madden ('Zoe' from Ready for This) and Ed Oxenbould ('Dylan' from Paper Planes), the winning film was chosen.
Yianni will receive a digital camera, ABC3 educational filmmaking experience, and entry to a range of film and television short courses throughout the year.
Trop Jr is proudly presented by the ACTF. You can watch the winning film below:

wrt_youtube
The Trop Jr finalists for 2016:
Pause
Director: Sebastian Marsden (QLD). Producer: Sebastian Marsden
Will loves collecting junk at his local garbage dump, but everything changes for him one day when he finds something.
Director: Aniruddh Chennapragada (NSW). Producer: Aniruddh Chennapragada
Year 9, James Ruse Agricultural High School
Wouldn't it be cool to have a machine that cured that awful writer's block?!
Director: Darwin Schulze (NSW). Producer: Darwin Schulze
Is there anything cuter than a little pet poodle? One girl thinks so.
Director: Daniel Nailand (NSW). Producer: Christopher Spiropoulos
After the death of his father, James receives a box that contains some things with a special power.
Director: Isaac Haigh (VIC). Producer: Isaac Haigh
What happens when three meddlesome boys take their practical jokes too far?
Director: Lisa Studdon (NSW). Producer: Lisa Studdon
A girl learns the importance of true friendship.
Director: Tom Harrison (ENGLAND). Producer: Tom Harrison
Age: 15
The daily routine has become mind numbing for a lonely teenager.
Director: Nisanur Sen (SA). Producer: Grace Nuske
Renmark Primary School
They thought they were in trouble before, but when dinosaurs take over the school, they face a world of trouble they never saw coming.
There's a Bee in My Belly Button
Director: Caleb Crook (SA). Producer: Owen Sullivan and Liliana Guy
Renmark West Primary School
When a bee gets mad, things get bad.
Director: Oliver Marsden (QLD). Producer: Oliver Marsden
A young boy passionate about Astronomy and Chemistry tracks down an asteroid that scientists said would never hit Earth.
Director: Liam Alexander (NSW). Producer: Liam Alexander
After Elliot posts a photo of himself on social media in the pursuit of popularity, something terrible happens, something he was not ready for, his mother comments on it.
Director: Megan Humphreys (QLD). Producer: Megan Humphreys
One girl, one room, one voice and no way out.
Directors: Oliver Crawford Smith & Oliver Bailey (VIC). Producers: Oliver Crawford Smith & Oliver Bailey
Lachie learns that sometimes it's the little things that count.
Director: Jack Dignan (NSW). Producer: Jack Dignan
A hospitalised teenager fighting cancer is visited by a space soldier, who has been assigned to rescue him from a deadly alien race.
Director: Yianni Rowlands (VIC). Producer: Yianni Rowlands
Two boys on opposite sides of a chess world, divided by a great wall and seemingly endless war, find a way to inspire change.