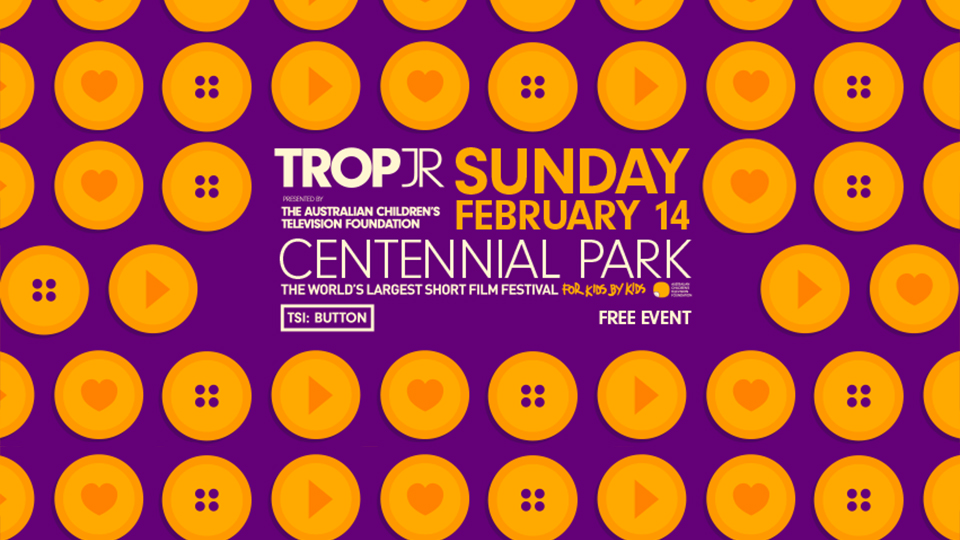 Trop Jr Is Only Two Weeks Away!
The countdown has begun for Trop Jr – the short film festival for kids, by kids!
What: Trop Jr Short Film Festival
Where: Sydney's Centennial Parklands
When: 11AM – 2PM
Who can attend: Everyone
Cost: FREE
In just two weeks time, Tropfest's junior film festival will be held in the sunny outdoors at Sydney's Centennial Parklands.
In a FREE event, families are encouraged to come along and support some of the best junior filmmakers in a screening of 15 short films made by kids aged 15 and under.
The Trop Jr event will be held on Valentine's Day, Sunday, 14th February at 11AM. Finalist films feature astronauts, Mexican wrestlers, scientific experiments and time machines. Each film will include the Trop Signature Item (TSI) of BUTTON.
The junior filmmakers have pulled out all the stops for this year's competition. Some films include 3D animation techniques, while others use special effects including stop motion, gun shoot-outs and explosions.
Tropfest director John Polson says the sky is the limit for the young and aspiring filmmakers submitting work for Trop Jr.
"I'm excited for Australia to see the work of these future film leaders. Not only are their filmmaking skills off the charts, but some present a world view so astoundingly sophisticated, it's hard to believe their all so young", he said.
Live entertainment, food and drink are available on site. To find out more about the ACTF-presented event, visit: http://tropfest.com/tropjr/attend/sydney/.