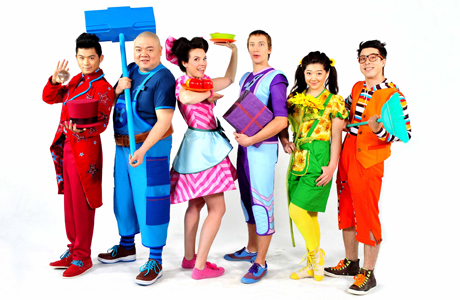 Hoopla Doopla! Now showing on ABC4Kids
Step right up, you're about to enter a whimsical, magical world for 2–5 years olds - where only circus logic applies!

Inspired by circus performers and physical comedy, Hoopla Doopla! uses a troupe of six extraordinary characters with amazing physical skills.

Watch the characters tumble, juggle, leap and somersault every morning at 10.10am on ABC4Kids.

Mimi, Ziggy, Jango, Bop, Squiggie and Zap live in the town of 'Hoopla' where life is never dull and nothing is quite what it seems.

Reflecting a child-like view of the world, all of them find the extraordinary in the ordinary and create unexpected uses for everyday objects.

In this town nothing ever happens without a somersault, a pratfall or a magical surprise!

Hoopla Doopla! is a co-production between the Australian Broadcasting Corporation and China Central Television.

It was produced by Melinda Wearne from the Content Agency and Ron Saunders from Beyond Screen Production and the China Central TV Screen Drama Production Centre.

Hoopla Doopla! (52 x 12 minute episodes) received initial script development investment from the ACTF in 2010 and will be distributed worldwide by the ACTF on behalf of the Australian and Chinese partners.