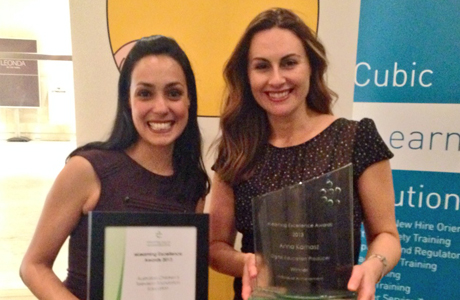 eLearning Achievement Award
ACTF Digital Education Producer Anna Kamasz has been awarded the eLearning Excellence Award for Individual Achievement at the 2013 eLearning Excellence Awards Gala Dinner.
It was the first year this particular award has been offered and recognises individual excellence and innovation in the eLearning industry.
Anna Kamasz has been working for Australian screen organisations for nearly a decade, creating and developing highly acclaimed programs for distribution to education markets.
She has helped produce technically innovative curriculum based content for the ACTF since she joined the team in 2009.
The ACTF Education Team was a finalist in the eLearning Team Achievement Award for their work developing immersive eLearning experiences for educators and students throughout Australia.