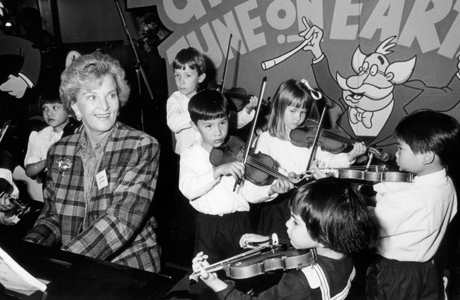 Hazel Hawke was a director on our Board for 18 years, from 1983 to 2001.

It is well documented that Hazel lived a very full and eventful public and private life during this period, and she was also involved in many community causes. So Hazel's remarkable commitment to the ACTF over that same period is a testament to the generous and passionate person that Hazel was and the reason that she is so well loved and respected by the Australian community.

As Australia's First Lady, Hazel used her public profile generously to champion children's television and the ACTF wherever she went. She opened conferences, attended publicity launches for programs, arranged meetings with Government Ministers, introduced programs to Heads of State and their families (including the King and Queen of Jordan, Nancy Reagan, Prince Charles and Princess Diana) and she arranged for Barbara Bush to visit the ACTF in 1992. At the launch for The Greatest Tune On Earth in 1990 she played the piano, and at the launch of Round The Twist 2 in 1993 she was willingly photographed sitting on a toilet seat. In all these ways Hazel helped establish the ACTF in its formative years.

Hazel will be remembered by all the Board and staff members who worked with her over those years as a sparkling and gracious person, who engaged with everyone and brought a sense of humour and wise counsel with her into the Board room. She was an enormous supporter of Patricia Edgar, the founding director of the ACTF, and loved and admired by all of us.

Hazel's family has said that the best way to remember Hazel is to support the Hazel Hawke Alzheimers Research and Care Fund.