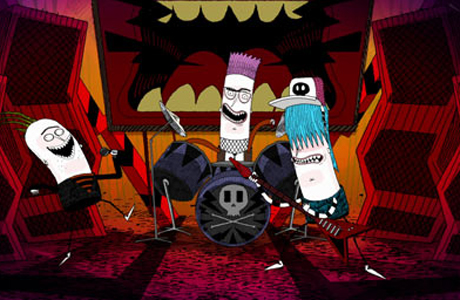 New Dukes Series Rocks into Cannes
At the MIPTV market this month, the ACTF will launch a new season of the successful animation Dukes of Broxstonia.

This third series features the insane adventures of the 'Lords of Loud' along with unique Bröxstônian advertisements. Join Arj, Barj and Larj as they deal with monstrous fans, rival bands, cyborg robots, video game monsters and wild west villains.

Dukes of Broxstonia Series 1 and Series 2 were a huge success when they went to air on Cartoon Network Asia and ABC3. The first two series along with Horace in Slow Motion have been picked up by Toon Goggles Inc (USA).
Bushwhacked! from producers North One Australia has been sold to Middle East Media, while Al Jazeera Children's Channel has obtained the multi award winning series My Place. Hit series Mortified continues to be a popular choice with sales confirmed to Playmedia (Bulgaria), KTN (Kenya) and Netherlands Public Broadcasting, who also re-licensed the successful Lockie Leonard series.