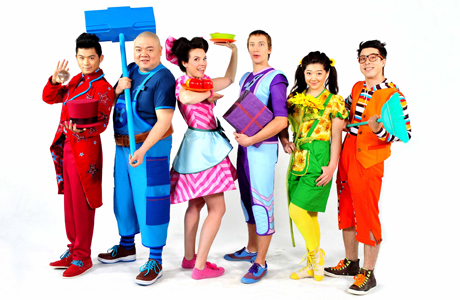 Hoopla Doopla! A co-production in Bejing!
Hoopla Doopla! is a whimsical, magical world for 2-5 year olds – where only circuslogic applies. Inspired by the circus and commediadell'arte, Hoopla Doopla! features a troupe of six extraordinary characters with amazing physical skills. They tumble, juggle, leap and somersault in and out of trouble. But whenever anything goes wrong - and it usually does - they always have each other to fall back on.

Hoopla Doopla! is a co-production between the Australian Broadcasting Corporation and China Central Television, and is being produced by Melinda Wearne and Ron Saunders from Beyond Production and the China Central TV Screen Drama Production Centre. The series commences filming in a studio in Beijing in April, with a mix of Chinese and Australian crew and performers. The directors are Mark Barnard and Liang Tong.

The team from China visited the ACTF during pre-production in February. Hoopla Doopla! received initial script development investment from the ACTF in 2010 and will be distributed worldwide by the ACTF on behalf of the Australian and Chinese partners. There will be 52 x 12 minute episodes...