Bumper by Ben wins Trop Jr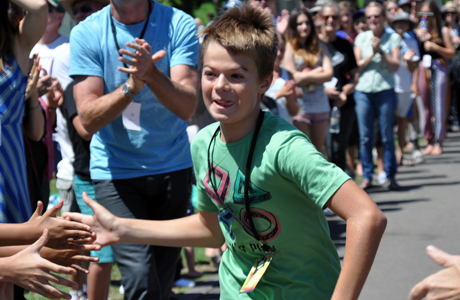 Bumper by Ben wins Trop Jr
Twelve year old Ben McCarthy from NSW has won Trop Jr with his short film Bumper, about a frog that can't jump. Bumper was the only clay-mation film to make the finals, and Ben was one of the youngest finalists. Ben's film was made at home on the desk in his bedroom and it took him six months.
Trop Jr filmmakers must be aged 15 or under. Hundreds of entries came from all over Australia, and were submitted by individuals, groups of friends, clubs and school groups. The sixteen finalist films were screened at the Domain in Sydney 17 February before a celebrity judging panel and a large crowd. The judges were Sean Keenan (of Lockie Leonard and Puberty Blues), Sam Moran (former Wiggle), Gretel Killeen and Samara Weaving (Home & Away).

The runners up were How To Make A Horror Movie by six boys aged 12 – 15 from South Australia calling themselves the "Screen Seekers Club" and Where's My Sandwich? by 15 year old Harri Gilbert.
All the finalist films can be viewed on the Trop Jr website at http://tropfest.com/tropjr/